What Are Boughs of Holly?
We all know the famous lyrics, "deck the hall with boughs of holly" of the traditional Christmas carol "Deck the halls."
But what are these boughs of holly?
Since the winter holidays are just around the corner, we are going to talk about the holly plant and its symbolism.
While "Holly" (Ilex) is the name of a genus of over 500 plants, most likely, the plant to which the lyrics of this carol refer is Ilex aquifolium, popularly known as holly, common holly, Christmas holly, English holly, or European holly.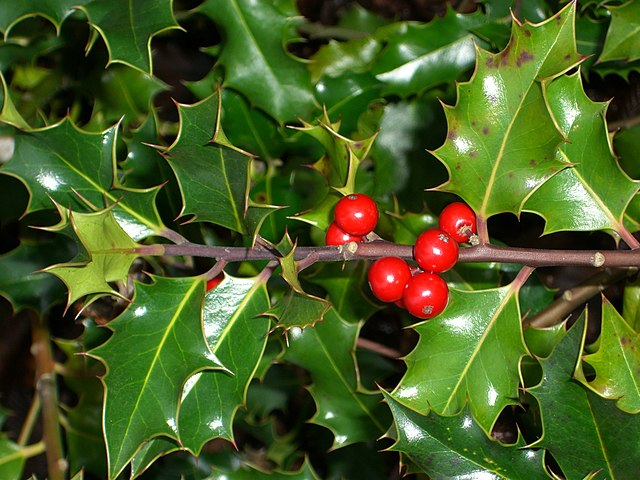 Holly is an evergreen shrub that can sometimes reach the size of a small tree. Its branches, spiky evergreen leaves, and small red berries are often used in various Christmas decorations.
"Boughs" is an English word used for large tree branches that grow straight from the trunk.
Through "deck the hall with boughs of holly," the well-known Christmas song "Deck the halls" refers to the tradition of adorning houses with evergreen plants for the celebration of Christmas. In this case, particularly with "boughs of holly," which are large branches of the holly plant.
Over the years, holly has become a true symbol of Christmas. Its leaves and small red berries are often used in the making of various ornaments, are illustrated on Christmas cards or on various home decorations, and are even included in the lyrics of carols.
Other plants also often associated with Christmas are fir, spruce, Poinsettia, Christmas cactus, or Mistletoe.
Tradition & Symbolism Of Holly Plant
Holly has been considered a spiritual plant with mystical powers for centuries and has had various roles in the traditions of numerous civilizations.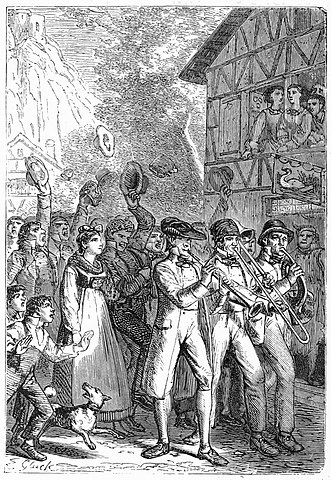 The Romans considered holly a tree of hope and a reminder of the comeback of spring. It was an important part of the pagan festival called "Saturnalia", celebrated in mid-December to praise the god Saturn, the Roman god of sowing and seeds.
Holly was also considered sacred in ancient Celtic cultures. Druids used this plant in rituals to protect themselves and others against evil spirits and bad luck.
Later, holly has become a symbol of Christianity and Christmas. Its evergreen leaves are believed to symbolize immortality and eternal life. Their thorns represent the crown of thorns that Jesus was forced to wear on the day of the crucifixion, while the reddish fruits represent His blood.
The tradition of placing a wreath of holly on doors during Christmas originated in Ireland. At that time, Irish people used holly and Ivy to decorate their houses. The role of holly wreaths on doors and windows was to invite the spirit of Christmas to enter inside and bring good fortune, as well as to chase away evil spirits.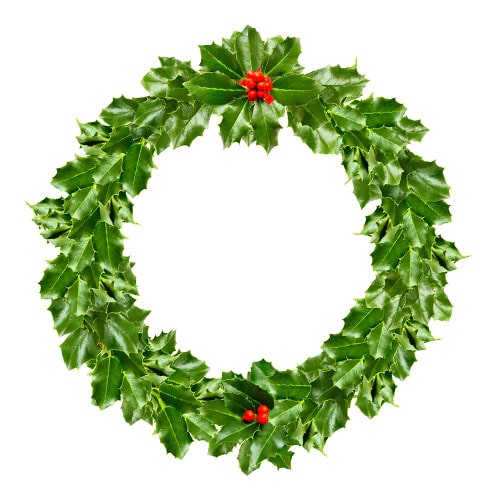 Holly Plant
Holly is a broadleaf evergreen tree or shrub native to Europe, Asia, and Africa and naturalized in many regions of the world.
Besides being used in making Christmas decorations, it is also utilized in landscaping and is often planted as an ornamental shrub in parks, yards, and gardens.
It is a strong and adaptable plant and can grow even in poor soils, either in direct sun or shade. At the same time, it has good endurance to both frost and drought.
This shrub has slow growth and although it can reach the size of a small-to-medium tree, it usually does not exceed 33 ft (10 m) in height.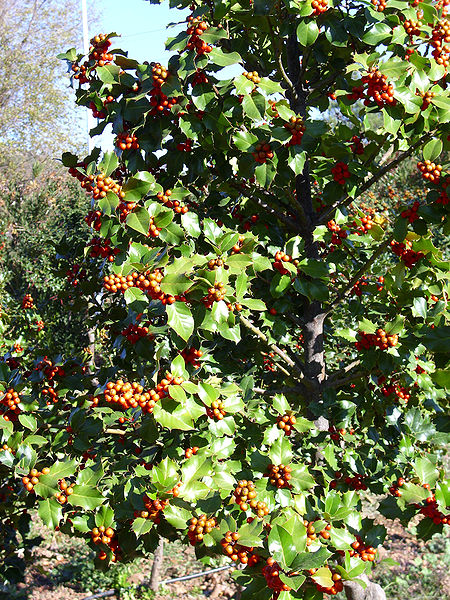 In native areas, the holly shrubs are predominantly found growing in the undergrowth of oak and beech forests. They thrive in moist and shady places like mountain gorges or shady slopes and are growing either solitary or form populations.
The leaves of holly are evergreen, thick, leathery, dark green with a glossy surface, and have wavy edges with stout spines.
The holly shrubs are either male or female plants (botanically known as "dioecious" plants). The male produces yellowish flowers in axillary groups, while those of female plants can be isolated or in groups of three and have a whitish or slightly pink color.
Only the female produces the orange-red berries, while the male plant is needed to pollinate the female plants.
The branches of this shrub along with the clusters of reddish fruits and the dark green leaves are often used to make Christmas wreaths, bouquets, or various embellishments for the winter holidays.
Although they look gorgeous in contrast with the dark green color of the leaves, the fruits of holly are poisonous to humans, dogs, and cats. Therefore, keep any of the adornments that include these berries away from children and pets.
---
Final Word
Holly has been a plant with strong and diverse symbolism ever since antiquity.
For centuries, it was used in various ceremonies and thought to possess magical properties like warding off evil spirits or bringing good fortune.
Nowadays, it is most commonly associated with Christmas. Although its boughs are not as widely used as they were in the past for decorating houses, it is still utilized in combination with other plants like fir, spruce, or Poinsettia in the making of door wreaths or other ornaments from evergreen plants.
We hope that you better understand now the meaning of the carol "Deck the halls" and what the boughs of holly are and their symbolistic.