5 Best Tree Identification Apps
Are you looking for the best tree identification apps for your phone? Here is a list of mobile apps that can help you quickly recognize various species of trees.
There are various ways to classify trees. These usually vary from one tree type to another, depending on its particularities. Common techniques for identifying trees include analyzing the leaves' shape, bark texture or color, the overall aspect of the tree's crown, flowers, and fruits where it is possible.
If you are a gardener, biologist, survivalist, prepper, hiker, or someone passionate about nature, having a phone app that can help you quickly identify unknown plants is very handy.
Memorizing each species of trees' characteristics is almost impossible as there are tens of thousands of different species of trees in the wild. Hence, the quickest and easiest way to identify a tree is by having a mobile app installed on your phone and use it whenever you need to classify an unknown shrub.
In one of my previous posts, I made a list of the best mobile apps for identifying plants. Many of those apps are great for finding out the name of various plants around your house, flowers, weeds, while some are focusing on recognizing the wild flora. Yet, not all are that great when it comes to distinguishing tree species. That's why I also wanted to make a selection of the Android and iOS apps that are particularly useful for identifying trees.
If you already have one of those apps installed on your phone, don't rush to uninstall it if your only requirement is to identify trees. All of the apps I've included in that list were able to identify a plant by taking a photo of a specific part of it, such as leaves, flowers, fruits, etc. Consequently, most of these apps will also correctly recognize tree varieties if they have enough particularities.
There may be more good apps out there, but I have only included the ones that are free or at least have a free version.
1. PlantNet – Plant Identification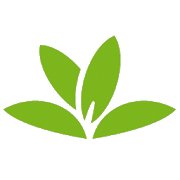 PlantNet is not only remarkable toward identifying common plants, but I found it to be valuable when it comes to recognizing trees.
I really like the fact that you can simply start your tree recognition quest by taking a photo or using one already saved in your phone's image gallery. Because you don't have to answer a series of questions about various aspects of the shrub you are trying to classify, the image recognition feature of PlantNet is a real time saver.
Another reason that convinced me to include this app in this list is the fact that besides the common plant recognition by leaf, flower, and fruit features that most of the other generic plant identification apps possess, PlantNet also has a tree recognition by bark option. Hence, making this app also suitable for identifying arbors.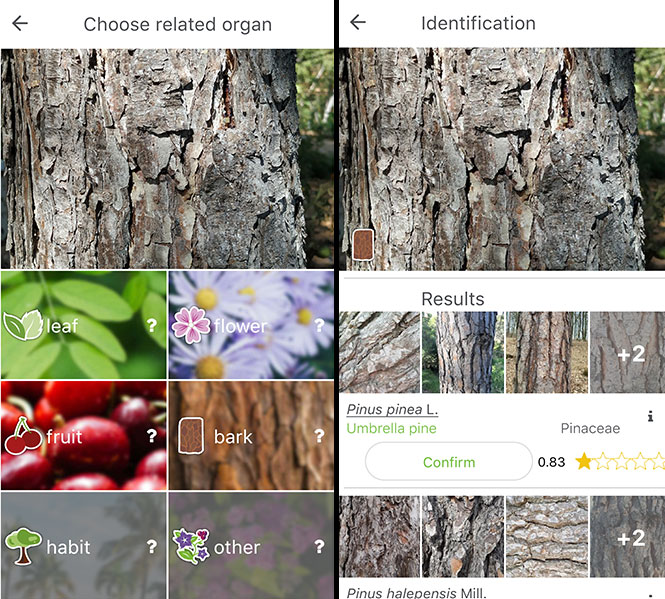 I also like that the app is entirely free and doesn't require you to register an account to use it.
Of course, like any app, this one also has some minuses. The biggest is its relatively small database of plants (according to the app's description, this is currently at about 20,000 species). However, that might be just enough for many of us.
PlantNet is available for both Android and iOS.
2. LeafSnap – Plant Identification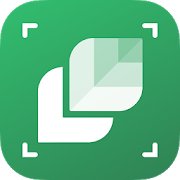 Besides identifying common house plants, LeafSnap also does a great job when it comes to distinguishing tree species.
This app enables you to take a photo of a singular part of the tree you want to find out its name, and then you have to select what portion of the tree appears in the image. The app will then analyze the picture and offer you a few results based on how well they matched the existing tree species in the database.
Many times, it will give you the right results, but of course, there is always room for error when it comes to identifying an element from a photo.
LeafSnap allows you to identify a plant by leaf, flower, fruit, or bark.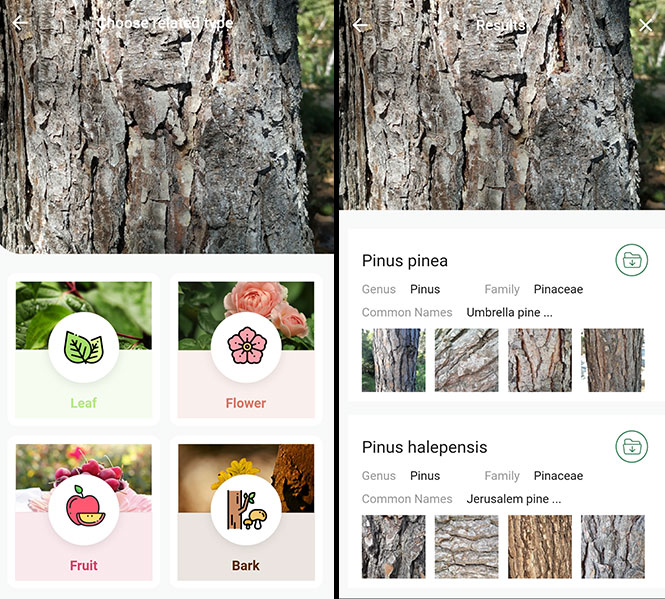 I really like this app, but the free version contains ads, and you have to see an ad after every new plant. This is not a very big inconvenience for me, but it might be for some people who use the app more extensively.
Fortunately, LeafSnap also has a premium version that will save you from any annoying ads.
3. iNaturalist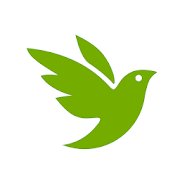 iNaturalist is more complex than a simple app for identifying plants. It is an app designed more for biologists, naturalists, and scientists to enable them to quickly share their findings with other colleagues and individuals passionate by nature.
While the multitude of options can scare some people away at first, iNaturalist is a handy app that can become highly addictive once you start to get a grasp of it.
iNaturalist can recognize both plants and animals and is one of the apps with the largest databases and communities.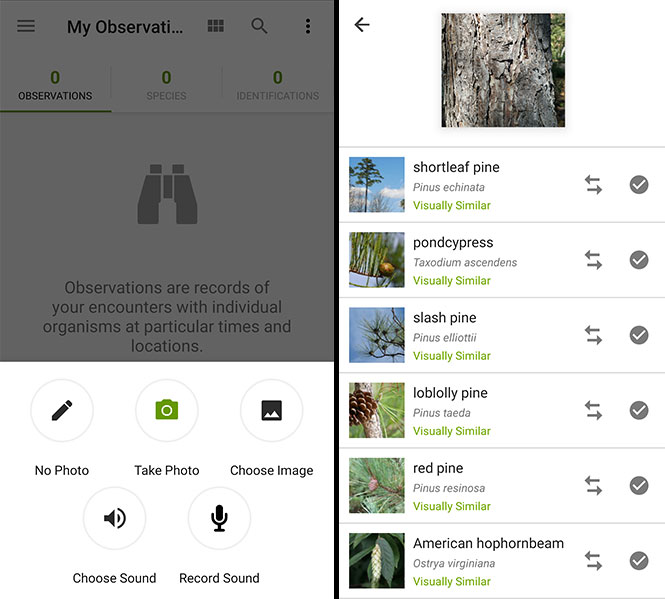 A downside of this app is the fact that to identify a plant by photo, you have to first create a new observation, and then click on the question mark icon before to "What did you see?"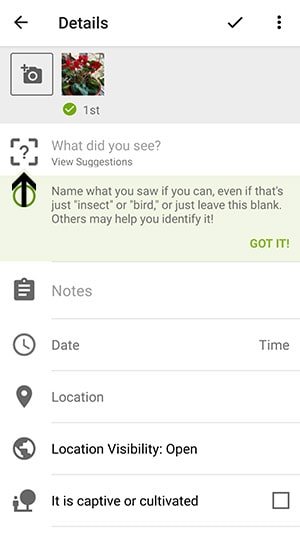 Unfortunately, I couldn't find a more straightforward way to do that, but the app's image recognition capabilities are quite good. It can identify all sorts of plants, trees, and animals.
Besides, it is free and has no annoying ads.
4. Seek by iNaturalist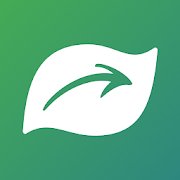 As an alternative o iNaturalist, you can try Seek, an app from the same provider.
Seek basically offers the individual plant recognition feature that the iNaturalist app is missing.
While iNaturalist is more a community app and with a higher purpose than only identifying plants by image, I find the plant identifier software of iNaturalist to be superior to Seek's (at least at this time).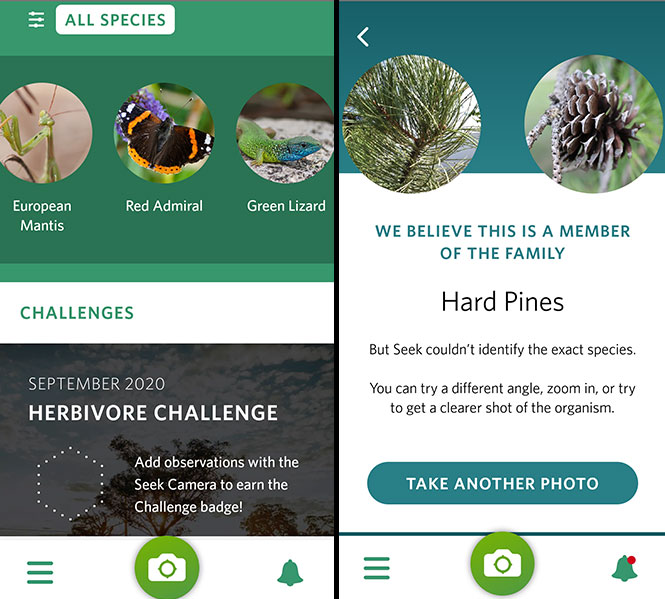 Also, if you need an app that can identify trees by bark, Seek does not seem to be the best choice for now. I've tried several photos of different bark textures and the app was not able to provide the correct answer in many of the cases.
5. Google Lens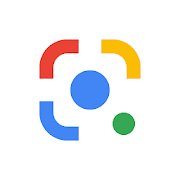 Google Lens is an Android app developed and maintained by Google that many phones that run on this operating system already have it installed. Fortunately, there is also a version of this app available for iPhones.
While Google Lens is not an app directly meant to identify trees and plants, I found it to be handy for that purpose and I've used it numerous times when I did not know the name of a plant.
Because of Google's massive database of images and their highly performant artificial intelligence software, Google Lens can recognize all kinds of objects from a given photo.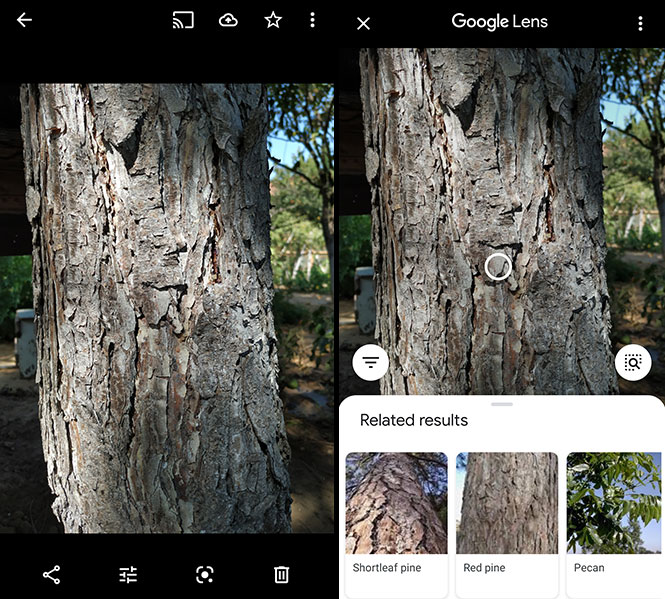 The best part is that this app is 100% free and it is constantly updated and improved.
The downside is that since Google Lens is not an app designed to recognize plants, it doesn't give you directly in-app details about the tree or plant you wish to identify. For that, you have to click the search results and read the info on various websites (just like when using Google Images).
---
Final Word
There are not too many apps intended solely for tree identification. The majority of the apps designed to recognize plants from an image can usually be utilized to find out the name of trees as well. The main difference is made by the apps that have a feature specifically meant for identifying trees by bark.
Many of the apps I found on Google Play Store and Apple's App Store that focus only on identifying trees are usually designed to classify the arbors in specific areas of different countries. Hence, I haven't included any of them in this list.