Are Tomatoes Perennials Or Annuals?
Tomatoes are the delicious fruits always present in the garden of any grower. Yes, tomatoes are botanically considered a fruit since they grow from a flower and contain seeds.
We plant them every year in our garden, we enjoy their sweet taste in salads and we use them in numerous food recipes.
Even though most people grow tomatoes as annuals, tomatoes are actually perennial plants that can persist for multiple growing seasons.
In terms of a plant lifespan, in botanical terminology, we have three types of plants: annuals, biennials, and perennials.
To better understand the differences between these three types, let's see how the College of Agriculture and Life Sciences from Texas A&M University defines these plant life cycles (reference).
What Is An Annual Plant?
Annuals are the plants that complete their entire life cycle from seed to flower and again to seed within a single growing season. Besides the seeds, all the other parts of the plant die after and we have to grow them again by seed the next season to enjoy them once more.
What Is A Biennial Plant?
You might be tempted to think that biennials are the plants that make fruits for two seasons and the die. However, that is not entirely correct.
Biennial plants are the plants that require two years to complete their life cycle.
During the first season, the growth of these plants will result in only a small formation of leaves on the surface of the soil.
In the second year, the stem develops, followed by flowering, and seed formation. The entire cycle ends with the death of the plant.
To enjoy the plant in the following year, we have to grow it again by seeds.
What Is A Perennial Plant?
Perennials are plants that persist for multiple growing seasons.
Usually, the top portion of the plant dies every cold season and regrows the following spring from the same root system. However, there are varieties of perennial plants that do keep their leaves year-round.
Therefore, perennials can live for an indeterminate number of seasons, without having to cultivate the plant again.
That doesn't always mean the plant will live forever. In many cases, until it will be killed by pests, frost, or diseases.
Read more about plants life cycle here.
Are Tomatoes Perennials Or Annuals?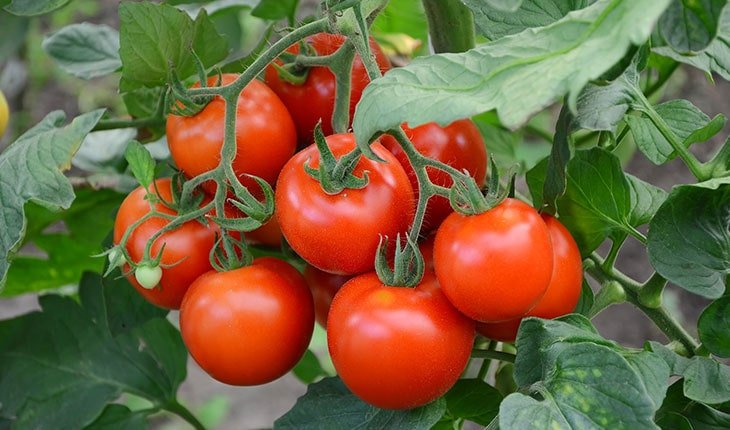 You might assume that tomatoes are definitely annual plants because they always die after one season. That's partially true.
Tomatoes are perennial plants that are usually grown as annuals. However, they do have the potential to grow as perennials in the optimal conditions.
Yet, providing these conditions in the majority of cases represent a bigger hassle than replanting them every year. That's the reason why the majority of us just grow tomatoes as annuals instead of perennials.
Is It Possible To Grow Tomatoes As Perennials?
It is possible to grow tomatoes as perennials but is not an easy task.
Tomato plants are not the hardest to grow, but they do have numerous pests and diseases (one of the most common being tomato blight).
Throughout the world, there are thousands of varieties of tomatoes, each with different requirements and particularities.
We can find tomatoes with fruits of different shapes and sizes, diverse colors, sweeter, more acidic, and so on.
In order for your tomatoes to produce healthy fruits, you have to provide them the optimal climate conditions, watering, and proper care. They will grow the best in well-drained soils and when they receive at least 8 hours of full sun per day.
Growing the tomatoes outside a greenhouse or heated space would be close to impossible in many locations of the world. Therefore, you would either need to live in an area where the temperatures don't drop under about 50°F (10°C) or have a heated greenhouse or a space with a constant warm temperature.
The other option would be to either plant the tomato plants in pots to be able to relocate them when the cold season approaches.
The third option and probably the most manageable would be to regrow the plants from cuts. This approach involves cutting down the suckers of the tomato plants and putting them into a bowl of water until they develop new roots.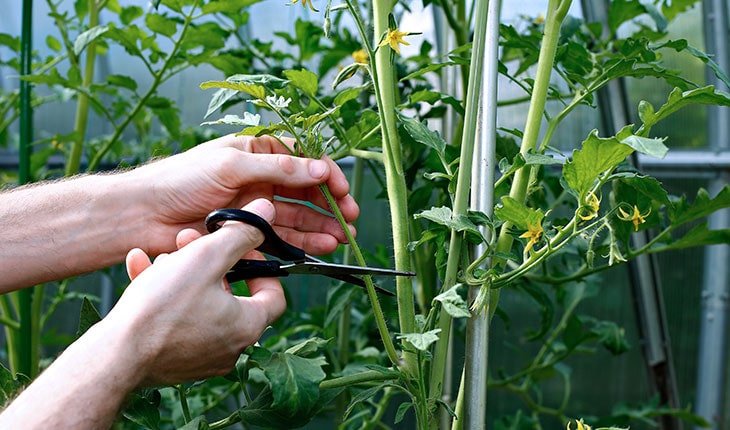 Make sure you clean the cutting by removing any flowers and yellow leaves first.
In the right conditions, the cuttings should start rooting in about 5-7 days and should be ready for planting when the roots are about 1 inch long ( approximately 2.5 cm).
Below is a video from Gary Pilarchik that explains to you exactly how to clone your tomatoes from suckers.
What Tomato Variety Is Best To Grow As Perennial?
As I've mentioned earlier, there are thousands of tomato varieties and hybrids. So, there's a particular one which would be more suitable. Normally, the ones that are more resistant to cold and diseases would be better.
However, there is one aspect you need to take into account before choosing the variety of perennial tomatoes and that is the growth habit of the tomatoes variety.
Based on the growth habit of the tomato plants, there are two classifications:
Determinate tomatoes
Indeterminate tomatoes
Determinate tomatoes (limited growth)
Determined tomato varieties will grow up to a certain height and then stop. Tomatoes in this category produce a single row of flowers in a relatively short period of time and, as a natural consequence, the fruits will ripen almost all at once.
After harvesting, the plants in these varieties can be removed since they won't produce other flowers.
Many gardeners also refer to the determined types of tomatoes as "bush tomatoes" because they don't grow very tall and develop a bushy look.
Indeterminate tomatoes (continuous growth)
Varieties with indeterminate growth will grow, bloom and bear fruit until they are destroyed by the first autumn frosts.
Because they grow continuously, the indeterminate tomato varieties can get pretty tall.
So which one of these two growth habits would be better if we plant to grow perennial tomatoes that bear fruit all year long?
It's the indeterminate tomatoes, of course since these will continue to grow for as long as the plant lives.
Has Anyone Managed To Grow Tomatoes As Perennials?
Even though I am excited about the idea of having a never-ending supply of tomato fruits all year long, I have to admit that I have not tried yet to grow tomatoes as perennials.
The climate in the place I live in has cold winters and at this time I don't have the optimal greenhouse heating conditions to successfully achieve such a task.
Therefore, I'm resuming at growing tomatoes as annuals at the current time.
However, after browsing several gardening forums, blogs, and social networks, I found out that there are people out there who were actually successful in growing perennial tomatoes. And some of them for years!
Does it worth the effort?
If you have the optimal conditions or the space to overwinter the tomato plants as cuttings, I think it definitely worth trying. After all, if the tomatoes are perennial plants, why not?
Have you ever tried to grow tomatoes as perennials?
Let me know your opinion about this matter in the comments section below.