Stinkhorns: The Stinky Mushrooms That Grow In Your Yard Or Garden
Do strange and smelly mushrooms grow in your garden? These could be stinkhorn mushrooms. Keep reading to learn more about these bad-smelling fungi.
Stinkhorns are bizarre mushrooms that stand out through their strange appearance and unpleasant smell. They belong to the family Phallaceae, a family of fungi within the order Phallales.
Stinkhorns are saprophytic fungi, which means they obtain their food from dead organic matter, therefore, they and are not considered plant pathogens.
This fungus spends most of its life as a network of fungal cells that feed with the rotting organic matter, especially that of wood. Only when it is ready to reproduce, the stinkhorn fungus develops strange bodies above the ground. With the help of its smell, similar to decaying flesh, it attracts various insects that carry its spores to other areas where it restarts the cycle.
How Do Stinkhorn Mushrooms Look Like?
There are more than 70 species of mushrooms in this family, all with various shapes, sizes, and weird looks. Some of these mushrooms look absolutely disgusting, while others look like they are from another planet.
Depending on the species, stinkhorns can have various colors such as white, red, orange, beige, or a combination of these with a white, black, brown, or grey head.
Several varieties of stinkhorn mushrooms:
Common stinkhorn (Phallus impudicus)
Bamboo mushrooms (Phallus indusiatus)
Dog stinkhorn (Mutinus caninus)
Starfish fungus (Aseroe rubra)
Basket stinkhorn (Clathrus ruber)
Octopus stinkhorn (Clathrus archeri)
Stinky squid (Pseudocolus fusiformis)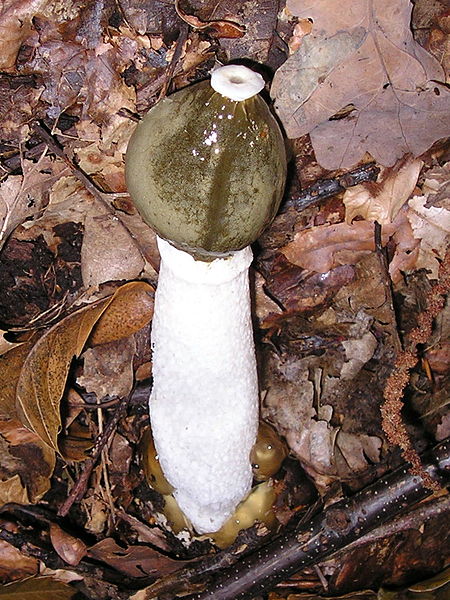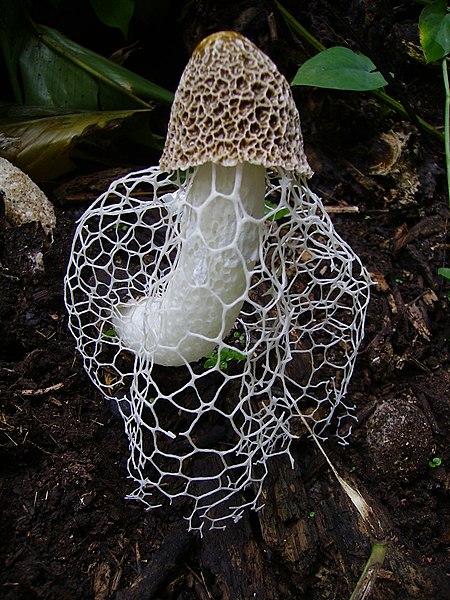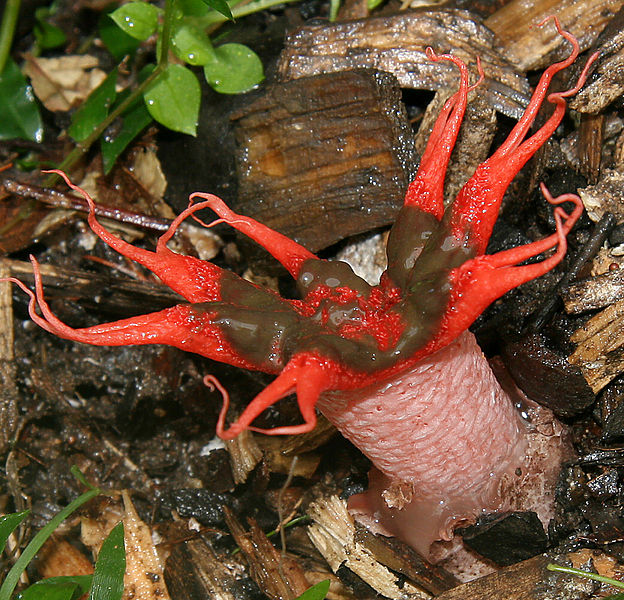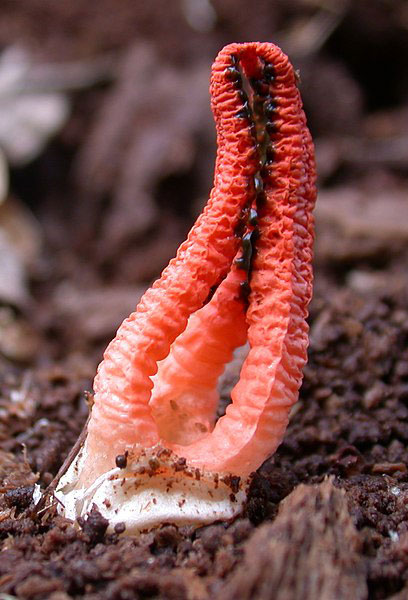 As you can see the variety of these mushrooms is truly amazing. At the same time, these clear differences help us a lot in identifying each species.
What Causes Stinkhorn Fungus?
Stinkhorns occur throughout various regions of the world but are especially common in tropical regions where there is plenty of moisture and decaying wood. Often, these fungi reach our gardens through tree bark mulch, but can also occur in lawns or other areas.
Stinkhorn mushrooms do not rely on air currents to carry their spores and reproduce like many species of fungi. Although these mushrooms emit an extremely unpleasant odor to humans, this is an invitation to food for various kinds of insects.
This powerful smell attracts flies, bugs, and various other insects that carry these spores on their legs, body, and wings from one place to another, securing the reproduction of this fungus. This is how these mushrooms appear even in places where there is no mulch, or in areas where they have never been seen before.
Are Stinkhorn Mushrooms Poisonous?
Despite their repulsive smell, most species of stinkhorn mushrooms are not considered poisonous, and some varieties are edible in the egg stage. Some species are even considered delicacies in some parts of the world.
However, even though no human deaths have been reported and associated with the consumption of these fungi, due to the lack of enough specialized studies on the toxicity of stinkhorn mushrooms we cannot say that the consumption of these mushrooms is 100% safe for humans, as well as which species are edible and which are not.
Another thing to keep in mind before thinking of eating these mushrooms is that they are edible only in the egg stage. In this phase, they do not emit an unpleasant odor, which makes them hard to identify and can be easily confused with other varieties of toxic mushrooms.
Also, according to an article posted on the University of Florida IFAS Extension, have been reports of pig poisoning after the consumption of Clathrus columnatus, which is popularly known as the column stinkhorn.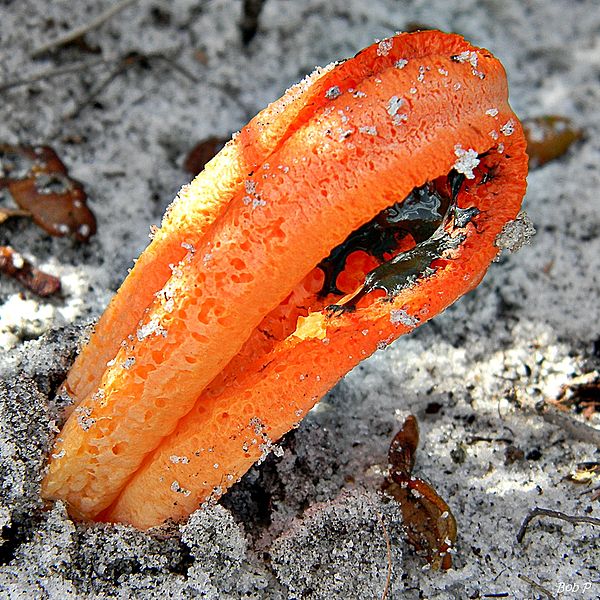 Children's Health Queensland Hospital and Health Service also states that deaths of small dogs have occurred due to the ingestion of these types of mushrooms.
In general, when a plant has a repulsive appearance and odor, that's for a good reason.
We do not encourage in any way the consumption of stinkhorn mushrooms without first performing thorough research.
Are Stinkhorn Mushrooms Bad?
Although they might look nasty, have an awful smell, and attract lots of flies and pests, the stinkhorn fungus is not a threat to people or plants.
Stinkhorn fungi even seem to be beneficial to the environment because they grow on rotting pieces of wood and break it down into organic matter that serves as food for other plants.
However, they may pose a danger to pets if they consume a significant amount of these mushrooms in their mature stage.
As mentioned earlier, there have been cases of puppies and other animals that have developed health issues after consuming particular species of full-grown stinkhorn mushrooms. Consequently, they could also represent a risk for young children.
How Do You Get Rid Of Stinkhorn Mushrooms?
Even if you don't have small children or pets, probably solely their obnoxious odor and unappealing look will make you want to get rid of these fungi.
A positive aspect of stinkhorn mushrooms is that they do not have a long life span. Most of the time, they will disappear just as unexpectedly as they appeared. So, if you are willing to ignore these strange mushrooms for a few days, they will go away on their own.
If their smell or appearance bothers you very much, and you really want to get rid of them, there are several ways you can do it, or at least keep them under control.
Monitor your yard and garden
One of the things you can do to get rid of these fungi is to monitor your yard and garden after rainy periods and just remove them as quickly as possible. Do not only remove the above-ground part of the mushroom. Dig beneath it until you reach under its base.
Even when they are taken out of the ground, their odor can still attract animals and insects that can still spread their spores. Therefore, once pulled out, put them in plastic bags and throw them into the dumpster.
This will not eradicate them completely but will help you control their number.
Always wear gloves when handling these mushrooms because their smell is very persistent.
Replace any hardwood and softwood mulches
Often, these fungi appear when mulches made out of tree bark start rotting.
Another thing you can do to control the expansion of stinkhorns is to replace the old hardwood and softwood mulch with other types of mulches, such as pine needles or straws.
Other approaches
Unfortunately, fungicides are not effective against stinkhorn mushrooms, and mushrooms in general. Herbicides also do not harm them.
Some say that they have had positive results by using a home-made solution from neem oil, others by using a solution made out of hot water, bleach, and lime.
However, these are all untested and you should be careful as you can also harm other plants in that area.
Final Word
Stinkhorn Mushrooms are some weird mushrooms that look like they came from another planet.
Probably the most annoying thing about these mushrooms is their awful smell. Except that, they are not doing any harm to the environment.