Selective Breeding of Plants
Interested in finding out more about what selective breeding of plants is? Continue reading to find out what this process involves, and whether the plants that resulted through selective breeding are safe for consumption or not.
Open your fridge and take a look at all the fruit and vegetables you bought the last time you went grocery shopping. Did you know that some of them didn't spontaneously appear in nature? Even those that did — such as apples — are different now than they were when humans first found them.
But how do we explain those changes? What's causing them? Well, as you surely have guessed, we are behind it all. With our special agricultural practices, we've altered the existing plants to suit our needs and created new types. And one of the most commonly used techniques that allows us to do that is called selective breeding.
What Is Selective Breeding of Plants?
Every organism, no matter how big or small, has a genome. The genome is a sort of code — it determines your characteristics, susceptibility or resistance to various diseases, and even your lifespan. Basically, if someone were to alter your genome, they could eliminate all your undesirable traits and keep only the beneficial ones.
And that's exactly what selective breeding of plants is about. Only, this practice existed for thousands of years, way before anyone knew about genetics. How is that possible, you may ask?
Well, it's rather simple — selective breeding doesn't alter the genetic material directly. Instead, it attempts to do so by selecting parents with desirable characteristics who then breed, creating offspring with those same traits.
Say, for instance, that you want to grow really tall trees in your backyard. You'll then choose two of the tallest trees among those you own and breed them, excluding the rest. Once it grows, their offspring should be about as tall or even taller than its parents. Afterward, you'll repeat the process, and you'll keep doing it until all trees in your garden are tall.
Though the process may take years, selective breeding is usually effective. In fact, many of the plants we now eat went through selective breeding at some point — whether to improve their taste or simply to make them more resilient.
Is Selective Breeding the Same as Genetic Engineering?
Now, selective breeding may remind you of another term that you've surely come across in recent years — genetic engineering. The products of genetic engineering are genetically modified organisms (GMOs), which have a bit of a bad reputation. Namely, many people believe they're far inferior to natural food products and even downright harmful and toxic. For that reason, the GMO-free label can nowadays be seen on most food packages.
As it happens, there's no scientific proof that GMOs are harmful. But even if there were, selective breeding would have nothing to do with that. To put it simply, selective breeding and genetic engineering are two entirely different processes with very little in common.
As we've seen, selective breeding involves choosing desirable traits in a certain species and then breeding parents who have them. This process doesn't alter the genome directly, and the results may become apparent only after a few generations.
On the other hand, genetic engineering does manipulate genes. It always occurs in a laboratory where scientists use specific biotechnology. The end goal may be similar — to enhance certain traits and increase resistance and lifespan. But the method is completely different.
Vegetables and Fruits Made Through Selective Breeding
Still not convinced that selective breeding is a good thing? Well, maybe you need some concrete examples that show what we have thanks to it. Specifically, let's take a look at a few fruits and vegetables that probably wouldn't exist today if we hadn't interfered.
Broccoli, Kale, Cabbage, Cauliflower, Brussels Sprouts
Did you know that broccoli, kale, cabbage, cauliflower, and Brussels sprouts all came from the same plant? Centuries ago, Brassica Oleracea, or wild cabbage, was selectively bred until it produced the vegetables we now know and love.
For instance, broccoli was made from breeding wild cabbage with suppressed flowers, while kale came from variants with larger leaves. Different parts of the plant gave us different vegetables, and today we have a whole garden of them!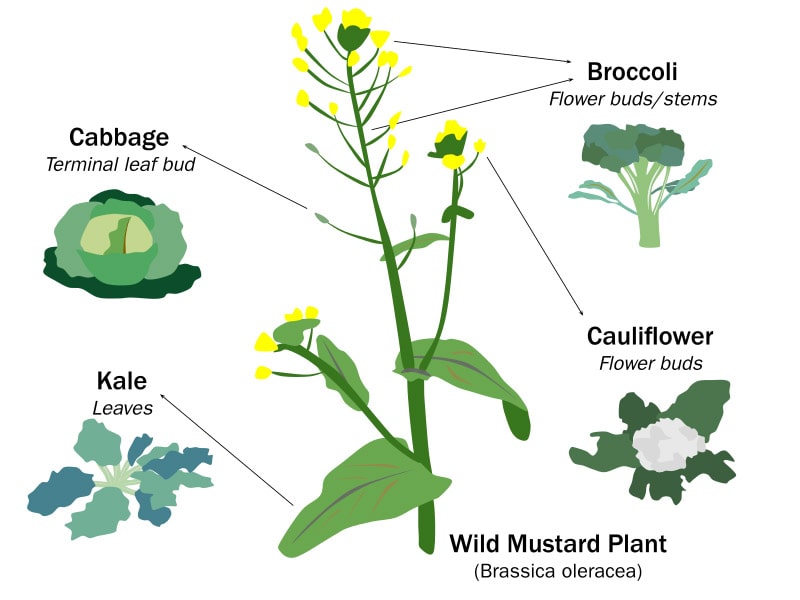 Corn
Corn may be easy to come by now, but it wasn't so thousands of years ago. In fact, it was impossible because nothing like it existed. The closest thing to today's corn was teosinte, a grass that looked nothing like it.
Still, by selecting larger and tastier teosinte kernels for planting, farmers slowly but surely created corn. Compared to today's plant, it looked rather small at first, but through artificial selection, it grew to the size familiar to us all.
Watermelon
Did you know that thousands of years ago, watermelon was bitter and only two inches in diameter? You also needed a hammer just to open it and get to the edible part. It was hardly a watermelon at all!
Yet, after centuries and centuries of selective breeding, it grew to be the plump, delicious fruit we enjoy in the summer. We're lucky that ancient farmers recognized its potential!
Are Plants Made Through Selective Breeding Safe to Eat?
In short, yes, they are. As you can see from the examples above, you eat many of them quite regularly. And not just you — millions of people across the globe have been eating them for hundreds of years. Selective breeding had existed long before you were born, and it will continue to exist as long as there are farmers and plants to breed.
Also, while selective breeding isn't quite natural, it's hard to call it entirely unnatural. After all, breeders don't add any chemicals or alter the plants in any way. They simply choose the variants that are sweeter, more resilient, and more appealing. These plants could appear in nature even without their help — just not nearly as often as they do now.
In Conclusion
While the idea of selective breeding may seem unpleasant or unnatural, there's actually nothing wrong with it as long as it's done responsibly. New or enhanced plants created this way are perfectly healthy and often more delicious than their predecessors. So feel free to keep eating fruits and vegetables without hesitation — they're just as safe as they always have been!