Amanita Muscaria: The Toxic Red And White Mushrooms
Have you stumbled upon some red and white mushrooms and are you looking to identify them? You may have encountered Amanita muscaria.
Although there are various species of red and white mushrooms throughout the world, it is very likely to encounter this particular mushroom in one of your walks through the woods.
It has a large red cap with white dots scattered on the upper surface and supported by a long white leg. It also has one of the most iconic mushrooms looks, being the image of the mushrooms in the famous Mario video game series, as well as many animations and cartoons. It is Amanita muscaria.
| | |
| --- | --- |
| Scientific Name: | Amanita muscaria |
| Common Names: | Fly agaric, Fly amanita |
| Genus: | Amanita |
| Family: | Amanitaceae |
| Toxicity: | Toxic |
Amanita muscaria is a mushroom in the genus Amanita, family Amanitaceae. This genus contains around 600 species of some of the most toxic known mushrooms and some edible species.
This mushroom is commonly known as the fly agaric or fly amanita and is native to the temperate areas of the Northern Hemisphere, but has been also introduced unintentionally to many countries in the Southern Hemisphere.
Has gained the names "fly agaric and fly amanita" because its toxins are used in some parts of the world to prepare an insecticide that attracts and kills flies.
Fly agaric is oftentimes found on the floor of birch or conifer forests, and less often in mixed and deciduous woodlands. It is also seen growing in various pastures and fields.
Amanita muscaria is toxic and has hallucinogenic properties. It contains psychoactive alkaloids such as muscimol, muscarine, and ibotenic acid. (source)
Although known for its toxicity, Amanita muscaria is considered by many to be poisonous but rarely lethal. However, over the years, there have been reported isolated cases of deaths in humans caused by the consumption of these mushrooms.
Among the most common symptoms associated with the ingestion of Amanita muscaria include nausea, stomach discomfort, muscle twitching, and tremors.
Amanita muscaria is fairly easy to identify due to its large red cap with white dots. However, there are times when it is mistaken with other species of similar-looking mushrooms, or when in immature development stages. It also has several known subspecies and varieties with yellow or white caps.
These mushrooms are frequently found in woodlands and usually grow in groups of two or more. When the fruiting body of this fungus forms, it first emerges from the ground looking similar to a white egg.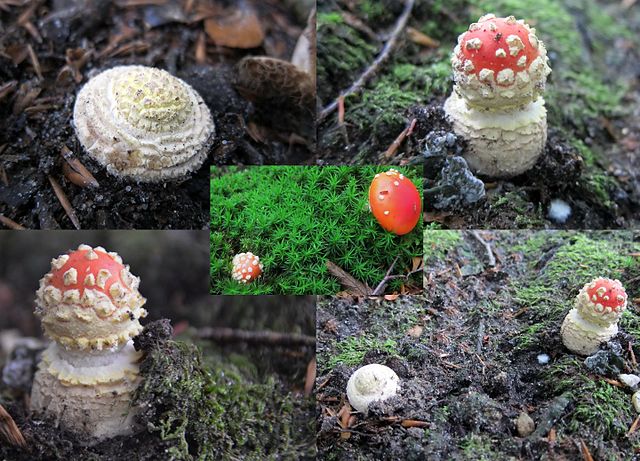 As the mushroom grows, a spherical orange-to-red cap emerges from the egg-shaped body, which will later become hemispherical, plate-like, and eventually flat at maturity.
When the mushroom is young, the cap is covered with many small white pyramid-shaped warts (remnants of the veil that initially covers the mushroom in its early development stage) that give the mushroom a speckled look. The cap will sometimes keep some of these warts throughout its lifecycle, but they will become smaller and less noticeable once the mushroom ages.
Heavy rains may also wash away a part or all these warts with time, making Amanita muscaria be easily mistaken with other species of Amanita, particularly with the edible Amanita caesarea.
At maturity, the cap of Amanita muscaria is large, flat, and can reach up to 8 inches (20 cm) or more in diameter. It has radiant red color and often will present scattered white warts. In older mushrooms, the bright red color of the cap may become pale due to heavy rains and prolonged exposure to the sun.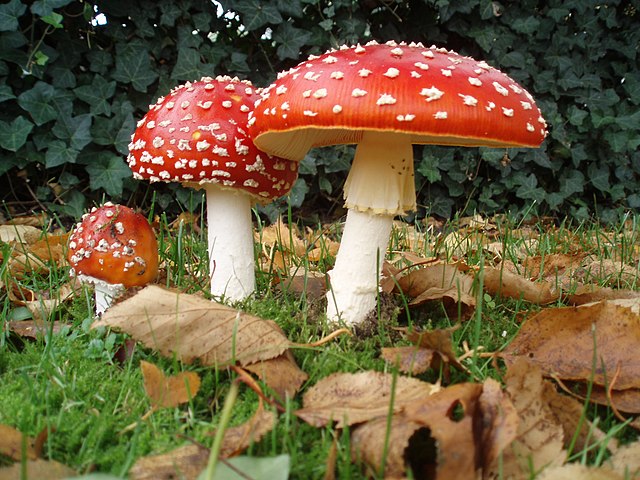 On the underside of the cap, Amanita muscaria has white gills that may turn pale yellow as the mushroom matures. The gills are crowded and are not attached to the leg (stipe).
The cap is supported by a long white stem. This is usually 2-8 inches (5–20 cm) high and about 1–2 cm wide.
---
Final Word
Although there are several species of red and white mushrooms, Amanita muscaria is one of the most common and prevalent throughout the world. So, if you come across a mushroom that has the characteristics presented in this article, then it is very possible that you stumbled upon this mushroom.
Other red and white mushrooms may include species like:
Russula emetica
Amanita Jacksonii
Some species of stinkhorns
For more species of red mushrooms, read this article.
---
References: