5 Reason For Early Flowering In Radishes
Are your radishes flowering early? Here are several possible causes for premature bolting of radishes and what you can do to still take benefits from your crop.
Radishes are annual or biennial edible root vegetables of the family Brassicaceae. They are some of the most popular garden vegetables and are cultivated throughout the world mostly for their taproot with a pungent flavor.
Radish crops are also preferred by many novice gardeners because they grow very fast and are quite easy to care for.
They are also "must-have" vegetables in my garden. I've been growing radishes probably since I started a garden as they are quick crops and I absolutely love their taste.
Over time I have experimented with several varieties of radishes. I had better results with some of them and not that good with others.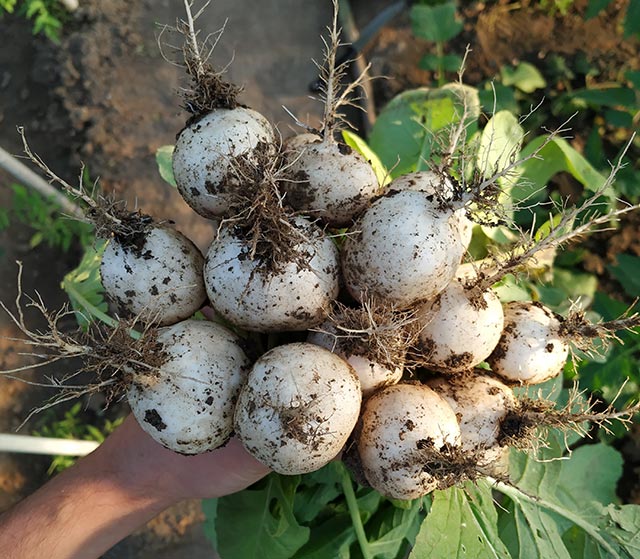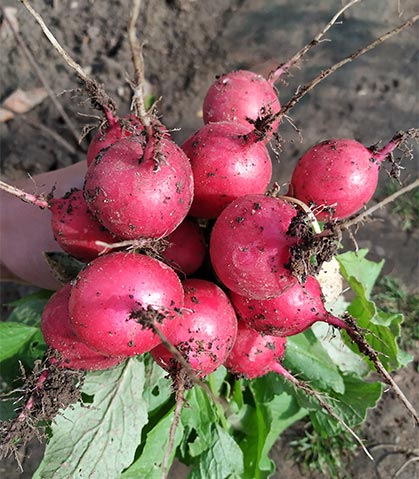 Although, in general, most varieties I tested so far had decent yields, this year, my radishes flowered before they formed the underground, edible fleshy roots.
Early flowering in radishes seems to be a much more common problem in radishes growing than I initially assumed. Therefore, I decided to cover several possible reasons why radishes may flower early.
1. Planted When It's Too Hot
Radishes are cool-season crops. These root vegetables can grow in temperatures ranging from 40 to 70°F (4 to 21°C), with an optimum temperature for their development between 60 to 65°F (15 to 18°C).
There are two planting periods for most radishes varieties in a year. Either in the spring when the soil temperature is above 40°F (4°C) or in the fall when the soil temperature is less than 95°F (35°C).
If radishes are planted when the soil temperature is already too high, they tend to flower without developing the underground edible part too much.
2. They Are Too Crowded
Another possible reason for the early bolting of radishes is when there isn't enough room between the plants to expand their roots.
Depending on the variety, radishes have different requirements for planting space. Thus, if you plant the seeds too close and the plants do not have enough space to form large roots where they store food, they tend to develop flowers prematurely.
When planting a variety of radishes you have not tried before, it is always a good idea to read the recommendations regarding the planting space between the plants and rows on the label of the seed pack.
Planting the seeds too deep can also be a reason for your radishes to bolt instead of producing large, edible roots.
3. Too Much Shade
Because radishes are included in almost any list of vegetables that can grow in the shade, many forget that they also need a few hours of direct sunlight each day for optimal development.
Although radishes can grow in partially-shaded places, they still require at least 6 hours of full sun per day.
When these plants do not receive enough sunlight, they tend to grow excessively in foliage, produce small roots and deliver flowers faster than normal.
4. Stressed Plants
In addition to high temperatures, when radish plants are under environmental stress, they can accelerate the production of flowers and seeds.
These stress factors can include things like infrequent watering (receiving too much or too little water), too much fertilization, soils that are too compact, etc.
5. Not Harvested On Time
Radishes propagate through seeds. Like many other plants, they have a period after which they produce flowers and seeds to cover this necessity.
Most varieties of radishes can be harvested in 3 to 5 weeks from planting the seeds.
If left in the ground for too much time, the taproot (the underground edible part) will become woody, fibrous, and inedible, and the plant will eventually produce flowers and seed pods.
Therefore, the most common situation when radishes produce flowers is when they are not picked up in time.
Although this is the biological cycle of the plant and a natural cause for bolting in radishes, because many varieties reach their maturity in a very short time, some farmers may still think that their radishes flowered too early.
What To Do When Your Radishes Are Flowering?
Just because your radish plants have bolted doesn't mean they should be pulled up and thrown away in your compost bin.
Fortunately, there are yet some things you can do if you want to still take some benefits from your harvest.
At the time radishes are bolting, it may already be too late to harvest them for their edible taproots. Other times, their roots are too small to even be considered for picking up.
One option is to allow the plants to produce seed pods, then harvest the seeds and use them to produce the next crop. This way you may save a few bucks.
The second option is to harvest the green seed pods and consume them in salads or pickled.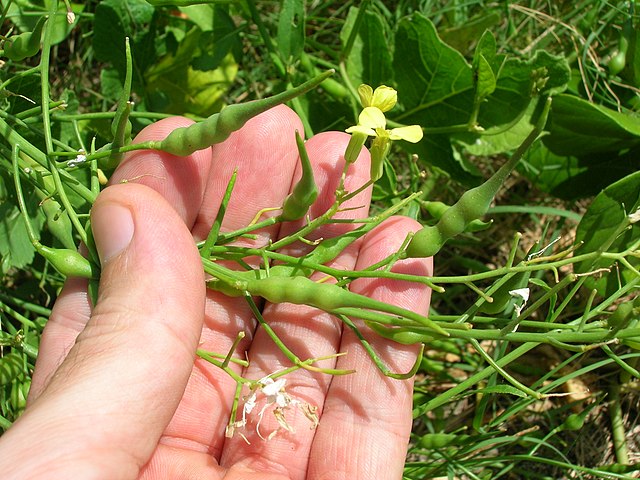 If you didn't know, the seed pods of all radish varieties are edible. They have a peppery taste, and if you enjoy the roots, there's almost impossible not to like them as well.
There is even a species called the "rat's tail radish," (Raphanus caudatus, also known as serpent radish or tail-pod radish), cultivated mainly for its crispy and mildly peppery-flavored seed pods.
The seed pods of radishes are similar in look to those of pea pods or green beans. They are elongated, have a narrow, almost cylindrical shape with a pointy tip. When young, they are green and will turn yellow or brown when they dry.
A single flower stalk will produce multiple seed pods.
---
Final Word
These are some of the most common reasons why radishes flower prematurely or do not produce large roots to harvest.
As I mentioned in the article, the fact that your radishes produce flowers does not necessarily mean that you still cannot consume the young seed pods or harvest their seeds for your next radish crop.
We hope that the information presented will help you identify the causes for which your radishes may flower early and avoid some of them by offering your plants the necessary conditions for a favorable development.