10 Plants With Waxy Leaves
Plants with waxy leaves are some of the most eye-grabbing plants that give any interior a vivid look. Here are 10 plants with shiny leaves to inspire you.
Everyone loves flowering plants, but there are also plants that attract all eyes just by the beauty of their leaves.
You don't have to be an interior designer to notice how good the plants with waxy leaves look in any interior. They give any room or hallway an astonishingly natural look and instantly attract all views.
This glossy look of plants' leaves is given by something that in botanical terms is called a "cuticle." Precisely, the cuticle is a protective outer layer composed of cutin, a wax-like substance produced by the plant which has several different roles according to researchers. Its primary function is to prevent excessive water loss. Other roles are the protection of the plant against UV radiation, insects, mechanical stress, and pollution.
This natural wax is not only found on leaves, but can also be found on fruits, stems, or other parts of plants that have a shiny appearance.
Now that you know a thing or two about why some plants have a waxy look, let's see which are some of the most beautiful plants that have gorgeous glossy leaves.
1. Jade plant (Crassula ovata)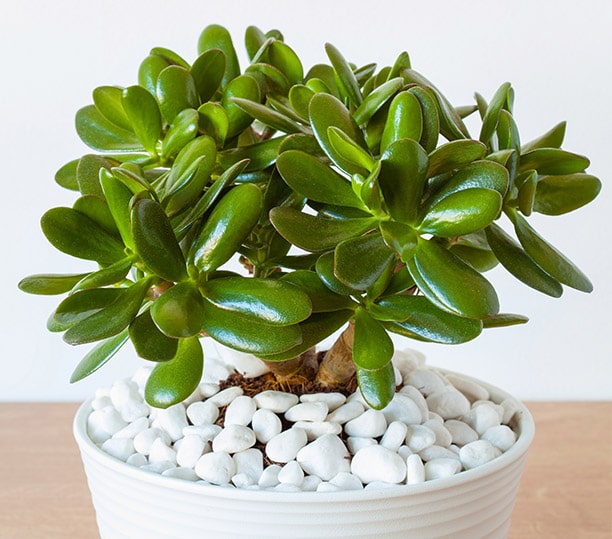 The Jade Plant (Crassula ovata) is one of the most majestic plants with waxy leaves. It is an evergreen succulent plant native to several regions in South Africa.
Although it is mostly called "the jade plant" due to its leaves of jade-green color, Crassula ovata is also known as money plant, money tree, or lucky plant. It is a very common houseplant around the world, especially because it requires a very low level of care.
The jade plant does not produce very impressive flowers and does not bloom very often but is mostly grown for its beautiful miniature-tree look and its gorgeous glossy aspect. It has juicy, sparkling, and smooth leaves.
2. The Wax Plant (Hoya carnosa)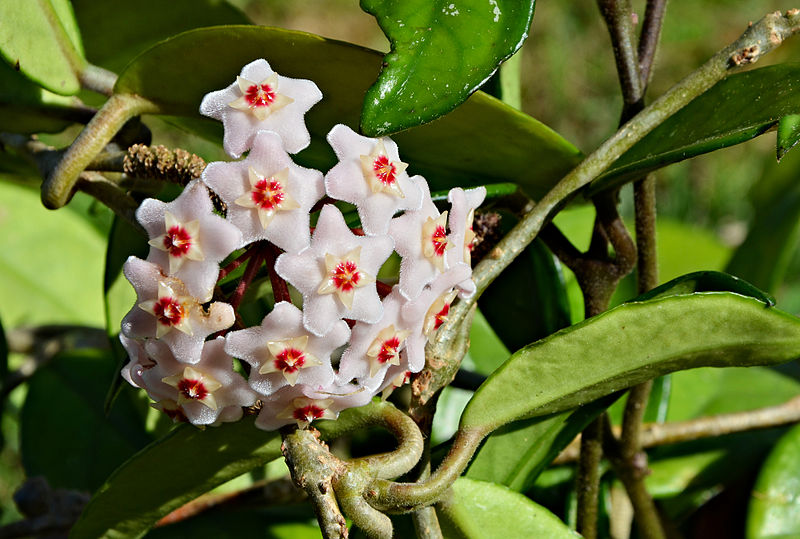 The Wax Plant (Hoya carnosa) is a common house plant grown for its charming waxy foliage and pleasantly scented flowers. It is indigenous to Eastern Asia and Australia and is also known as porcelain flower.
Hoya carnosa is a plant that immediately attracts attention when found in any room. If you are not familiar with it, most of the time you might confuse it as an artificial plant due to its shining leaves of extraordinary beauty.
The wax plant not only has superb waxy leaves but also produces beautiful clusters of stunning scented flowers that also seem to be made of wax. It grows well both in pots and hanging baskets.
3. Peace Lily (Spathiphyllum wallisii)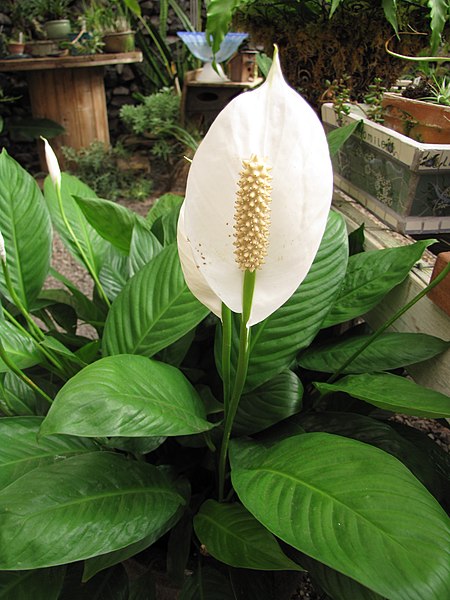 Peace Lily (Spathiphyllum wallisii) is one of about 50 species of tropical perennial house plants in the genus Spathiphyllum. They are also commonly known as white sails or spathe flowers.
If you love green, leafy houseplants but don't have too much space for a large tropical plant, a peace lily might be the perfect choice for you. It doesn't grow too big and has many dense dark-green shiny leaves which can give any place a lively look.
Peace lilies will mostly bloom during springtime but can also produce flowers multiple times a year. Their blossoms are white and look like an open flag or the hood of a cobra snake. When flowers rise from between the leaves, they create a splendid contrast with the waxy, dark leaves of these plants.
If you want to learn more about spathiphyllum wallisii and how to care for this plant, make sure you read this article.
4. Alocasia Polly (Alocasia × amazonica)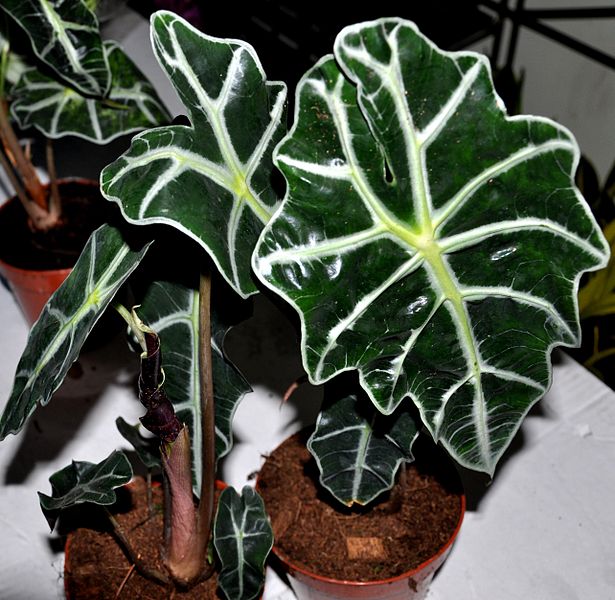 Alocasia Polly (Alocasia polly) is a large hybrid tropical plant with origins in Asia. It is also known under names like the African mask plant or Amazonian elephant's ear.
This plant has a unique and mysterious look. It has large glossy dark green leaves, with a shape similar to arrowheads and prominent light green veins that stand out.
Alocasia Polly grows very fast during the warm season and has a dormant period in the late fall and winter that will temporarily pause its growth.
5. Dwarf Umbrella Tree (Schefflera Arboricola)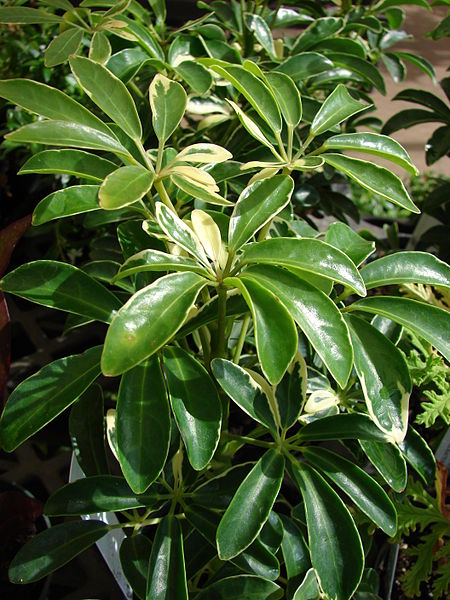 Dwarf Umbrella Tree (Schefflera Arboricola) is a perennial exotic shrub, suitable to be kept both indoors or outdoors.
Schefflera Arboricola can reach heights between 10 and 20 ft (3-6 m) and can be grown as trees, bushes, or even as bonsai. It is the little brother of Schefflera actinophylla (umbrella tree), which can reach up to 50 ft (15 m) in height.
The name "umbrella tree" comes from the aspect of its leaves that grow in clusters that resemble the shape of open umbrellas. Its leaves have a glossy dark green color and have an oval shape.
6. Swiss Cheese Plant (Monstera deliciosa)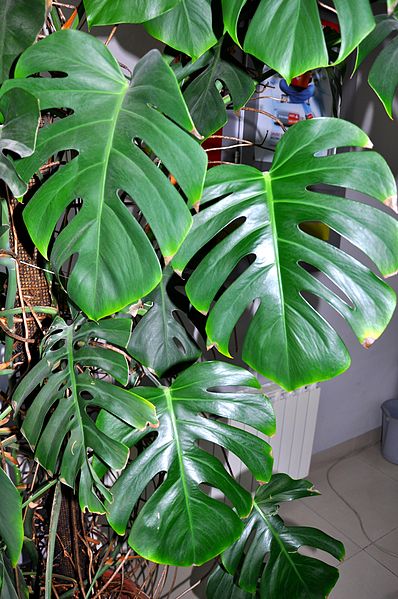 Swiss Cheese Plant (Monstera deliciosa) is an evergreen tropical plant. A few other common names include cheese plant, Swiss cheese vine, fruit salad plant, delicious monster, fruit salad tree, etc.
While it can grow outside, in many climates it is grown as a houseplant. It is a great choice for spacious living rooms or large halls as it can reach over 30 ft (9 m) in height.
Many love monstera deliciosa for its heart-shaped, large, waxy, and perforated leaves of a dark green color. It is also a very effective plant for purifying the air according to curbed.com, which points out to a NASA research.
7. Heart Leaf Philodendron (Philodendron hederaceum)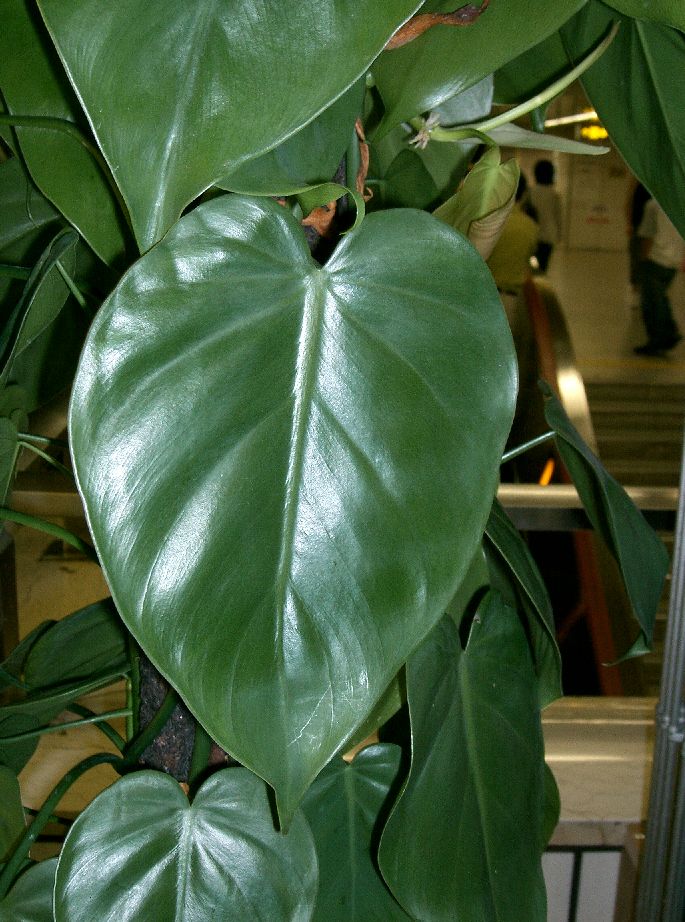 Heart Leaf Philodendron (Philodendron hederaceum) is a species of evergreen flowering plants, indigenous to Central America and the Caribbean. It is also often called the sweetheart plant.
It is easy to grow and is visually appealing due to its green glossy leaves in the shape of hearts that grow in vines. In fact, its foliage looks so perfect most of the time that at first glance, many would say it is an artificial plant made out of plastic.
Philodendron hederaceum is a climbing plant and it looks great in hanging baskets or when freely trails on shelves. It can spread its stems between 10 to 20 ft (3-6 m) and makes a great decorative plant.
Just like monstera deliciosa, the heart leaf philodendrons are also known to be very effective in removing harmful chemicals in the air.
8. Rubber fig (Ficus elastica)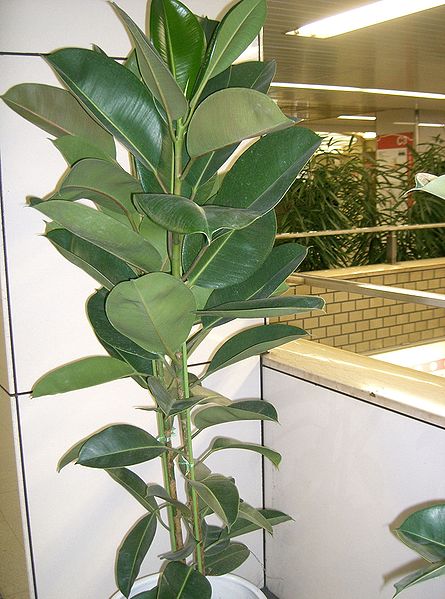 Rubber fig (Ficus elastica) is another amazing-looking ornamental plant with large waxy leaves. Other common names for this shrub include rubber tree, rubber plant, rubber bush, Indian rubber tree, and Indian rubber bush. It is a species native to parts of Asia.
Its name "rubber fig" comes from the fact that it contains a milky white latex compound that was once used in rubber production.
In rain forests, it develops into a large tree that can reach heights of up to 115 ft (35 m) or more. Can be grown outside in frost-free regions and only indoors in colder climates.
Rubber fig has broad shiny oval leaves which are larger on young plants. Their color ranges from light to dark green, and other combinations, depending on the variety.
9. Flaming Katy (Kalanchoe blossfeldiana)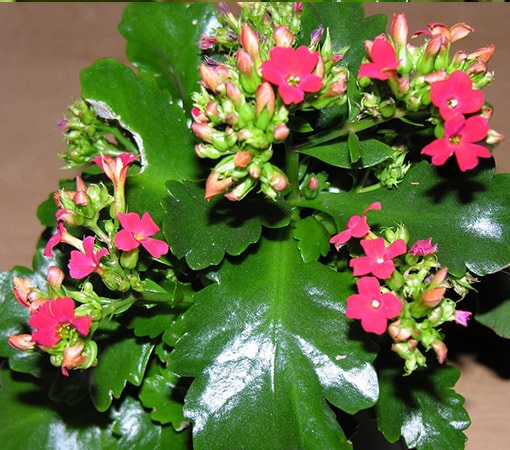 Flaming Katy (Kalanchoe blossfeldiana) is a popular bushy plant native to Madagascar. Many also know it as Christmas kalanchoe, Madagascar widow's-thrill, or florist kalanchoe.
Kalanchoe blossfeldiana is grown as a houseplant. It has thick leaves of a dark green color, with scalloped and ovate edges. Their surface is waxy and textured. Its foliage remains green throughout the year.
This plant is not only popular due to its bright smooth leaves, but also for its attractive flowers. It usually blooms in late autumn to early winter and produces pink, red, white, gold, or orange flowers.
10. Desert Rose (Adenium obesum)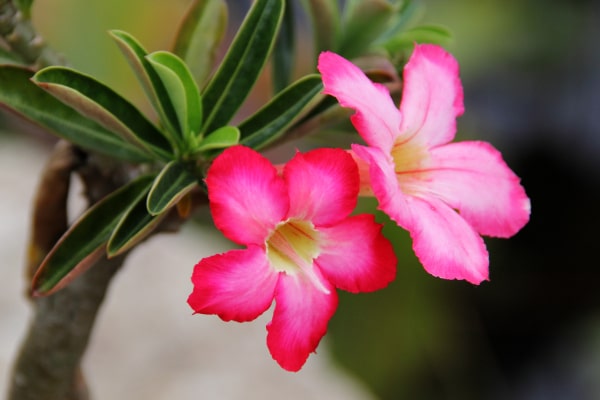 Desert Rose (Adenium obesum) is an evergreen succulent shrub native to dry desert regions of Africa and Asia. It is also known as impala lily, Sabi star, kudu, and mock azalea.
It has green leaves arranged in spirals, grouped toward the tips of the shoots, and with a polished cerated aspect. It also produces beautiful flowers which are usually a combination of red, white, and pink.
Desert Rose is perfect for being grown as a bonsai since it is a pretty slow-growing plant. If pruned correctly, you can obtain an amazing miniature flowering tree with an impressive life span.
---
Final Word
There are many beautiful plants with waxy leaves, but it would have been a very long list to include them all. So we chose only 10 of them, which we admire very much.
All these plants can be a great choice for your next interior design project. Most of them will not only give your space a modern vivid look but can also improve the air quality.