8 Plants With Red Veins And Green Leaves
Need to identify a plant with red veins and green leaves? Here's a list of several plant species with this distinctive feature.
The leaves of plants are impressive both through the diversity of their shapes but also their color. During the growing season, the leaves of many plants often have a green color due to a compound called chlorophyll. However, there are also species whose leaves are red, purple, pink, orange, yellow, etc., or a combination of several colors.
The veins (sometimes referred to as nerves) serve as vascular tissue for the leaves, and their pattern is called "venation". Several of their roles include providing support for the leaf, transporting nutrients and water from the stem, and also play an important role in the process of photosynthesis.
While some rare species of plants possess only a single vein that traverses the leaf without dividing, in most, there is a primary vein from which several smaller ones branch on the entire surface of the leaf. They are usually located on the underside of the leaves, but in some species, they can be seen on both sides.
Like the leaves, their veins can have various colors, but in this article, we will only list several plants whose leaves are green but have red veins.
1. Red Prayer Plant (Maranta leuconeura var. erythroneura)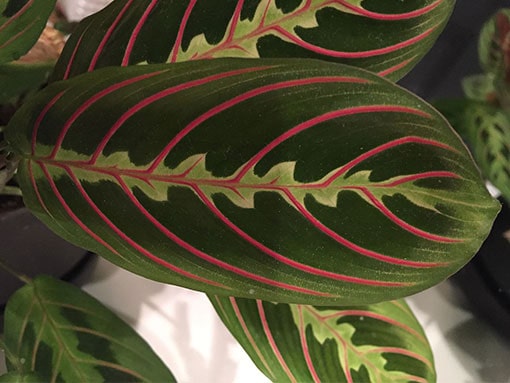 Maranta is the name of a genus of evergreen tropical flowering plants indigenous to tropical Central and South America and the West Indies.
The flowers in this family are commonly known as "prayer plants," because they tend to fold their leaves together at night, resembling praying hands.
Maranta genus includes about 50 different species of Maranta. Of these, one variety stands out through its green leaves with reddish veins crossing their surface, Maranta leuconeura var. erythroneura.
Maranta leuconeura var. erythroneura is a perennial plant and most often grown as a houseplant, but in warmer regions, it can also be planted outdoors.
Erythroneura is remarked for its beautiful evergreen foliage. The leaves are predominantly green and have an elliptic to an almost oval shape, with beautiful nerve patterns. The veins on the leaves of this variety are red instead of green as they are on other Maranta leuconeura species.
2. Nerve Plant (Fittonia Albivenis)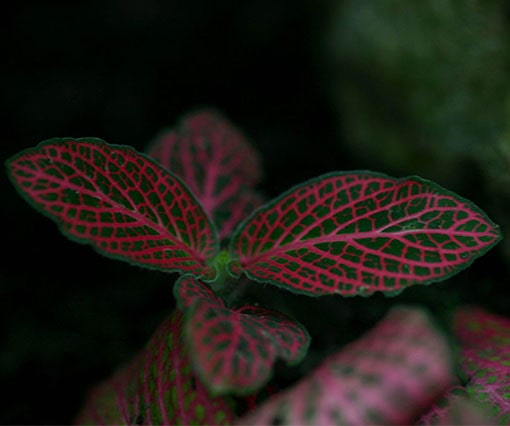 Fittonia, also known as the nerve plant, fainting plant, or mosaic plant, is a genus of evergreen flowering plants native to the tropical rainforests in Peru, Colombia, Brasil, Ecuador, and several other regions of South America.
These plants are often raised in pots and grown mainly due to the beauty of their foliage, although they also produce flowers.
There are over 50 varieties of Fittonia, easily distinguishable from other plants through the shape of their leaves and the veined pattern. Among the most popular species of Fittonia are F. albivenis and its cultivars.
The color of the nerves is not red in all varieties but can range from pink to white and red. Also, the green of the leaves can fluctuate from one variety to another.
Some species of Fittonia that have reddish-pink or red veins include varieties such as:
Ruby Red
Red Anne
Red Star
Mini Red Vein
Black star
It got its popular name, "fainting plant," because when it is deprived of water for a few days, it lowers its leaves and stems. However, it can be quickly be brought "back to life" with a bit of water.
3. Caladiums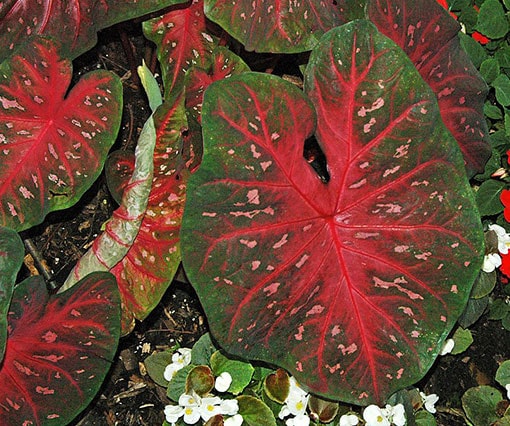 Caladium is a genus of flowering tropical plants native to South and Central America. They are commonly known as the elephant ear, angel wings, or heart of Jesus.
Depending on the species, they can reach various sizes. Wild species grow larger than the ones cultivated. There are also several dwarf varieties, which make perfect houseplants.
Caladium is often utilized as an outdoor decorative plant. However, they are very sensitive to cold and cannot persist outside in cold climates.
The elephant ear is grown mainly for the beauty of its large heart or arrowhead-shaped leaves that can have various color combinations and striking leaf vein patterns. The nerves can also have a variety of colors, such as white, green, pink, red, or magenta.
4. Red-Veined Sorrel (Rumex Sanguineus)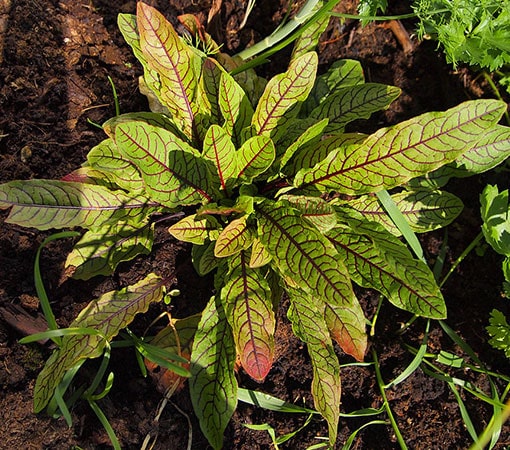 Rumex Sanguineus, also known under names like red-veined sorrel, bloody dock, bloody sorrel, or wood dock, is a perennial herbaceous plant commonly found in Europe.
It is usually seen in shady places like woodlands but also grown as an ornamental, or crop plant by some.
Although it is regarded as edible, the red-veined sorrel contains a chemical compound called "oxalic acid," which, if ingested in high quantities it may cause stomach upset.
It is a plant that grows quite quickly under the right conditions and is usually planted in spring. It produces small flowers and seeds to reproduce.
Rumex Sanguineus is easily distinguishable due to its green lance-shaped leaves with blood-red to dark-red veins that cross the leaf.
5. Swiss Chard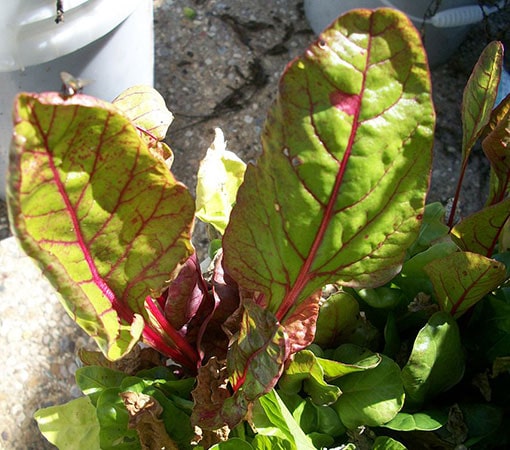 Swiss chard is a leafy vegetable related to the beet family that grows worldwide.
It is valued for its green leaves rich in vitamin K, A, and a complex of other vitamins and minerals.
Contrary to its name, the Swiss chard is not indigenous to Switzerland but to the Mediterranean area.
Swiss chard is eaten both raw in salads and cooked in soups or other dishes. In its green form, it has a slightly bitter taste.
In addition to the health benefits associated with its consumption, this plant is often grown because it is very easy to grow.
The name Swiss chard includes several varieties. Most have broad light or dark green leaves, supported by thick red, white, or yellow stems. The leaves have a slightly wrinkled surface and often have red or yellow nervures.
6. Beet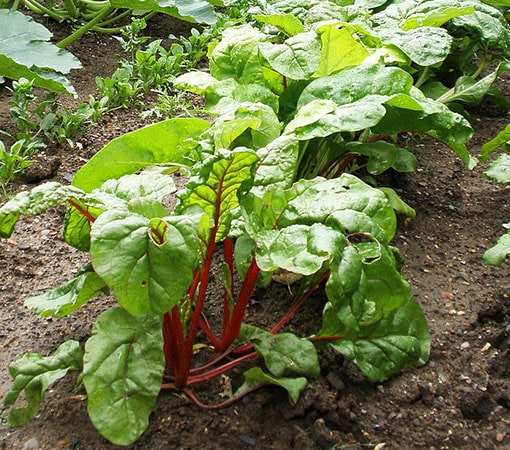 Beet, also knowns as beetroot, garden beet, red beet, or table beet, is a popular garden vegetable cultivated during the cooler seasons or in temperate regions.
This plant is cultivated especially for edible taproots but also for leaves, which are edible as well.
The roots of this plant can be eaten either raw, boiled, fried, pickled, or in various recipes. The leaves are usually eaten in salads or boiled, with a spinach-like taste.
Beet consumption is known to have plenty of health benefits. Beetroot juice is considered a natural drink that helps to reduce blood pressure and improve endurance exercise performance.
The root of this plant also contains a natural intense dark red pigment used in food and pharmaceutical products.
The leaves are bright or dark green, grow supported by sturdy, reddish stems that end in red nervures. These travel the length of the leaf and branch into smaller veins across its surface.
7. Coral Bells (Heuchera)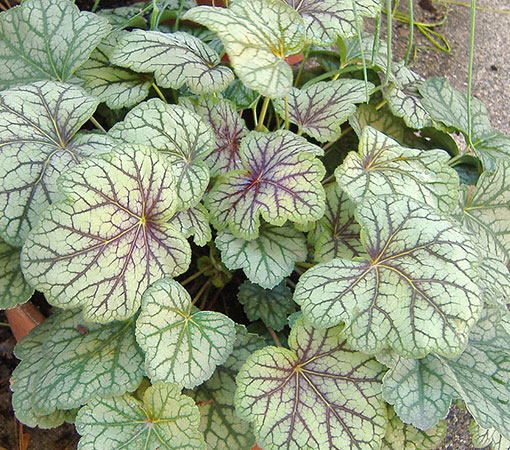 Heuchera is a genus of evergreen flowering plants native to North America. This genus includes more than 50 species that vary in size and appearance. Many know the Heuchera plants under names like coral bells or alumroot.
This plant is primarily grown for its vigorous foliage, but most varieties also produce small bell-shaped flowers.
The leaves are broad and can vary in color depending on the variety and environmental conditions. Some varieties also have on both sides of the leaves noticeable nervures. These range in color and are often either green, red, or maroon.
Coral bells grow very well both in containers and also planted directly in the garden. They develop rich foliage in the form of a bush and can thrive even in light-shaded areas.
8. Begonia Grandis Subsp. Evansiana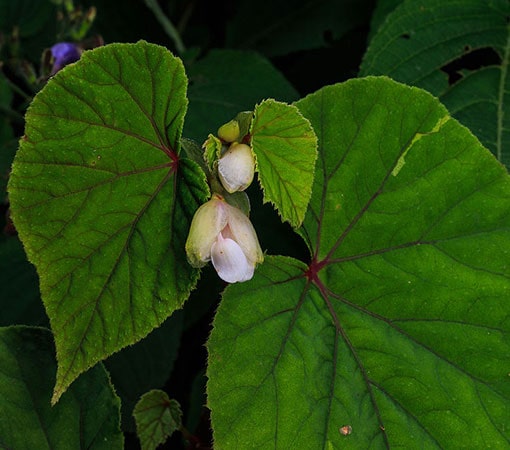 Begonia is a genus of perennial flowering plants that includes more than 2000 different species. Begonias originate from humid subtropical and tropical climates of India, Indonesia, and Central and South America.
Many of these species are grown as indoor houseplants, but there are some that are more suitable for the garden, such as Begonia grandis and its subspecies.
Begonia grandis, commonly known as hardy begonia it is a winter-hardy plant in several temperate zones, tolerating low temperatures of up to 23°F (-5°C). (source)
Begonia grandis has usually large dark-green heart-shaped leaves with red backs. These sometimes also have red veins, more noticeable on the underside of the leaf.
Begonia Grandis also produces flowers that grow in clusters. Depending on the subspecies, their color can be white, pink or a combination of them.
---
Final Word
These are just a few plants with red veins and green leaves. I hope I helped you identify an unknown plant that has these characteristics or to get an idea of which red-veined plant to buy.