10 Plants That Look Like Palm Trees But Are Not
Are you looking for plants that look like palm trees, but aren't true palms? Here are several species of plants with these characteristics.
Palms are beautiful perennial flowering plants that belong to the Arecaceae family. Most of these plants are native to tropical and subtropical climates.
Not all palms are trees. Some are small shrubs or even climbing plants that grow as lianas.
The word "palm" is generally utilized to refer to any plant in this family, while "palm tree" refers to the ones that look like trees.
Palms are grown primarily as ornamental plants and can often be spotted on the side of the streets of many cities in regions with tropical and subtropical climates.
These plants also have an important symbolistic in many cultures. Ever since antiquity, palm branches were a symbol of triumph, peace, and abundance.
Palms are generally identified by their fan-like or feather-like leaves that grow as a tuft on the top or on each side of the trunks or stems.
Although palm trees are pretty easily recognizable by their distinctive elements, there are also other plant species that are frequently mistaken as being palms.
While these may look like palms and even have the word "palm" in their popular names, they are not genuine palm trees that belong to the Arecaceae family. That's what we will cover further in this article.
Below you can find a list of plants that look like palm trees but are not true palms.
1. Sago Palm (Cycas Revoluta)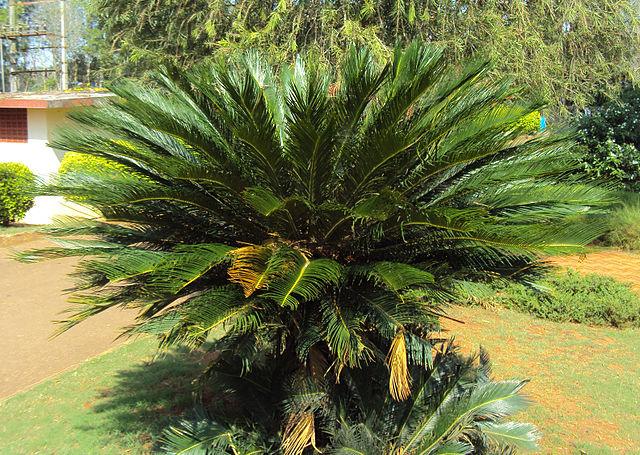 Sago palm (Cycas Revoluta) is a shrub native to southern Japan and is used as an ornamental plant since ancient times. It is also commonly known as the Japanese sago palm, sago cycad, or king sago.
This shrub has a very slow growth, can live hundreds of years, and normally doesn't reach a height of more than 10 ft (3m). Therefore, a sago palm can also make a beautiful houseplant.
Although its common names include the term "palm" thanks to its palm-like appearance, the sago palm is not really a palm tree. This plant belongs to the family Cycadaceae, also known as "cycads."
Cycas Revoluta can be recognized by its long, feathery-like glossy green leaves that grow like a rosette at the top of a cylindrical and stout trunk.
2. Ponytail Palm (Beaucarnea Recurvata)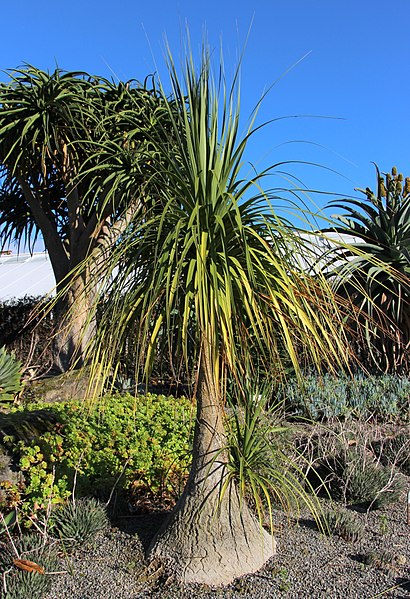 Ponytail palm (Beaucarnea recurvata), also known as the elephant's foot or bottle palm, is an evergreen plant native to the semi-desert regions of southeastern Mexico.
While its common name, ponytail palm, suggests that it is a palm, it is not. It only has the look of a palm tree but does not belong to the palm family.
Beaucarnea recurvata doesn't require a lot of care, and thus, has become a popular houseplant in Europe and other parts of the world.
Ponytail palm can be identified quickly by its trunk swollen at the base. This feature enables the plant to store water and survive prolonged drought periods, leading to its popular name bottle palm or elephant's foot. The trunk will branch once the plant grows.
The leaves flow down from the top of the trunk. These are dark green, long, curly, thin, with flat margins or slightly ridged.
3. Yucca Plants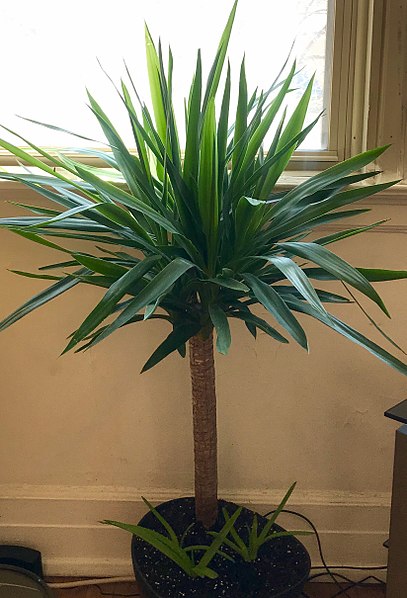 Yucca is a genus of about 50 perennial shrubs and trees in the family Asparagaceae. These plants are native to the arid and sandy regions of North and South America.
Apart from growing in the wild, Yuccas are grown as ornamental plants because they can tolerate a wide range of conditions and are not very needy. Also, the parts of some species are edible.
Although not all Yucca species resemble the features and aspects of palm trees, there are several with a palm-like look, such as:
Yucca cane (Yucca gigantea)
Beaked yucca (Yucca rostrata)
The Mojave yucca (Yucca schidigera)
Aloe yucca (Yucca aloifolia)
Depending on the species, yucca plants can reach different sizes and have distinct features.
4. Dragon Trees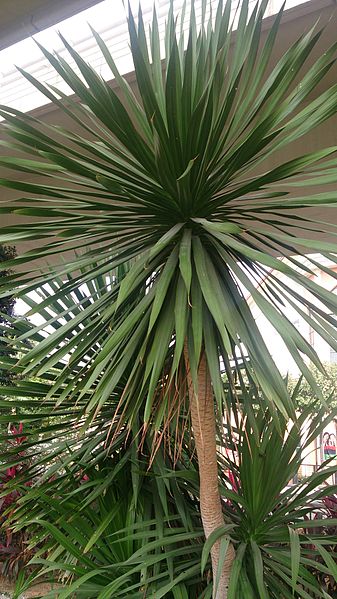 Dragon tree is the common name of several species of tropical plants in the genus Dracaena, family Asparagaceae.
Many species of Dracaena plants are grown as indoor houseplants due to their vivid aspect and the fact that they tolerate low light conditions and don't require too much watering.
Not all species of Dracaena are palm-like. A few that resemble the look of palm trees the most include:
Dracaena Tree (Dracena Arborea)
Madagascar Dragon Tree (Dracaena Marginata)
Striped dracaena (Dracaena fragrans)
Canary Islands dragon tree (Dracaena draco)
The size and features will vary from one species to another.
5. Travelers Palm (Ravenala Madagascariensis)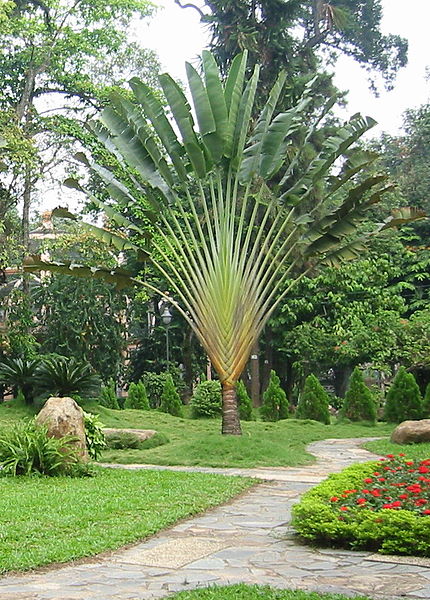 Traveler's palm (Ravenala Madagascariensis) is a flowering plant in the genus Ravenala, family Strelitziaceae. It is also known under names like traveler's tree or East-West palm.
Although some of its common names include the term "palm" and have a look somehow similar to palms, Ravenala Madagascariensis are not true palm trees.
The traveler's palm has a distinct look and is easy to identify. It has paddle-shaped leaves with long petioles disposed in a fan shape in a single row on top of a trunk that resembles that of a real palm tree.
Ravenala Madagascariensis is widely cultivated for its exotic unique look and foliage in tropical and subtropical areas.
6. Madagascar Palm (Pachypodium Lamerei)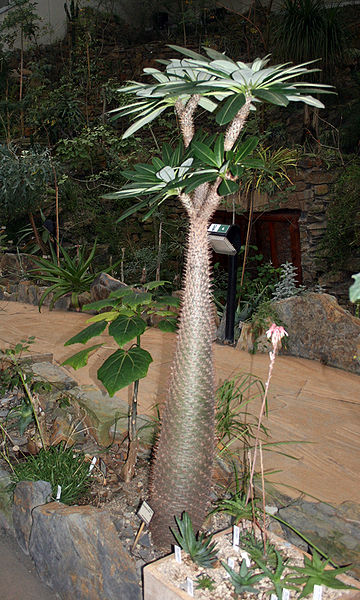 Madagascar palm (Pachypodium lamerei) is a stem succulent in the family Apocynaceae and is native to Madagascar.
Despite its common name and although it has a shape and appearance similar to that of palm trees, Pachypodium lamerei is not related to the genuine palm trees in the Arecaceae family.
The Madagascar palm has a tall, silvery-gray trunk that is covered with sharp spines. The leaves that grow at the top are shiny dark green, narrow, and grow in clusters. When grown outdoors it sometimes produces white, large, fragrant flowers.
As it is a stem succulent it produces photosynthesis mainly through the trunk.
7. Banana Palm (Musa Acuminata)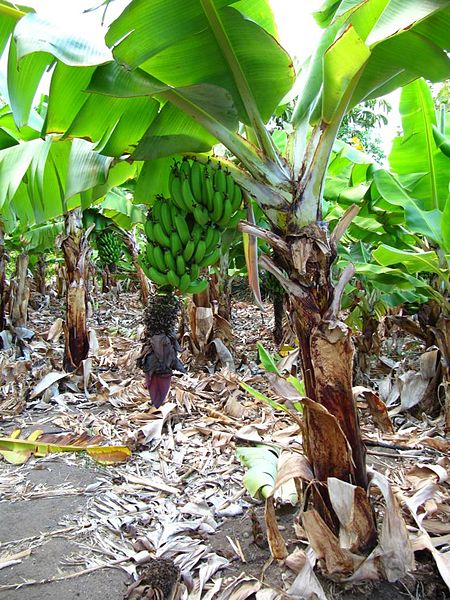 Banana palm (Musa acuminata) is an evergreen perennial plant native to Southern Asia. It is commonly known as banana palm, banana plant, dessert banana, or edible banana.
They are cultivated both for their edible fruits and also as ornamental plants due to their attractive foliage.
Although it looks like a tree and is generally called a palm, it is neither a palm nor a tree. From a botanical standpoint, Musa acuminata is considered a herb.
The banana palm is a fast-growing plant and can get as tall as 20 ft (6m). It has large green paddle-shaped leaves attached to the trunk through short stems.
8. Cardboard Palm (Zamia Furfuracea)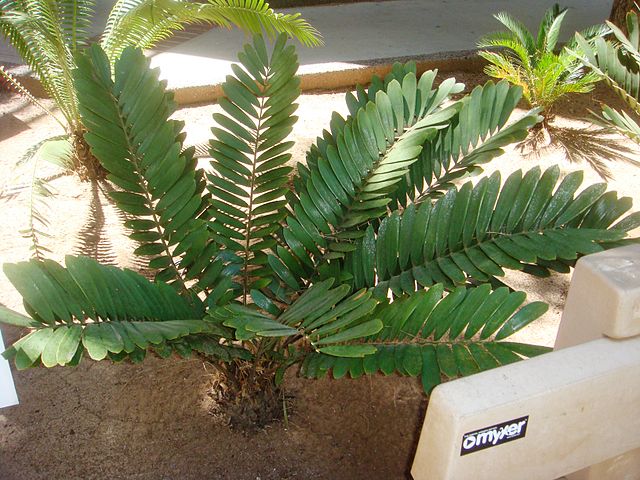 Cardboard palm (Zamia furfuracea) is a cycad in the family Zamiaceae. Several other common names for this plant include cardboard cycad, cardboard plant, and cardboard sago.
Cycads are seed plants that normally have a rugged and woody trunk with a crown of large, hard, stiff, evergreen, and often pinnate leaves.
Palms and cycads are often mistaken for each other because of their similarities in structure and foliage. So, even though it looks like a palm, Zamia furfuracea is not actually a palm tree.
Cardboard palm has a cylindrical trunk with leaves radiating from its center. The leaves are green, compound, rounded and pinnate, with pairs of stiff fuzzy leaflets. Some may have serrated margins.
9. Gum palm (Dioon Spinulosum)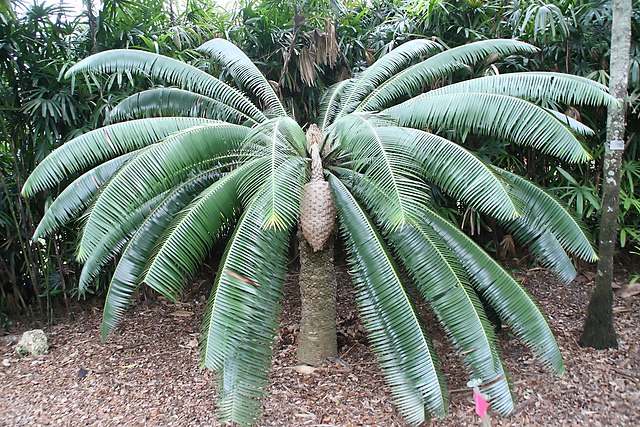 The gum palm (Dioon spinulosum), or giant dioon, is a cycad found in some of the tropical rainforests of Mexico. It is one of the tallest cycad species in the world, but unfortunately, it is endangered in the wild due to its natural habitat destruction.
Dioon spinulosum belongs to the family Zamiaceae, and although it has the visual characteristics of a palm tree, it is not one.
The gum palm is recognizable mainly by its feather-like green leaves with a blue hint that extend from the top of the trunk, arranged in a lovely rosette.
Dioon Spinulosum is grown outdoors as an ornamental plant in tropical and subtropical climates and in containers, as an indoor plant, in other areas.
10. Vulcan Palm (Brighamia Insignis)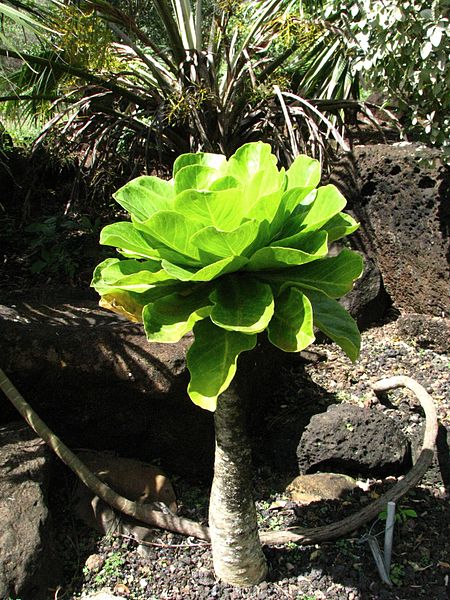 The Vulcan palm (Brighamia Insignis) is a perennial flowering plant in the family Campanulaceae. It is native to the Hawaiian islands Kaua'i and Ni'ihau.
Brighamia insignis has a succulent stem that is swollen at the base and tapers toward the upper part. At the top, it develops a compact rosette of fleshy green leaves that resemble the aspect of cabbage leaves, hence its other common name of "cabbage on a stick."
The overall look of Brighamia insignis resembles the shape of a palm tree. However, this plant has nothing to do with real palms.
---
Final Word
Palms are beautiful plants that are widely grown as houseplants or ornamentals. However, there are also multiple species of plants and shrubs that are often mistakenly identified as palm trees, without having any connections with the genuine palms in the Arecaceae family.
In this article, we have presented some species of plants that look like palm trees but are not real palms.