10 Best Free Plant Identification Apps For iOS & Android (2023)
Plant identification apps are handy tools for gardeners, explorers, and plant enthusiasts.
As a gardener or person who loves plants, you will face many cases when you need to determine the species of a particular herb, weed, houseplant, tree, or wildflower.
If the only method to identify unknown plants a few years ago was to ask an expert in the scientific study of plants or browse entire plant-related books, nowadays, this task has become considerably easier thanks to mobile apps.
There are numerous phone apps that can help you quickly and effortlessly identify many plant species by simply taking a photo of their leaves, flowers, fruits, or even bark when you need to determine the species of an unknown tree.
Most of us always have our mobile phones at our disposal and these apps can be priceless when you need to quickly identify a plant.
To make it easier for you to choose the apps that best suit your needs and preferences, we have created a list of some of the most popular apps with plant identification functions available for both Android and iOS.
Some of these are completely free, while others are powered by ads, or have a free version that only gives you access to a part of the features.
It should be mentioned that these apps were picked and listed according to our preferences. That doesn't mean there aren't other good apps out there still waiting to be discovered.
Note: The information in this article regarding the features/trial periods/prices/plans/database sizes of the apps presented may not be entirely accurate and can change at any time as the apps are frequently updated. You should always check the info presented in each app before deciding to purchase a paid subscription.
Free Apps
1. Pl@ntNet
Pl@ntNet is one of the most popular plant identification apps for mobile phones. According to the information displayed on the app's official website, it was released more than ten years ago, so it is also one of the oldest in this field.

This app is labeled as "a citizen science project available as an app" as it is more of a community of plant enthusiasts and experts contributing to the app's progress.
Pl@ntNet is free to download and use, and at this time, it doesn't contain in-app advertisements or paid plans. It is a donation-based project and anyone is welcome to contribute and help the founders cover the costs of the development and servers.
This app has pretty good image recognition capabilities and can identify a plant from a photo of its leaves, flowers, fruits, bark, habit, or another part.
It has both a version for phones with the Android operating system and one for iOS, but also a web version that allows you to identify plants directly from the web browser by uploading an image, without the need to install the application on your device.
Quick Preview
The database of this app is growing continuously thanks to the contributions of people all around the world.
This app is ideal for identifying wild plants, common houseplants, trees, herbs, vegetables, weeds, etc.
It can also help you to discover and learn about the flora in your location or in different regions of the world.
Although you can register a user account to save your observations and share them with the community, you are not required to do so, and you can completely skip this step after opening the app.
Download / Install Pl@ntNet
2. Seek by iNaturalist
Seek is more than a mobile app for identifying plants. This app from iNaturalist utilizes the power of image recognition technology to help you identify unknown plants, fungi, and animal species from photos.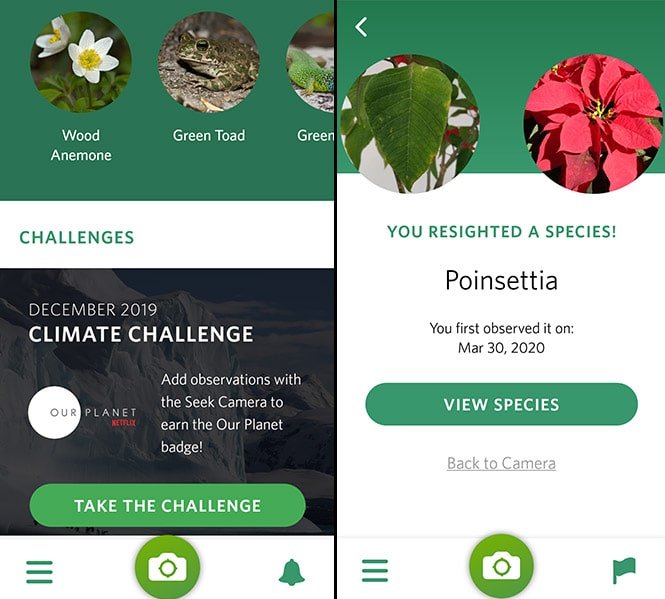 It is an outstanding mobile app for adventurers who like to spend their time exploring nature and want to learn more about the organisms around them.
Seek is obtaining its data from millions of public wildlife observations collected by iNaturalist (another cool app from the same network) and partner sites.
Quick Preview
The app is free to use, does not require you to register an account, doesn't display annoying ads, and has a straightforward and clean interface.
You can also earn different badges for making observations and you can participate in various challenges.
Download / Install Seek by iNaturalist
3. iNaturalist
iNaturalist started as the Master's final project of several students at UC Berkeley's School of Information in 2008. Later, it became an initiative of the California Academy of Sciences and a joint initiative with the National Geographic Society.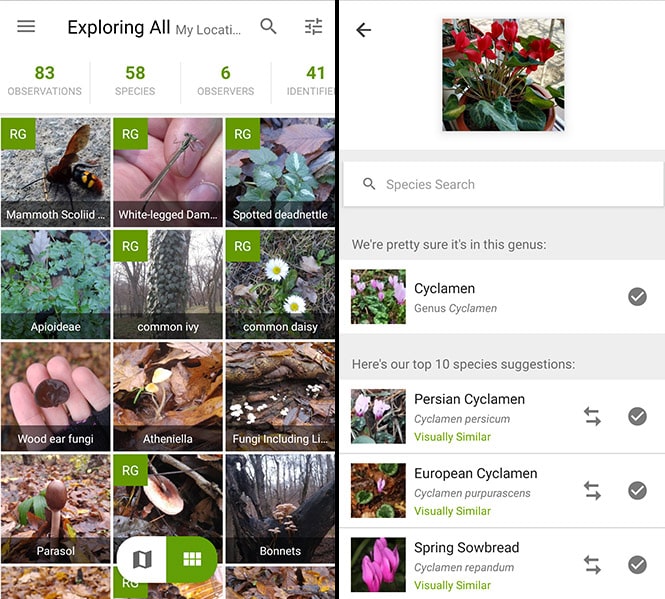 The central goal of the iNaturalist app is to create a community of like-minded people. A place where wildlife experts, scientists, and regular people can share their findings (observations) and help the better understanding and preservation of the flora, fauna, and the environment in various world regions.
iNaturalist is more than an app designed to help you identify plants, but can also be utilized for that purpose.
If you don't need the extra features, you can take a look at the simplified app originated from iNaturalist, which is called Seek.
To find out the name of a plant with iNaturalist, you have to go to "New Observation" from the app's menu.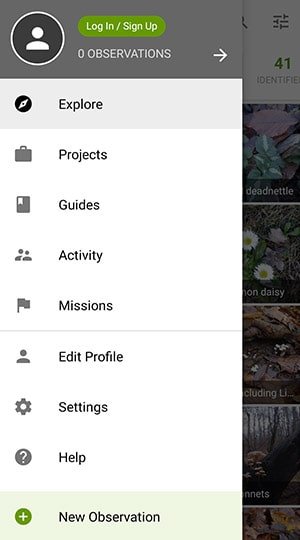 Next, select whether you want to take a photo or choose an existing image from the image gallery of your device.
Once you pick the desired photo, you have to click on the question mark before "What did you see?" for the app to compare the unknown plant with the ones in the app's database and generate a set of possible matches.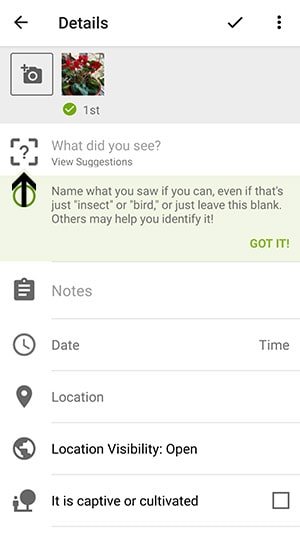 Short Preview
This app is free to use, does not contain ads, and you can skip the user account registration screen.
Download / Install iNaturalist
4. Google Lens
Google Lens is a mobile phone app developed by Google and very popular among users with devices operating on Android OS as it may come already pre-installed. However, there is also available for iPhone users (iOS) and you can download it for free from Apple App Store.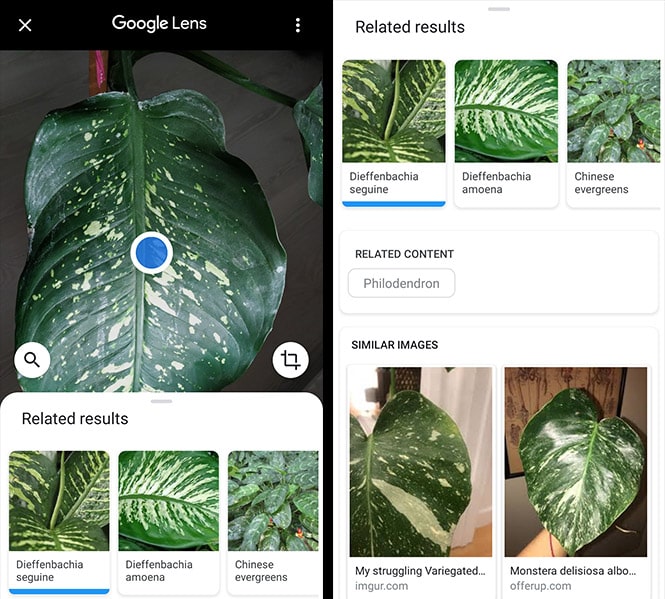 This app has multiple handy features when it comes to photos, but what interests us more is the plant recognition function.
Google Lens uses the power of Google Images to enable you to identify objects, plants, text, and more, from a photo.
Quick Preview
While some other plant recognition apps included in our list might have a large library of plants available, I think they still cannot compete with the huge database of Google images.
Basically, with Google Lens, you can search and identify anything you see, regardless if it's an animal, an object, or a plant.
If you are someone like me who only uses plant identification apps to only to find out the name of specific flowers, trees, or weeds, Google Lens is all you need.
This app is entirely free and incredibly powerful. However, since it's not an app solely designed for identifying plants, do not expect it to give you too many details about those plants upfront. Thus, you might have to click the results to find out the plant name or more details about it.
The web alternative to Google Lens is Google Image Search.
So, if you need to find out the name of a particular plant when using your computer, you can use the "search by image" feature of Google Images (click the camera icon in the search bar of Google Images and select the image from your computer).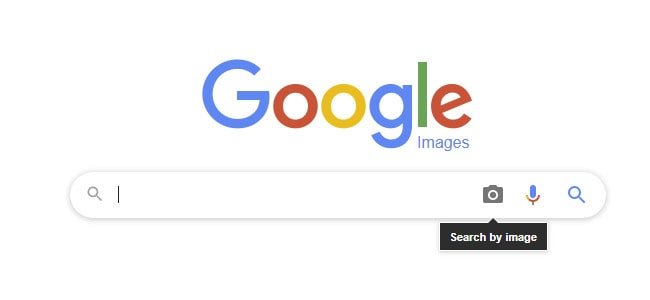 Then just browse through the results and find the plant that looks like the one in your picture.
Download / Install Google Lens
Limited free version / Free trial / Paid Subscription
5. PictureThis
PictureThis is one of the most popular mobile apps for identifying plants on the Google Play Store. It currently has over 10 million downloads.
The goal of the team behind the app is to build a lively community of plant lovers and help more people learn new things about plants.
PuctureThis is great for gardeners, photographers, outdoor enthusiasts, plant passionates, students, teachers, and anyone who needs a plant identifier app.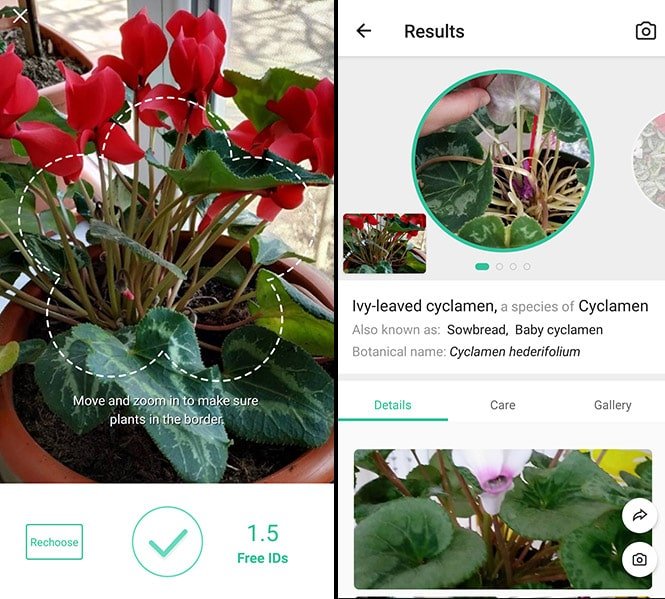 With the help of PictureThis, you can identify houseplants, wildflowers, weeds, trees, and herbs in seconds.
Once the app determines the species of an unknown plant, it will also display useful information related to the care of that particular plant, inflorescence color, habitat, sunlight and watering requirements, info about pests, and much more.
The app also has a very useful feature that enables you to diagnose plant diseases based on various parts of the plant.
Other helpful features include weed identification, plant toxicity to pets, insect identification, bird identification, and more.
Quick Preview
This app has a free plan and a free trial period to try the premium subscription. With the free plan, you may see ads and some features of the app can be limited to the premium plans.
You will also need to register an account in order to use the app.
There is also a web version of this app and you can access it from your web browser, without installing PictureThis on your device.
Download / Install PictureThis
6. LeafSnap
LeafSnap is an app designed to help you determine the species of unknown plants by simply taking a photo of their leaves, flowers, fruits, or bark in the case of trees. Additionally, it also includes plant care guides and allows you to set reminders.
According to the information displayed on the app's website, Leafsnap can accurately identify more than 32,000 plant taxons from all over the world and the database is constantly growing.
The design of the app is friendly, simplistic, and its features are easy to find and use.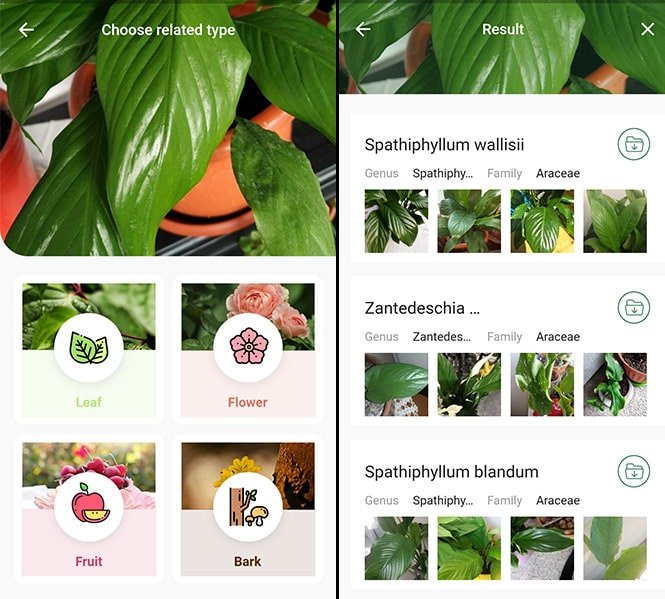 The image recognition technology of the app is pretty good and seems to be able to identify many plant species.
After it scans the selected photo, it gives you a list of the plant species that are possible matches.
Quick Preview
The free plan of LeafSnap includes ads and may have less features and utilize a smaller plant database. You are not required to create an account to use the app.
Download / Install LeafSnap
7. NatureID
NatureID aims to help you become a plant expert. This mobile app has many priceless features for any gardener, explorer, or plant lover.
With the help of NatureID, you can identify more than 10,000 species of plants and mushrooms (regardless of the accuracy of the app, always ask a specialist before deciding whether a mushroom is edible or not).

For every plant identified successfully, you also get additional useful information about it.
In addition, the application has numerous other features to help you learn more about growing and caring for plants. These include plant disease diagnosis, useful guides and tips, the possibility to set reminders, and more.
Quick Preview
The free plan of the app gives you access to many of the features, but some have certain limitations that are lifted by purchasing a paid subscription.
Download / Install NatureID
8. PlantIn
PlantIn will help you to find out the name of more than 17,000 species of known plants, including weeds, flowers, houseplants, herbs, trees, and more. All with the help of a mobile phone, an app, and a picture taken with it.
The plant recognition function not only helps you find out the name of a mysterious plant but also teaches you how to take care of it if it's a garden plant or a houseplant.

The results include valuable information about plant growth, water requirements, soil, light, optimum temperature, pests, diseases, and more.
A built-in disease diagnosis feature is also very handy to determine your plants' health.
Additionally, you get in-app access to a blog with useful articles about plants.
Quick Preview
PlantIn has a 3-day free trial during which you can test the features of the app.
Download / Install PlantIn
9. Blossom
Blossom is an app that can help you quickly identify unknown plants from images. However, it is much more than that.
For every plant identified, you also get valuable information about its requirements (water, sunlight, soil, temperature, etc.), growing directions (propagation, pruning, repotting, fertilization, etc.), toxicity, pests, specific diseases, and more.

Besides the plant recognition function, you also get access to various plant-related articles, a plant disease diagnosis feature, a personalized planting schedule, the ability to save the plants in a collection, a light meter (Android only), and more.
Overall, it is a great app for anyone who loves plants and wants to learn more about how to care for them properly.
Quick Preview
While you get limited access to a part of the features with a free plan, to enjoy the full features of the app and remove the limits, you need to purchase a paid subscription.
You are not required to register an account to use the free version, but to use some features of the app, you may need one.
Download / Install Blossom
10. PlantSnap
PlantSnap is one of the most popular phone apps for identifying plants by photo, being downloaded more than 10 million times from Google Play Store only.
It is available for the iOS operating system as well.
Take a photo of any plant or use an existing picture from your image gallery, and quickly find out its name.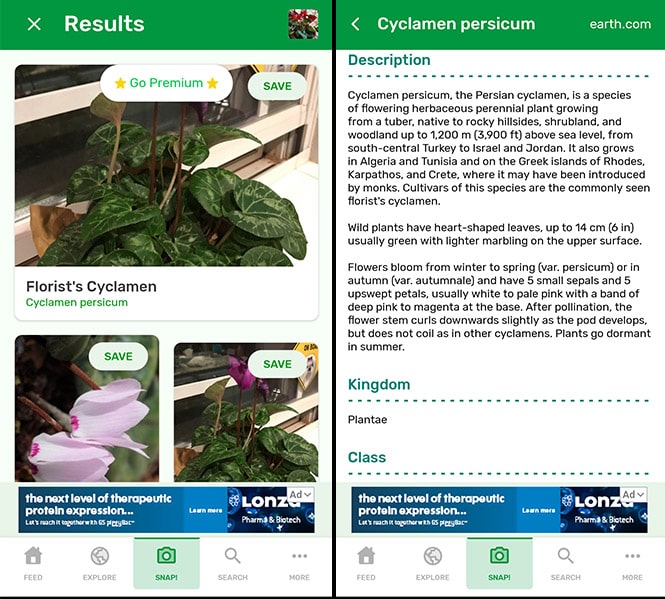 It is one of the apps with the largest databases of plants. According to the information displayed on the official website, it can identify over 600,000 known plant species.
PlantSnap is also translated into 37 languages, which is very helpful for non-English speakers.
Quick Preview
This app has a free version with ads and limited daily snaps. If you only use the app occasionally, this might be enough for your needs.
The premium version of the app removes the advertisements and the limits. There is also a free 7-day trial to test the paid version.
You can use the app without an account, but to have your snaps stored, post in the community, and enjoy the different features of the app, you need to register an account.
Download / Install PlantSnap
---
Final Word
Regardless if you are a gardener, biologist, student, professor, wildlife explorer, or just someone who loves plants, a mobile app that helps you quickly identify plants from a photo is an invaluable instrument.
While there are numerous mobile apps available for devices operating on Android and iOS, not all of them are satisfactory, that's why we have created this list.
We have only included apps that:
Can identify a plant from a photo (either taking a new photo or uploading an existing one)
Can be downloaded from Google Play Store or Apple's App Store
Are free or have at least a free version, free trial, or a way to get free credits
Can recognize a wide variety of plants
Keep in mind that although a particular plant might be in an app's database, sometimes, the software might still be having issues recognizing the plant due to factors like:
Low photo quality
Bad shooting angle
Crowded backgrounds
Inadequate plant part
Low light
To improve the chances for these apps to identify a plant correctly, you should always take multiple photos from several angles and shots of various parts of the plant you want to identify (leaves, flowers, bark, etc.).
Also, some of these apps may have more accurate results when trying to identify the common houseplants while others may do a better job in recognizing the wild plants. You just have to find the one that works best for you.
We hope you'll find our selection above useful and help you on deciding which app best matches your needs.
If you frequently need to identify arbors, make sure you also check our selection of apps for identifying trees.