8 Orchid Colors And Their Meanings
Learn how to choose the color of orchids based on their meaning so that you always deliver the right message when you offer these flowers as a gift.
Orchids are plants belonging to the botanical family Orchidaceae, one of the largest and most widespread families of flowering plants. This family includes more than 28,000 species of orchids, with diverse shapes, colors, and growth habits.
In recent years, orchids have become some of the most popular and appreciated houseplants. The best-selling species for this purpose are those in the genus Phalaenopsis, commonly known as "moth orchids."
Orchids have a special symbolism and are appreciated both for their beauty, as well for the fact that their flowers last for a long time. They have also become some of the most sought-after flowers to give as gifts.
Orchids had various meanings and symbolism in different cultures throughout the years. Many civilizations associated orchids with love, romance, feminine beauty, fertility, royalty, and perfection. Nowadays, orchids are generally associated with wealth, luxury, elegance, or prosperity.
But not only the plant itself has a special meaning, but also the color of its flowers. It is especially important to know its significance if you wish to offer orchids as gifts to someone.
Orchids Colors Meanings
When it comes to choosing the orchids' colors, most individuals pick them either randomly or based on the favorite color of the person who is going to receive them. However, if you want your orchid to deliver the intended message, you must also want to pay attention to the color of its flowers.
As you know, when it comes to the colors of orchids, you have plenty of options. There are numerous species and hybrids that produce single-colored blooms, speckled, or multicolored ones.
The most common colors among orchid flowers are pink, white, purple, yellow, red, blue, orange, and green. Below we will talk about each of them and the message every orchid delivers based on its color.
Pink Orchids

Pink is one of the most common colors among the orchid species sold in flower shops. A pink orchid is usually the symbol of romance, flirt, affection, family, femininity, youth, admiration, emotions, or joy. A bouquet of pink orchids is the perfect choice to give to a bride.
White Orchids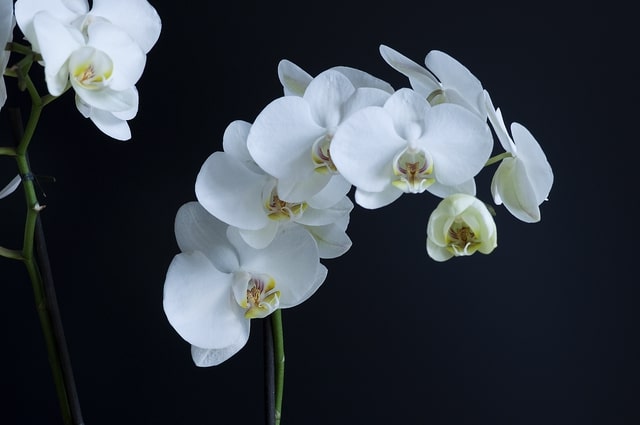 White orchids are associated with purity, innocence, harmony, hope, rebirth, enlightenment, sympathy, elegance and sincerity. Flowers of this color also have spiritual meanings and are often used in floral arrangements for weddings or for events with a spiritual importance.
Purple Orchids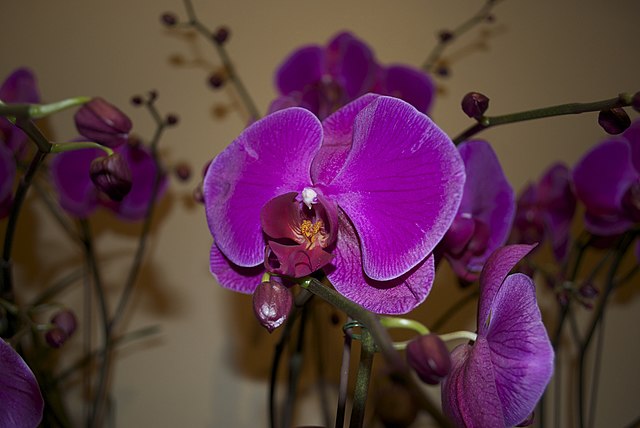 Purple orchids are often seen as a symbol of royalty, success, power, dignity, perfection, respect, and admiration. At the same time, this color is also associated with intense emotions and even love at first sight or the first shivers of love.
Yellow Orchids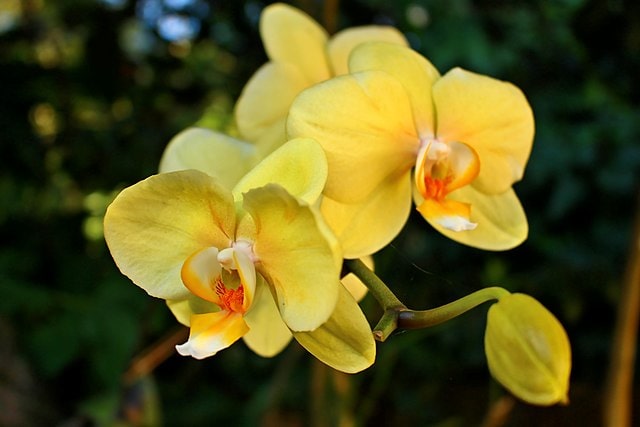 Yellow is a vibrant and cheerful color associated with positive energy and well-being. A yellow orchid can symbolize many things, such as friendship, optimism, warmth, appreciation, devotion, happiness, or compassion.
Offering yellow orchids can also mean the desire for a new beginning. That's why this yellow flower is the ideal gift when you want to give a reconciliation gift to someone.
Red Orchids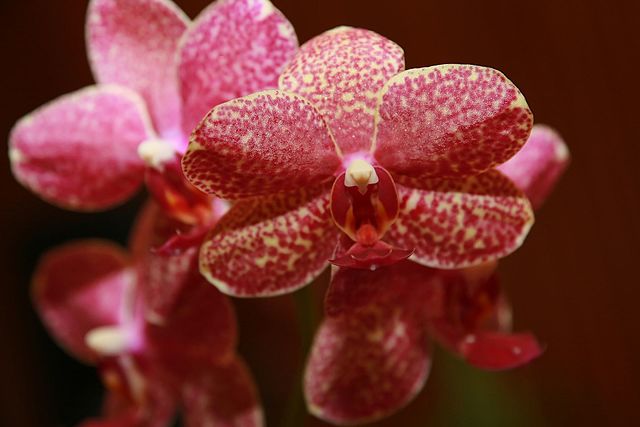 Red is an emotionally intense color. Red orchids are usually an expression of love, passion, desire and romance. It is also the color of blood, so it can also symbolize life, sacrifice, and courage.
Red orchids are therefore an exceptional gift to show your strong love for someone.
Green Orchids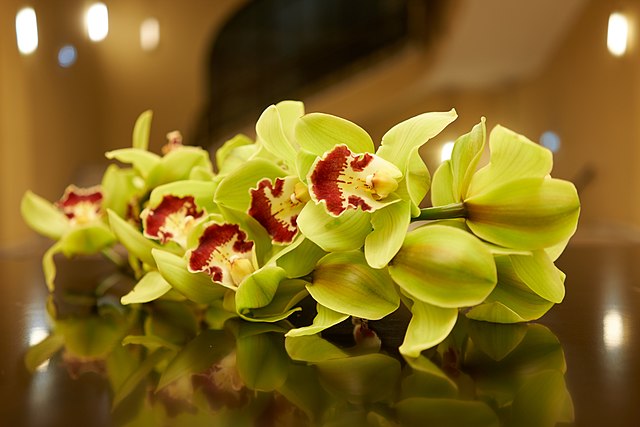 While not very common, green orchids mostly mean good fortune, rebirth, renewal, new beginnings, and peace. They are also seen as signs of growth, longevity, freshness, prosperity, welfare, fertility, and youth.
Orange Orchids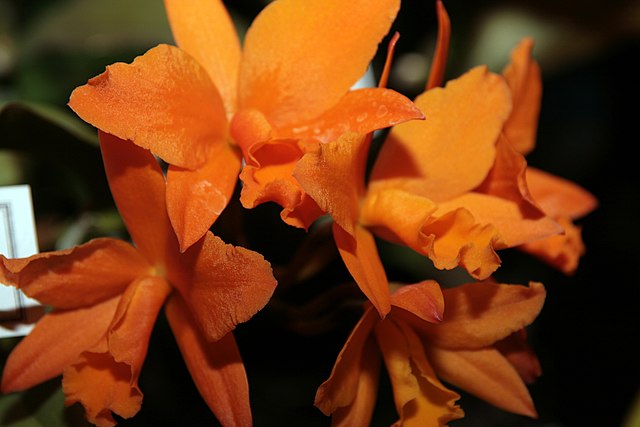 Orange orchids represent excitement, enthusiasm and joy and are usually offered to convey messages of congratulations, encouragement, and happiness.
Flowers of this color are also a symbol of success, determination, playfulness, creativity, change, and vitality.
Blue Orchids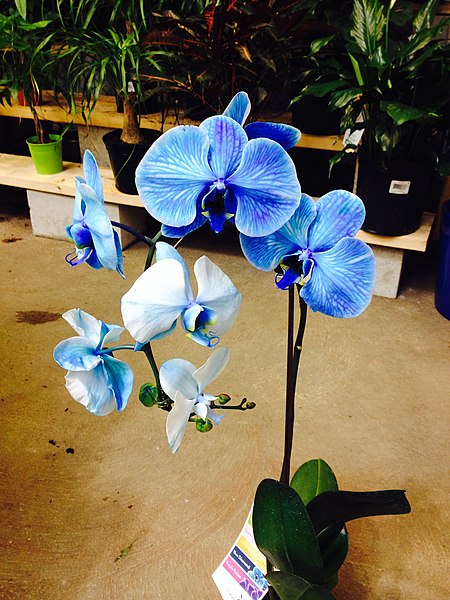 Blue is not a common color among orchids. A blue orchid is a symbol of uniqueness, rarity, spirituality, sensitivity, imagination, and sincerity.
At the same time, blue is the color of the sky and the sea, thus, blue flowers are also typically associated with freedom, wisdom, and peace.
Also, being a rarity among orchids, blue orchids may be a good choice as a gift for someone who appreciates things out of the ordinary.
---
Final Word
Now that you know which are the most common orchid colors and their meaning, your should be able to pick the most suitable color for each occasion you desire to offer these lovely flowers as gifts to someone. Choosing the right colors will help you to always deliver the intended message.