5 Mushrooms That Look Like Brains
Are you looking to identify a fungus with fruiting bodies that resemble a brain? Here are several mushrooms that look like brains.
The world of fungi is fascinating due to the diversity of shapes and colors of these organisms. Besides the classic appearance of mushrooms with a cap supported by a leg, fungi also produce fruiting bodies that resemble various items from our lives. Some are beautiful (like flower-shaped mushrooms) and seem straight out of a fairy tale, while others have strange or even disgusting looks (like some species of stinkhorns).
But have you ever stumbled upon a mushroom that looks like a brain?
Get ready to be amazed by these bizarre and fascinating fungi that look like they're straight out of a science fiction movie. With their wrinkled, brain-like appearance, these mushrooms are sure to captivate your curiosity and imagination.
1. Brain Mushroom (Gyromitra Esculenta)
Brain mushroom (Gyromitra esculenta) is an ascomycete fungus widely found throughout Europe, North America, and parts of Asia. It belongs to a group of fungi generally known as "false morels." It is also commonly known as the "turban fungus" or "elephant ears."
Gyromitra esculenta is considered a poisonous mushroom as it contains a number of toxic compounds, including gyromitrin, which can become deadly at high levels. Even so, it is viewed as a delicacy in some parts of the world when it is prepared in a way that reduces its toxins to a safe level.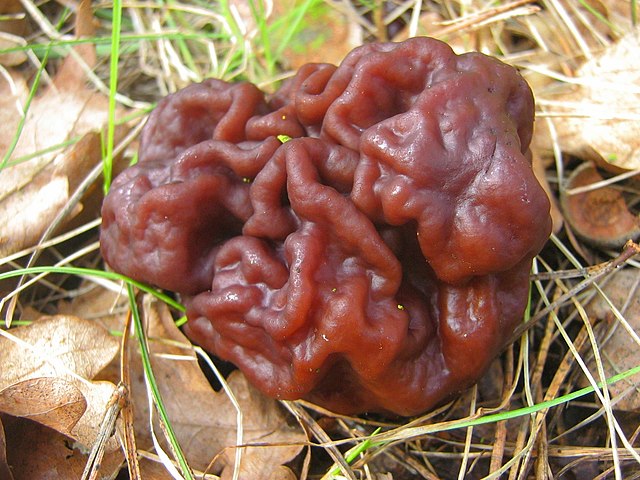 The fruiting body of this fungus is irregularly shaped and has a bizarre look. It can range in size from small to quite large, typically measuring between 4 to 12 cm in height and 3 to 15 cm wide.
The body is formed from a strange, brain-looking cap that is supported by a stem. The cap has a reddish-brown to yellowish-brown or tan color, and the surface is covered with a network of deep ridges and grooves. The stipe is usually white or light-colored, thick, and short.
2. Wrinkled Thimble-Cap (Verpa Bohemica)
Wrinkled thimble-cap (Verpa bohemica), also known as the early morel, is a mushroom species spread in North America, Europe, and Asia.
The fruiting body of this fungus consists of a pale yellow or brown cap with a wrinkled surface that resembles a brain. It does not reach impressive sizes and typically does not surpass 4 cm in diameter.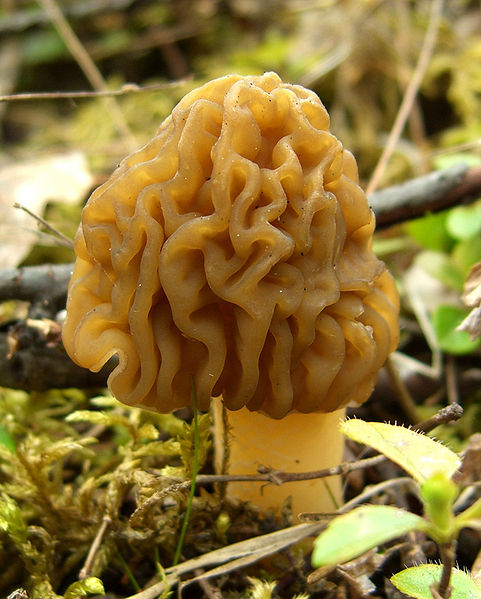 The cap is supported by a long, thick, white-yellow or cream stipe, with a wide base that narrows towards the upper part.
There are various opinions regarding the edibility of Verpa bohemica and it remains a subject of debate whether this mushroom is safe for consumption or not.
While it is known to be potentially toxic to humans due to the presence of a chemical compound called gyromitrin, this mushroom is consumed in some regions when thoroughly cooked and in small portions.
3. Brain Puffball (Calvatia Craniiformis)
The brain puffball (Calvatia craniiformis) is a mushroom in the family Agaricaceae and is found in Asia, North America, and Australia. It is also generally known as the "skull-shaped puffball."
Brain puffball typically grows singly or in groups and is often found in open fields, forests, and wet areas.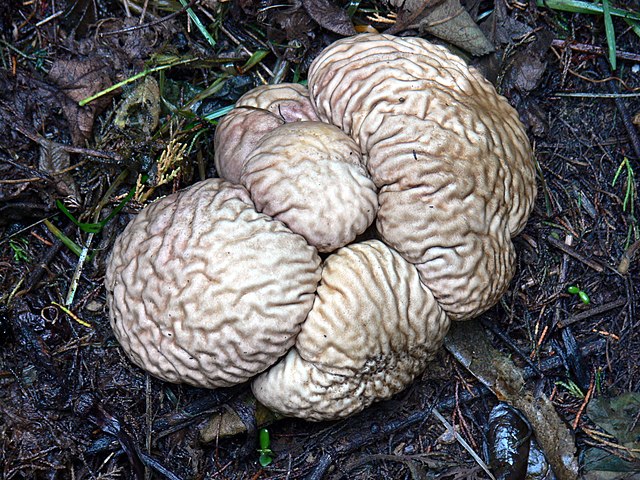 The mature fruit body of C. craniiformis is usually large and has various irregular, spherical shapes. It can reach dimensions of up to 20 cm (7.9 in) tall and 20 cm (7.9 in) wide.
Its skin is initially smooth and white, but when aging, it gets a tan to light brownish color and forms wrinkles and folds, which gives it an aspect of a skull or brain. Hence its popular names of "brain puffball" or "the skull-shaped puffball."
This mushroom is an edible species. It should be consumed before the mushroom is fully mature, when its flesh is still white and firm. Later, it becomes inedible.
4. Jelly Drops (Ascocoryne Sarcoides)
Jelly drops (Ascocoryne sarcoides), or purple jellydisc, are fungi in the family Helotiaceae and are widely distributed across North America, Europe, and Asia.
This fungus is saprobic and feeds on dead or decaying organic matter. It is found growing mostly in deciduous and coniferous forests and forms gelatinous clusters on dead tree trunks, stumps, and fallen branches.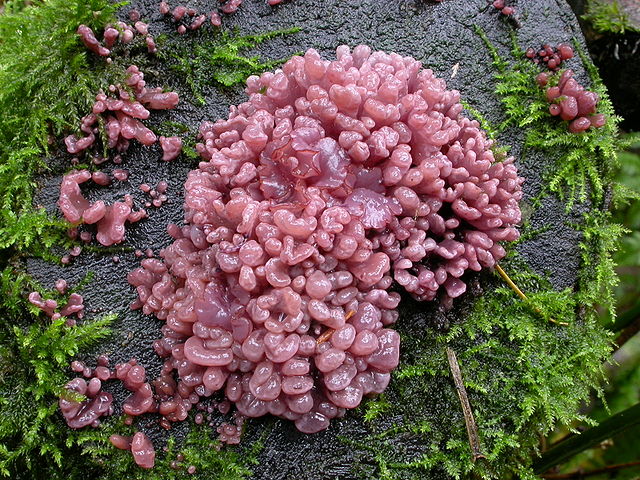 The fruiting body of this fungus has a pinkish-purple color and a gelatinous consistency. It is formed by a multitude of spherical discs which later flatten and become cup-shaped with wavy edges. When in large groups, these jelly-like structures may look like a crushed brain.
Ascocoryne sarcoides are not known to be edible and should not be consumed.
5. Leafy Brain (Phaeotremella Foliacea)
Leafy brain (Phaeotremella foliacea), also known as the jelly leaf or brown witch's butter, is a species of parasitic fungus in the family Phaeotremellaceae. It is found in the coniferous forests of Europe, North America, and Asia.
Phaeotremella foliacea is a parasite of Stereum sanguinolentum, a mushroom that develops on dead wood. Just like its host, the fruit bodies of P. foliacea can be found on the dead branches of conifer trees (particularly spruces and firs), whether they are attached or recently fallen.

The fruiting body of this fungus is gelatinous and has a dark orange-to-brown color with a seaweed-like feel. At the same time, it can be compared to a brain due to its wrinkled aspect made of grooves and ridges.
The edibility of this fungus is unknown, so it should not be consumed.
---
Final Word
Mushrooms with brain-like fruiting bodies are a type of fungi that have a distinctive appearance resembling a human or animal brain. These unique mushrooms can be found growing in various habitats around the world and can range in size, color, and shape.
Despite their interesting appearance, it is important to note that not all brain-like mushrooms are edible and some can be poisonous. It is always best to properly identify and research any mushroom before consuming it.