The Mushroom That Tastes Like Chicken (Chicken Of The Woods)
Have you heard about a mushroom that tastes like chicken? Yes, it does exist, and we will talk about it in this article.
If you have a vegetarian or vegan diet but are missing the chicken taste, we have good news for you. There is an edible species of mushroom found throughout North America and Europe and whose taste is described by many as similar to that of chicken.
This mushroom is popularly known as "chicken of the woods," "chicken mushroom," "crab-of-the-woods," or "sulphur polypore," and its scientific name is "Laetiporus sulphureus."
Do not confuse this species with hen of the woods (Grifola frondosa), another polypore mushroom that grows at the base of trees.
Chicken of the woods is a parasitic mushroom that grows on trees, producing large golden-yellow shelf-like fruiting bodies on their trunks and branches. It causes brown rot or red rot on the trees on which it grows, leading to their death within a few years.
It is an edible mushroom, delicious, and many appreciate it as a delicacy. It needs to be cooked before eating and has a chicken-like flavor.
Chicken Of The Woods Identification
Although it has a distinctive look and you can easily recognize it among many species of mushrooms, there are several yellow mushroom species that may be mistaken with chicken of the woods.
As it is a mushroom that grows on trees, it will never be seen growing on the ground. Hence, you should only look for it on tree trunks or large branches.
It usually grows from April to November on several species of trees. It is most commonly found on willows, acacias, or even various species of fruit trees at the edge of forests or roads.
Laetiporus sulphureus has no leg and emerges directly from the tree trunk.
The fruiting body of Laetiporus sulphureus can reach impressive sizes, some even reaching more than 88 lbs (40 kilos) in weight. It has a sulfur-yellow to orange color, a slightly glossy surface, and it is composed of fan-shaped shelves.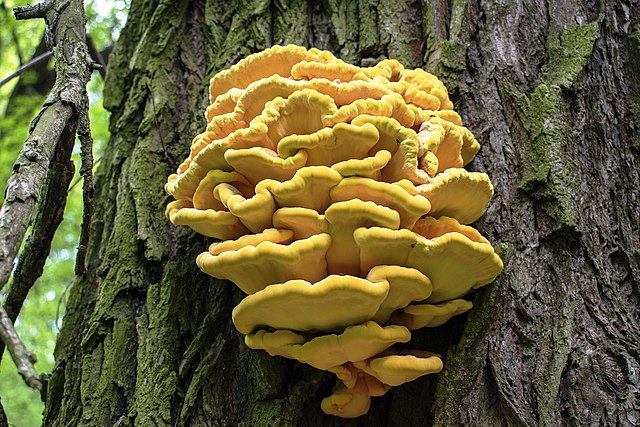 Its surface has small pores and produces a white powdery deposit called a spore print.
As it ages, this mushroom will take on a tan or whitish color and become brittle instead of having a rubbery consistency.
Eating Chicken Of The Woods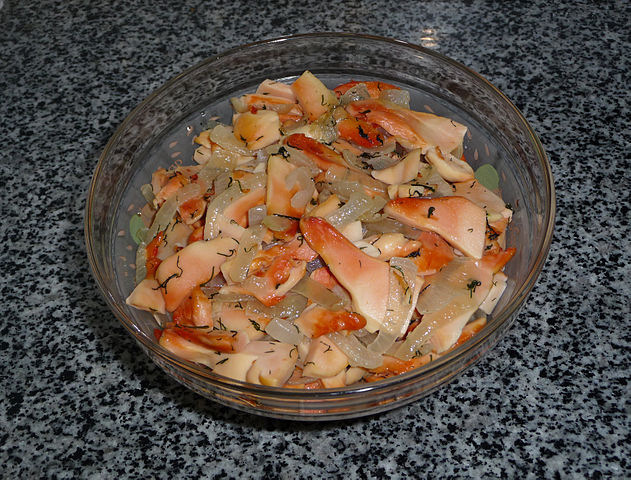 Although chicken of the woods is considered an edible species by most experts, some allergic reactions have been reported in some people after its consumption. These include stomach upset, vomiting, fever, or dizziness.
However, many say that these adverse effects were, in fact, not related to the consumption of Laetiporus sulphureus, but that of similar species such as Laetiporus huroniensis or Laetiporus gilbertsonii.
Other theories suggest that any unpleasant effects after consumption of this mushroom may be caused by the substances absorbed from the wood of the host tree and the younger the mushroom, the lower the risk of provoking allergic reactions.
Avoid those grown on conifers, eucalyptus, or cedar, as they are believed to trigger allergic reactions more often. Also, those may be one of the look-alikes of Laetiporus sulphureus (we'll talk about this later in this article).
In any case, it is better to be cautious and start consuming this mushroom in small quantities if you've never eaten it before to see how well you tolerate it.
Also, these mushrooms should not be eaten raw. They should always be thoroughly cooked.
Only young mushrooms are good for consumption. The color of old specimens changes, the flesh becomes more stiff and brittle and gets a pungent, bitter taste.
The young specimens have a pleasant smell of fresh mushrooms and their flavor is affected by the quantity of tannins absorbed from the host tree.
When cooked, many compare the taste of this mushroom with that of chicken meat. It can be cooked in many ways and are even a good replacement for meat in vegetarian and vegan diets.
They are often fried, sauteed, in soups, or paired with various vegetables or sour cream.
Chicken Of The Woods Look-Alikes
Chicken of the woods is a mushroom that can be easily identified most of the time. However, there are several other species of polypore fungi of the genus Laetiporus which produce fruiting bodies similar to the ones of Laetiporus sulphureus.
The most common look-alikes for Laetiporus sulphureus include:
1. Laetiporus Gilbertsonii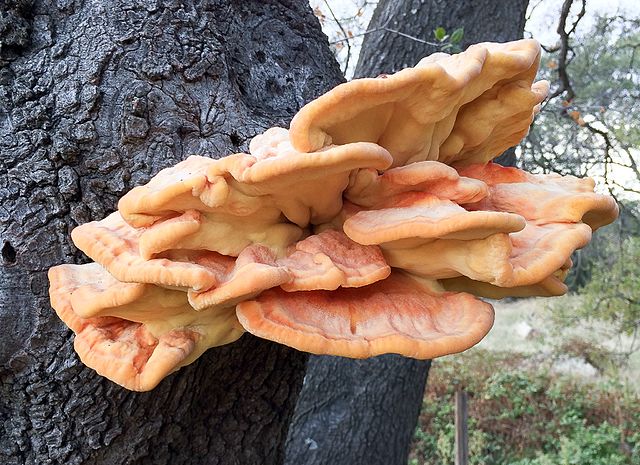 Laetiporus gilbertsonii is a species of polypore mushroom in the family Fomitopsidaceae. It is native to western North America.
It is often spotted growing on stumps of hardwoods, mainly on species of Eucalyptus and oak.
This mushroom looks very similar to Laetiporus sulphureus and may be easily mistaken for it.
It also grows in shelf-like structures and has light reddish-orange shelves with rounded, yellow edges.
Laetiporus gilbertsonii is generally considered edible but should be consumed with caution as it is known to sometimes cause gastrointestinal upsets, more often than Laetiporus sulphureus does.
2. Laetiporus Conifericola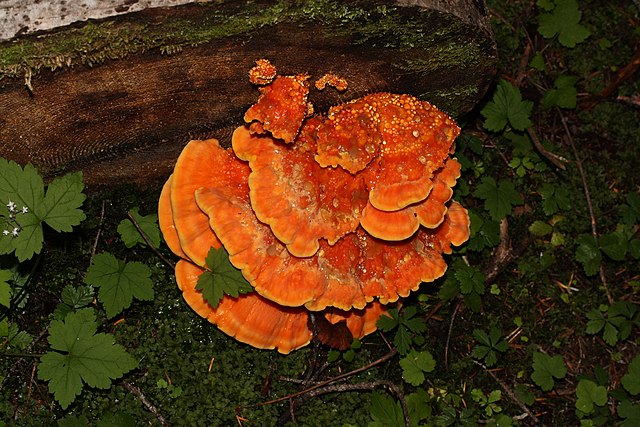 Laetiporus conifericola is a polypore fungus in the family Fomitopsidaceae. It is native to western North America, ranging from California to Alaska.
It grows only on conifers. Several common species on which you may find this fungus include fir, pine, spruce, and hemlock.
Laetiporus conifericola is frequently misidentified as chicken of the woods due to its similarities in look.
It grows in large shelf-like clusters on living and dead coniferous stems and stumps. The caps are fan-shaped, with colors ranging from bright orange to salmon-orange on the superior surface of the cap and a yellow pore texture on the underside.
Laetiporus conifericola is generally considered edible, but some people have reported stomach problems after eating this mushroom.
3. Laetiporus Huroniensis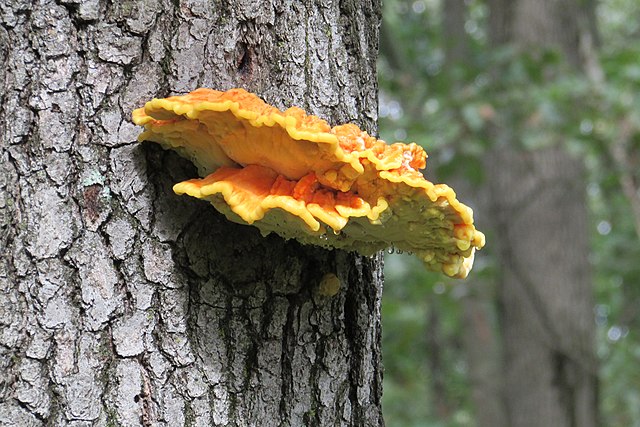 Laetiporus huroniensis is a fungus in the family Fomitopsidaceae, native to the Great Lakes region of eastern North America.
It is a parasitic and saprobic mushroom and can be found growing solitary or in clustered shelves on living or dead conifers, particularly hemlock trees.
The caps have a fan shape with a bright orange color on the upper surface and a lemon-yellow underside.
Because it is a not very common fungus, not much is known about the toxicity of this species of mushroom and whether it is edible or not.
---
Final Word
Although not real meat, chicken of the woods can be a way through which vegetarians and vegans can eat something that recalls the taste of meat as closely as possible.
This mushroom mimics the taste of chicken very well, which is why it has received the name "chicken of the woods." However, only young specimens are considered edible because they will become fibrous, woody, and eventually inedible as they age.
Also, as we mentioned earlier in the article, consuming these mushrooms can cause various allergic effects or gastrointestinal upsets in some people. So eating only small, well-cooked amounts of this mushroom is recommended until you see how your stomach supports it.