Monstera Leaves: Yellowing, Browning, Curling, Drooping
Are the leaves of your monstera plant yellowing, browning, curling, drooping, or not looking healthy? Here are several possible explanations.
Monstera is a genus of 49 species of tropical flowering plants in the family Araceae. The most popular variety of monstera is monstera deliciosa.
Monstera deliciosa, commonly known as the Swiss cheese plant or split-leaf philodendron, is a perennial vine plant native to the tropical forests of Mexico and Panama.
This plant received its popular name, "Swiss cheese plant," due to the comparison of the holes in its leaves to those of some Swiss cheese varieties.
It is one of the most popular tropical houseplants and although rarely produces flowers outside its natural habitat, is grown especially for its foliage that gives any room a lively look.
Monstera deliciosa is easy to take care of and has relatively fast growth. It grows as a vine and can climb to various supports using its aerial roots.
Monstera Leaves
The Swiss cheese plant stands out and is easily recognizable by its leaves.
The leaves of monstera deliciosa are large, pale green when young, and turn dark green when aging. Their surface has a waxy, shiny look and has multiple holes and perforations, with prominent light green veins on both sides.
In botany, the presence of the natural holes in leaves is referred to as "fenestration."
The role of the holes in the leaves of monstera deliciosa is not exactly known. Still, the most accepted theory is that in this way, the plant manages to get more sunlight in its natural environment. (source)
Other functions of these leaf perforations may include lowering the chances of leaves ripping in strong winds, enabling more rainwater to reach the roots of the plant, or reducing the variations in growth rate. (source)
The number of holes, size, and shape vary from one leaf to another.
Below you can see what the leaves of monstera deliciosa look like. It is clearly a plant very easy to identify.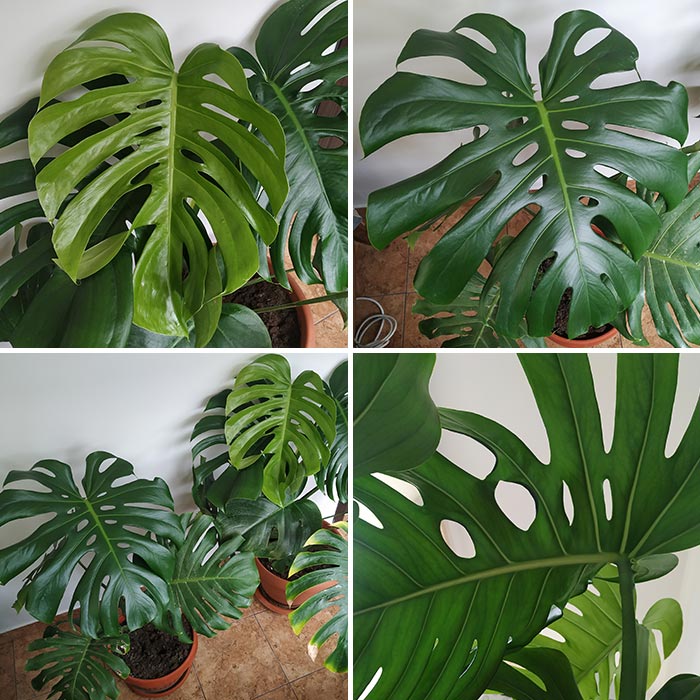 Although it isn't a very demanding plant, it can sometimes be affected by pests or diseases. When this happens, the first visible signs usually reflect on its leaves. Therefore, further in this article, we will identify some of the most common reasons why the leaves of monstera turn yellow, brown, are curling, or look unhealthy.
Monstera Leaves Yellowing
One of the most common problems of monstera deliciosa is the yellowing of the leaves. Unfortunately, there is not a single possible explanation for why this is happening but there are multiple potential causes and you have to identify which one is more likely to be the source of the problem in your case.
To learn more about why plant leaves turn yellow, we recommend you read our article covering the 9 most common causes why plant leaves turn yellow.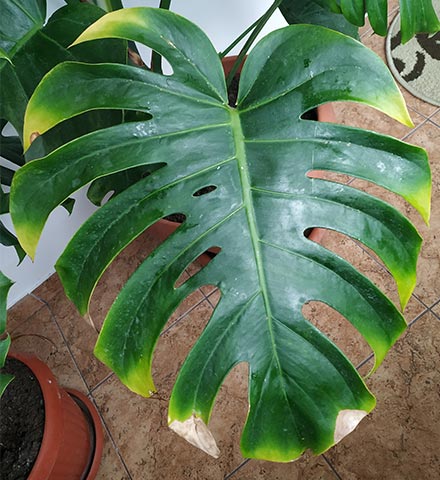 Not enough light
A possible cause for the yellowing and drying of monstera leaves is the lack of enough light.
Monstera deliciosa thrives when it receives about 5 to 8 hours of indirect sunlight a day. Hence, a bright room with large windows that allow enough light to come inside is an excellent space to place your monstera.
If only some leaves do not receive enough light, you may see the yellowing only to those. This may be a clear indicator that the sunlight doesn't reach the whole plant.
However, also make sure that the plant is not exposed to too much direct sunlight because intense sun rays may cause burns.
Too much or too little watering
Another potential reason for monstera leaves turning yellow is improper watering. This can be either due to too much watering or too little. In general, overwatering is a more frequent cause.
Monstera likes moist but well-drained potting soil. It doesn't need too much watering (about once a week) when about 2 inches (5 cm) of the topsoil feels dry.
A sign that indicates an overwatering issue instead of the lack of light is that when overwatered, the yellowing of the foliage will usually start from the lower leaves.
Overfertilization
Another common reason why the leaves of monstera plants turn yellow is overfertilization.
Although it is not considered a very nutrient-demanding plant, your monstera will flourish when it receives the proper amount, and type of fertilizer at the right time.
Fertilizing your plant too much and too often will lead to overfertilization and you'll start seeing noticeable signs on the plant's foliage. In most cases, improper fertilization will lead to the yellowing of the leaves of your monstera plant.
Overfertilization may also stunt the growth of the plant, make it vulnerable to pests and diseases, and may even lead to root damage.
The best time to fertilize monstera is during spring and summer when the plant has the most growth.
Read this article if you want to learn more about overfertilization in plants and several of the most common signs that might indicate that you use too much fertilizer.
Monstera Leaves Browning
There are multiple reasons why the leaves of your monstera plant may turn brown.
Sometimes, browning is the next step that comes after the yellowing of the leaves, usually due to one of the causes mentioned earlier. Therefore, it is not always easy to say why the leaves of your plants turn brown.
Other several possible causes for the browning of the leaves of monstera may include transplant shock, various diseases, compacted soil, improper temperatures, and sunburn.
Monstera Leaves Curling Or Drooping
If the leaves of monstera are curling down or drooping, this is another sign that the plant is not happy. Again, this might be a sign of one or multiple conditions.
Leaves curling downward in monstera are often symptoms of underwatering, transplant stress, crowded roots, compacted soil, or improper environmental temperature.
---
Final Word
Monstera is much loved by plant enthusiasts around the world because of its large and perforated leaves. Not only the Swiss cheese plant is a charming plant, but it is also relatively easy to take care of.
Although it is not very susceptible to diseases and pests, when monstera is not happy, this usually first reflects on its foliage.
In this article, we tried to cover some of the most common causes of monstera leaf yellowing, browning, curling, and other aspects correlated to the foliage of this plant.