Landscape Grading Guide: Importance, Costs, and More
Have you ever noticed puddles sitting for a long time on the surface of your lawn or in your yard after heavy rains? Is the water flowing towards the base of the house instead of going to the sewer?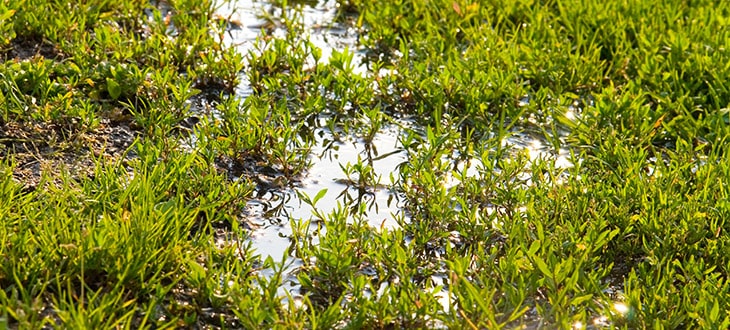 These might be indicators of poor landscape grading.
If you want to learn more about landscape grading, its importance for your lawn, garden, and yard, as well as the costs that this operation involves, continue reading.
What is landscape grading?
The landscape design matters a great deal as it gives a unique look to the exterior of a house or building. Be it a walkway, patio, or garden, it is important to carry out some careful planning and landscape grading comes into the picture here.
Landscape grading is also a process that needs to be seen when building as it involves the creation of a smooth and solid land for the foundation of a house, building, garden, yard, etc.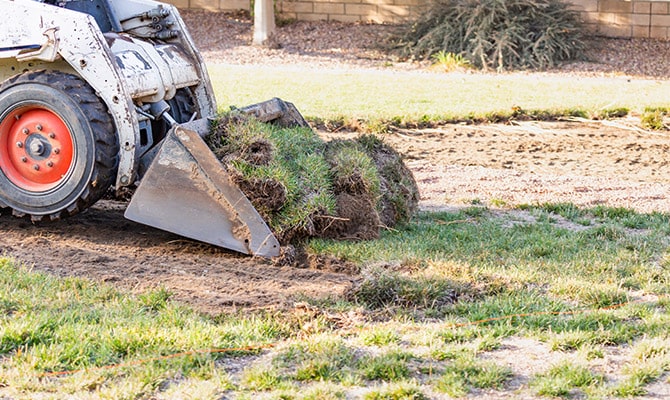 In a nutshell, landscape grading refers to the process of leveling the land in order to properly prepare it for what will follow thereafter. This includes elements such as plants and grass that will be planted, as well as any hardscaping which includes pathways, driveways, and stairs, for example.
When carrying out landscape grading the land will be sculpted so that it will be in the best condition and sloping. Careful landscape grading helps to prevent common problems such as land erosion, waterlogging and related problems like structural damage or mosquito breeding.
Therefore, even though until now we have only discussed rather generically what landscape grading is, you should already have concluded that it is an important process as it prepares the outdoor space for subsequent landscaping projects.
Essentially, we can safely state that landscape grading is actually the first step that should be seen when one embarks on any landscaping project as it can improve the final results, as well as safeguard against various problems. Now let us go into some more detail about this interesting topic.
Why do I need to grade my landscape?
Landscape grading is a preparatory phase for landscaping projects, and its main intention is to help to properly prepare the area for the landscaping and hardscaping one has in mind. Unless landscape grading is carried out, various problems could result afterward, including:
Standing water, which is a breeding place for mosquitoes. This is definitely something to avoid both because mosquitoes are unhealthy, as well as highly inconvenient. Standing water can also lead to foul odors as well as increase the level of moisture, which in turn results in mold problems.
Should a substantial amount of water be allowed to flow and soak into the soil which is close to the foundations, hydrostatic pressure might result. The weight of that water, accompanied by the downward pull of gravity, could cause problems to the foundations and structural damage. Common problems related to this include water seeping into the walls, or into basements.
Should construction be carried out on the uneven ground it could lead to a myriad of problems post-construction, including drainage problems. Unless water flows properly and away from the house or building, it could cause structural damages in the long run. Erosion and related damage can thus be avoided by carrying out landscape grading.
Damage to the soil and vegetation. Unless you make sure that grading is done in advance, the soil could easily become waterlogged, and consequently, any plants will be killed or develop certain diseases or fungal infections due to the high humidity. Over time the land might become unsuitable for planting, and this is both costly as well as time-consuming to resolve.
Besides helping you to avoid the above problems, landscape grading is critical to enable you to increase the stability, practicality and aesthetic appeal of your landscape design, later on.
Whenever specific features are meant to be made, such as a patio or a driveway, there are certain factors to take into account. This includes the slopes required, any embankments, and stairs and so on.
So, layers will need to be created to build the foundations for such elements. Stability issues come into play here, and unless one devotes his attention to landscape grading, various problems could result in managing to put such features into place in a proper and practical manner.
Besides improving stability, landscape grading can also help you to plan for other features, such as flower beds, water features, and rock walls. In such cases, one would need to place importance on drainage factors, and plan in advance.
How to do landscape grading?
Landscape grading might not seem to be such a difficult or complicated task. This could lead to some homeowners to think that they might as well take care of it on their own.
However, in reality, landscape grading is a process that involves various aspects, and while some homeowners might opt to take care of it themselves, it is generally recommended that the job is left in the hands of specialists in the field.
This is because improper landscape grading could be just as bad as not doing any grading at all.
There are several aspects to take into account, and one can safely say that it is a real science that includes factors such as soil, topography, gardening, and construction issues too.
A professional landscaper will be able to take into account all of such factors as well as analyze the land and any problems which might need to be seen in advance. The landscaper will analyze the ground, its evenness or unevenness, the sloping and whether there is poor drainage.
The landscaper will also take the time to discuss what the homeowner had in mind with regard to the landscape design once the grading is completed.
This is a very important part of the whole process as careful advance planning will go a long way in ensuring that everything is in place for subsequent projects.
Once all of these aspects are discussed a plan will be formulated.
The first step is to remove the topsoil so as to shape the ground beneath.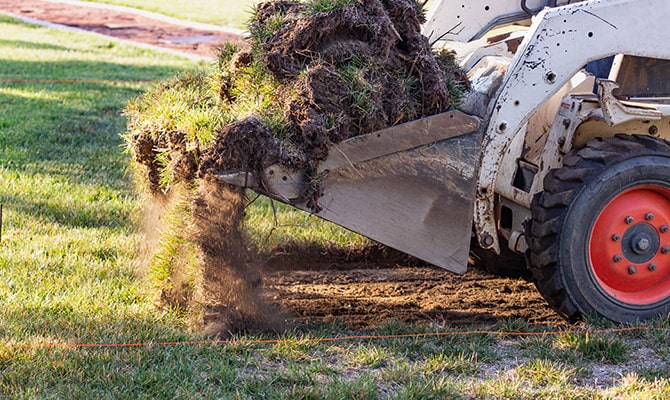 Plants and grass will then be planted. A certain time will be allowed for them to develop their roots well, and during this phase, in large scale projects, irrigation lines are added too during this phase.
The landscaper might feel the need to lay down meshing or geogrid. These help to keep the soil in place. They also contribute to allowing the plants to establish their roots more easily and effectively.
Once the plants and grass have been given enough time to settle down, the topsoil will then be added back on. Everything will be smoothed out and leveled well.
Why should you leave the job to a professional landscaper?
As discussed before, landscape grading involves various aspects, and so it is best left in the hands of someone who specializes in landscaping.
Moreover, if the grading is not done well, there could be various problems resulting, including damage to the house or property and drainage problems.
In the long run, such damages or problems could well be more costly than the cost of having hired a professional landscaper to do the landscape grading for you.
Another aspect to consider is that while you might manage to rent a bulldozer to grade the land yourself, there are laws that regulate such work.
Local laws generally require certain permits for digging to take place. Moreover, digging also involves the possibility of damaging utility lines like water, electricity, and gas, and this is surely something you should avoid at all costs.
Landscape grading will also involve choosing the most suitable drainage systems as well as installing them properly.
Such a job is surely best left in the hands of an expert. Sloping should be done accordingly too, and a professional company will be better able to see to the best sloping to meet your plans and goals.
How can you tell that a property has poor landscape grading?
The most evident sign that there is poor landscape grading is when the ground is uneven.
Another indication is when one can see that there is poor drainage. This is generally noticed after heavy rain.
It is important to seek expert advice and guidance with regard to landscape grading. Sometimes grading might have been done, but chances are it was not done well enough.
Moreover, there are various cases when landscape grading requires correcting over time. This is generally referred to as regrading.
How much does landscape grading cost?
After having established that it is best to leave landscape grading in the hands of a professional landscaper, the next commonly asked question is how much does landscape grading cost on average.
Most land grading contractors charge anywhere between $40 and $180 per hour for their labor. Generally, most contractors will also add a charge by a cubic yard of dirt that is being leveled. This charge typically varies between $50 and $200 for every cubic yard.
So, the price varies considerably from one contractor to another. This highlights the importance of requesting quotes from various land grading contractors so as to compare them with each other.
Having said that, do make sure not to focus solely on the cost. While the tendency is to hire a contractor who charges the lowest price for the job, you should still make sure to consider aspects such as reputation and the years of experience that the contractor has to back him up. You need to make sure that the job is being left in the hands of a specialist.
It is also important to bear in mind that there are several factors which the contractor will take into consideration when giving you a quote.
The size and the topography of the land will impact the charges. There will also be fees related to permits.
Naturally, the bigger the property is, the more expensive it is going to be to level it up since more equipment will be required for the job, and more labor too.
Moreover, as discussed earlier, landscape grading involves adding a layer of topsoil. Such topsoil will be carefully selected according to the types of plants you intend to grow as it should contain the most adequate nutrients for such plants.
Topsoil does not come cheap. Its price varies, but on average you will most likely spend some $35 per cubic foot. Apart from that, once the land has been graded you will also need to put sod lawn on the dirt. This generally costs around $0.60 per square foot.
When should landscape grading be carried out?
The best season to carry out the grading process is the dry season. Otherwise, if you try to do landscape grading when it is likely to rain, soil erosion could easily occur.
Will trees present on site affect the grading?
When trees are present on-site, the job gets a bit trickier. As a general rule of thumb, the contractor will pay attention to not causing any damage to the trees, and also, ensure that no grading or filling is carried out within the dripline of the trees. This will help to avoid any problems with the trees.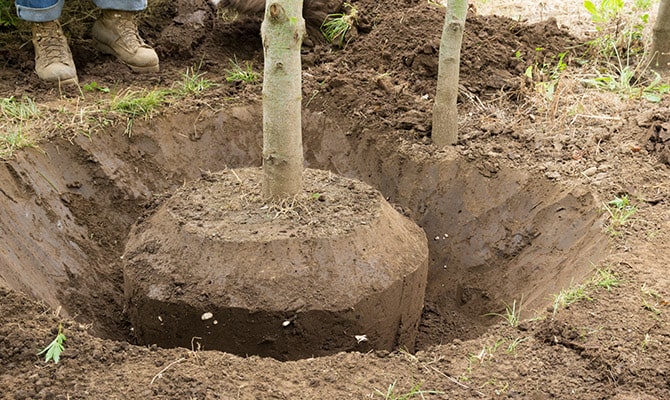 What will be considered in the landscape grading plan?
For large projects, a civil engineer or architect may also need to be hired.
Such professionals will work closely with regards to land grading, especially when building and construction works will also be carried out on a site.
Besides seeing the necessary permits, a grading plan will also be prepared. Such a grading plan will take into account several aspects. Some of the key factors that the landscape contractor will consider include:
Drainage Byelaws – this helps to track as well as regulate the drainage on public and private land.
Lot grading and drainage plans – grading relationships present between connecting properties will be checked, as these will have an impact on better control of surface runoff and any related problems.
This plan is important as there will be the required information to manage and inspect the grading process while it is underway.
This is especially important for large areas. A good grading plan can control the costs associated with the grading as well as foresee any problems while ensuring that they can be tackled properly.
Conclusion
Landscape grading is not only necessary for constructions and a nice leveled look, but also plays an important role in producing proper water drainage for your yard, turf, or garden.
While you can do the grading by yourself for small wards of your property, for larger areas and for better results, it's advisable to turn to specialists.