Is broccoli man-made or is it a plant that is naturally found in its current form? Keep reading to find out the answer to this question.
Broccoli has become one of the most popular vegetables in recent years. We find it fresh or frozen in almost any supermarket, and we use it in the making of various delicious dishes.
Even though this plant is relatively new to some, in various countries, it has been cultivated and consumed for many years.
Broccoli is a vegetable from the cabbage family (Brassicaceae) and is extremely similar to cauliflower from many points of view. It is a biennial plant, but in many climates, it is often grown as an annual plant and is cultivated mostly for its edible flower clusters and stalks.
Although many are aware of the health benefits of eating broccoli, few know details about its origin.
Is Broccoli Man-Made?
The short answer is yes, broccoli is man-made. Broccoli as we know it did not always exist as a plant but was created by humans through an extensive process.
It is not known exactly how many years ago broccoli emerged, but it is believed that early varieties of this plant appeared more than 2000 years ago. It was initially grown in Italy and was shipped to America and England in the 1700s and then to the rest of the world.
Sources indicate that broccoli originates from the Mediterranean region and East Asia. The evidence even shows that the first species of this plant were cultivated in the Roman Empire.
The name broccoli originates from the plural of the Italian word "broccolo," which can translate as "the flowering crest of a cabbage", and is the diminutive form of "brocco", signifying "sprout".
How Was Broccoli Made?
Now that you know that broccoli is man-made and not a plant that was naturally discovered in its current form, you're probably curious how it was conceived.
You are probably already imagining how broccoli was made in a lab more than 2000 years ago by some kind of a genius scientist.
Well, let me tell you, it was not exactly like that.
Broccoli was not made in a lab by genetic modification (GMO) of an existing plant, but through a process called selective breeding.
Selective breeding (or artificial selection) is an extensive and lengthy process by which plants with favorable aspects are propagated to produce an improved version of them.
For example, if a plant of a certain species stands out through larger, healthier, tastier fruits, or by a greater-yielding, the selective breeding process involves the attempt to reproduce this plant to obtain future crops with better plants.
This process of artificial plant selection is often used to obtain plants that are more resistant to disease, pests, or crops that can withstand harsher climatic conditions, such as low temperatures, drought, and so on.
Plant duplication is not only achieved by harvesting seeds from the desired plants, but also by propagation from cuttings, grafting, layering, and other means.
The obvious disadvantage of selective breeding is that it is a very long process, requiring many years to obtain the desired plants.
However, it seems that time was not an issue for the farmers in the Roman Empire when they have created broccoli through selective breeding.
Broccoli was born through entire decades of selective breeding of the Brassica oleracea (also known as wild cabbage or wild mustard).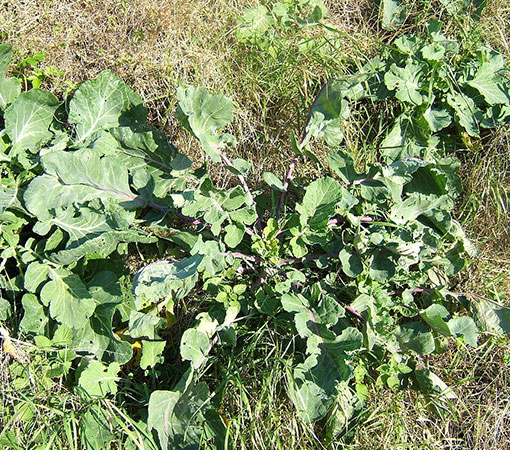 Wild cabbage is native to the Atlantic and Mediterranean coasts of Europe.
But brassica oleracea is not only the ancestor of broccoli. Actually, the extended breeding of this plant has led to the occurrence of several different varieties such as:
Broccoli
Cabbage
Brussels Sprouts
Kale
Collard
Kohlrabi
Technically, all of these plants are actually derived from various parts of brassica oleracea, which have been systematically propagated to produce different plants that have enhanced features.
Is Broccoli Good For You If It's Artificially Made?
More genetically modified plants appear frequently and are introduced into human consumption. As people want to know the possible negative effects of the consumption of these artificially modified plants, the interest for information concerning the safety of these foods has raised.
We can say the same about broccoli.
As more people discover that broccoli is man-made, this subject also arise concerns about whether it is safe to eat these vegetables and whether broccoli is good for us or not.
Although in the case of genetically modified plants there are still a lot of questions and uncertainties, in the case of broccoli it is much simpler to assume that it is 100% safe for consumption due to the way it appeared.
As mentioned above, broccoli is not a genetically modified organism (GMO) created in a laboratory, but it appeared through a long selective breeding process, which involved filtering and selecting the best plants throughout harvests.
Consequently, selective breeding is a process of plant evolution rather than a process of forced modification of a plant's DNA.
Just like broccoli and other varieties developed from Brassica oleracea, there are many other man-made plants that have gotten to the current form that we all know through selective breeding.
Other common plants resulted by selective breeding:
Bananas
Modern Strawberry
Okra
Wheat
Sunflower
Soybeans
In conclusion, broccoli is not only safe for human consumption, but it is also one of the healthiest vegetables and is labeled by many as a superfood.
Benefits of broccoli
Broccoli is low in calories, is a good source of fibers, antioxidants, proteins, vitamins, and minerals.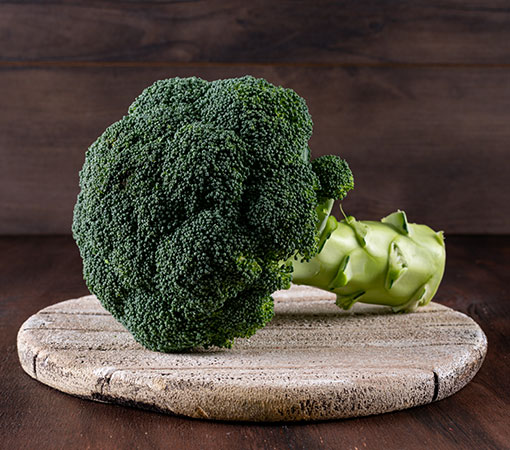 A top of the 14 healthiest vegetables on Earth published on Healthline in 2017, places broccoli in the 3rd place. The first two spots are occupied by spinach and carrots.
Broccoli is a great source of vitamins such as C, A, B, K, E, but also contains minerals such as iron, magnesium, potassium, calcium, and selenium.
Conclusion
Broccoli is currently one of the most popular vegetables. It is appreciated both for its taste and for its nutritional values and properties.
Although broccoli is man-made and has not always existed in the form we currently know, with the help of crop selective breeding, farmers have managed to create this amazing vegetable.
Broccoli is not a very difficult plant to grow. Therefore, if you are interested in growing your own broccoli plants in your garden, I recommend you read our guide about growing and caring for broccoli.