Is beet a vegetable, a root, a fruit, or something else? We'll discuss this matter in detail in this article.
When it comes to the edible parts of plants, there are always mixed opinions regarding their classification.
For example, the fruit of the tomato plant is botanically considered a fruit, while from a culinary point of view, it is regarded as a vegetable. Same for eggplants. They can be considered fruits from a botanical standpoint, vegetables from a culinary view, and even berries due to their structure.
There are also unclarities when it comes to the edible part of beet.
What is beet botanically? Is it a vegetable, a fruit, a root, or something else? This is the matter we will examine in this article and try to elucidate this mystery once and for all.
But first, let's learn a few things about beets.
Beet Plant
Beet (Beta vulgaris subsp. vulgaris) is a biennial plant in the Amaranthaceae family, genus Beta, and is frequently cultivated worldwide for human consumption and as a fodder plant.
It is also generally known under several different names, including table beet, red beet, spinach beet, garden beet, etc.
Other cultivars of Beta vulgaris species include sugar beet, chard, and mangelwurzel.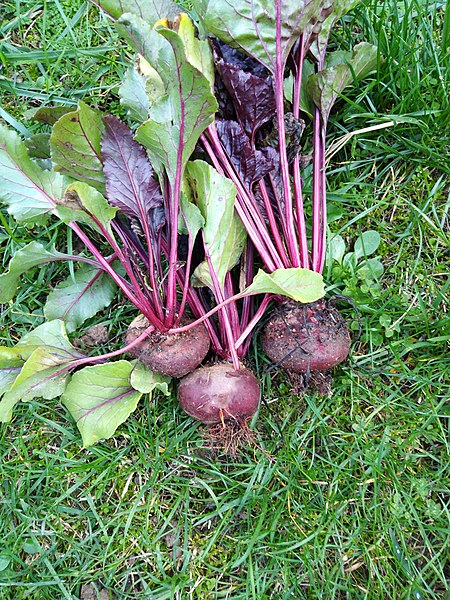 The beet plant grows upright and forms a rosette of leaves that grow on sturdy reddish-to-purple stems at the surface of the soil. The underground bulbous portion of the plant (the taproot) ranges in shape from globular to long and tapered and develops during the first season of the plant.
While there are several beet varieties that can produce taproots of different colors, most of us are the most familiar with red or purple beets.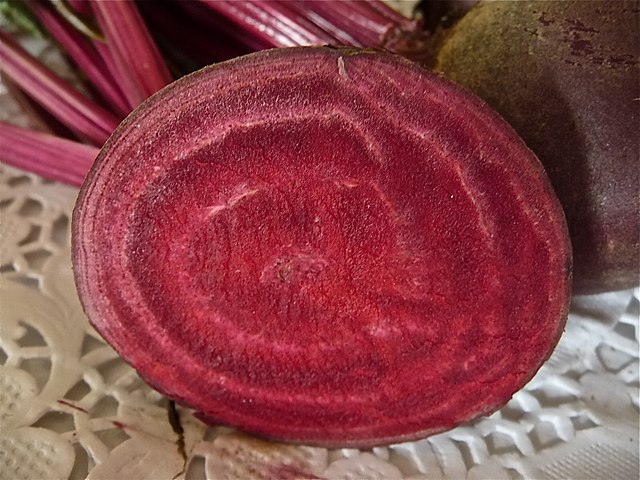 The leaves are green with prominent reddish-to-purple veins, have an elliptical shape, reaching 7.9 to 15.7 in (20 to 40 cm) in length.
In the second year of the plant, it forms a tall, branched, leafy stem that incorporates clusters of tiny green flowers that eventually evolve into brown, tiny seedballs.
Beet plants are mainly cultivated for their fleshy taproots, but the leaves and stems are also edible and nutritious.
Beetroot can be consumed raw in salads, baked, boiled, steamed, or pickled. The roots and leaves of the beet plant have been also utilized in traditional medicine since ancient times.
Beet vs. Beetroot
There is also confusion between the term "beet" and "beetroot."
Well, both of these terms refer to the same plant that is part of the Beta vulgaris species.
In American English, people usually refer to the Beta vulgaris plant as "beet" and to its underground edible part as "beetroot," while in British English, it is common to call both the plant and its bulbous part "beetroot." These terms may also be used to differentiate various species of beets.
Is beet a vegetable?
Now that we know a thing or two about beet as a plant, let's clarify whether we should classify it as a vegetable or something else.
The word "vegetables" is a culinary term and has no botanical value. All parts of herbaceous plants consumed by humans, whole or in part, can be potentially considered vegetables.
So, as we don't have a clear scientific definition of "vegetables," we can refer to any edible plant's part as a vegetable, including any part of the beet plant.
In culinary, we usually classify plant products into fruits and vegetables. However, what is botanically considered a fruit by definition, may be regarded as a vegetable in culinary.
Usually, in culinary, fruits are considered the product of plants that are sweet, fleshy, juicy, and can be eaten raw. Anything that does not fall into this category can be considered a vegetable, including parts of plants such as roots, bulbs, leaves, seeds, or flowers.
Fruits are also typically consumed as desserts while vegetables are eaten as the main course.
In botany, in simple terms, a fruit is usually defined as:
The seed-bearing structure in flowering plants that is formed from the ovary after flowering.

Wikipedia
Botanically, the fruits of beet plants are those tiny seedballs that form from the flowers and wrap the seeds. Thus, any other parts of the plant could not be considered fruits from this standpoint.
As mentioned earlier, in the kitchen, we consider fruits the product of plants that are sweet, fleshy, juicy, and can be eaten raw.
Does any edible part of the beet plant fit into this definition?
Not really. Thus, we can't say that any part of the beet plant is culinarily a fruit.
As for what is considered a vegetable in the kitchen, we said that any other parts of the plants that aren't fruits can be considered vegetables.
So, I think it is safe to say that any edible part of the beet plant can be referred to as a vegetable.
There is also the term "root vegetables" to refer to the underground plant parts that are consumed by humans.
Root vegetables are underground plant parts eaten by humans as food. Although botany distinguishes true roots (such as taproots and tuberous roots) from non-roots (such as bulbs, corms, rhizomes, and tubers), the term "root vegetable" is applied to all these types in agricultural and culinary usage.

Wikipedia
Conclusion
Beetroot has been used for centuries in our kitchen, but it is also known for its beneficial effects on the human body. It is one of the most nutritious foods due to the complex of vitamins and minerals it contains.
Beet is a root vegetable as it is primarily cultivated for its edible, large taproot. All parts of the beet plant are edible as well.