3 Effective Ways To Identify Weeds By Photo
Are you looking for a quick and easy way to identify weeds by photo? Here are several tricks and approaches to identify any unknown weed by picture.
Weeds can be a gardener's worst dream. They emerge suddenly, have fast growth, and can compete with the plants nearby for water and nutrients.
But weeds are not only bad for gardens. Various species may occur in different parts of your yard, in lawns, or somewhere on your property and you may want to identify them either because they may look like a known plant or to find the most effective herbicide or way to control that particular weed.
While 15-20 years ago, the only way you could identify weeds was to dig through dozens of books or ask a botanist, in our era, fortunately, identifying plants and herbs has become much more effortless.
One of the easiest ways to identify weeds is by photo.
Suppose that the weed has at least some distinctive features, like particular leaf structure, flowers, thick or tall stalk, unique seeds, or other particularities. In that case, your task of recognizing that plant should be pretty straightforward.
Once you have the picture of the plant or weed you want to identify, there are several ways you can accomplish that. Below we have listed 3 of the easiest and most effective ways to identify a weed by photo.
1. Use A Phone Plant Identification App
The most efficient and easy way to identify any plant is undoubtedly by using a phone app that has been created for this purpose.
These apps are practical and valuable tools for gardeners but also for students, researchers, biologists, explorers, and plant enthusiasts.
There are countless free and paid smartphone apps that allow you to identify a multitude of plants by simply taking a picture of a part of the plant such as leaves, flowers, fruit, or even bark (in the case of trees).
Some of these are better at identifying certain categories of plants (eg flowers, vegetables, or houseplants), while others can identify a wider variety of plants, including weeds and wild plants.
The way these apps work is by enabling you to take a photo of a part of the plant you want to identify. This is then compared to plants already in the app's database. If there is a good match, the application will suggest one or more possible names for the plant you are looking to identify.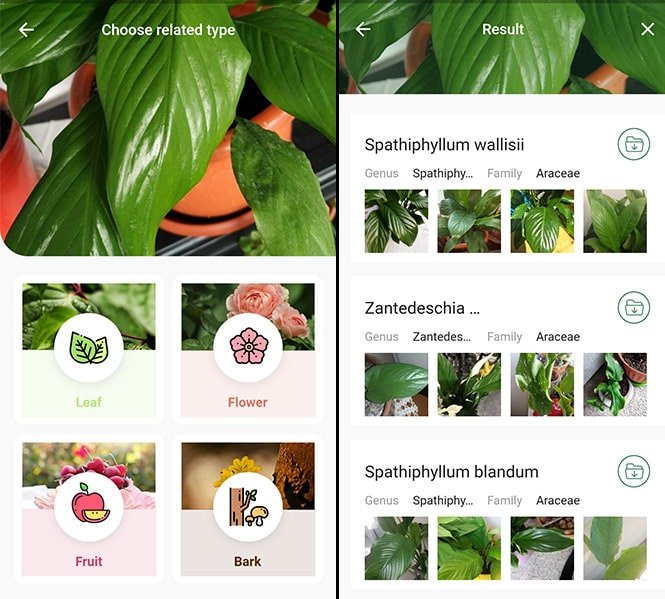 Don't worry if you already have a picture taken. Most apps will allow you to either take a photo or upload an existing picture from your phone's gallery.
However, not all of the apps you find available for Android on Google Play or iOS in the Apple Store are as effective. Some have better plant recognition capabilities than others and more extensive databases. Some apps are free, while some have only a free version or require a monthly subscription.
We made a detailed list of the best phone apps for plant identification, and you can see it here.
For better chances for these apps to identify a plant correctly, you should always take multiple shots from different angles and various parts of the plant you want to recognize (leaves, flowers, bark, fruits, etc).
2. Use Google Image Search
Another easy way to identify weeds by photo is to use Google's image search function.
Although many of us use Google as a search engine for text or voice, it also has a feature that allows us to search for images similar to the ones we upload.
The process is straightforward.
1. Open your web browser and go to images.google.com
2. Click on the camera icon that's next to the text input form

3. Either paste the copied URL of an image that was uploaded online, or switch to the "Upload an image" tab and click on the "Choose file" button to select the photo you want to upload from your device.

4. Once the image has finished uploading, Google will try to find other visually similar images on the Web, and if anything is found, it will give you the websites where these images are located.
Somewhere on the results page, you should also see the image results. Click on the section's title "visually similar images" to see more images that have similarities with the one you have uploaded.

5. Search through the image results and see if you find any photos resembling the features of the weed you are trying to identify.
You can click on the image to zoom in. Many times, you should also see a tiny description under it and a "visit" button on the right side to access the website where the image was found.
Hopefully, you will also find the name of the plant you are trying to identify either in that small description or on the page where the image was initially posted.

---
Although it may work in many cases, this approach does not guarantee that you'll discover the exact name of the weed you are looking to identify. You may also find other plants that look identical but are not the same plant you are investigating.
3. Ask On Plant Forums Or Communities
Another way to identify weeds by photo, as well as other plants, is by asking on forums and plant-related online communities.
There are many forums and social network groups where you can post questions about plant identification. If that community has a user base large enough, you may get a timely answer to your question.
Often, these communities are frequented by plant lovers, gardeners, students, researchers, or even botanists. Hence, there may be good chances to find someone who can determine the species of the weed you are trying to identify.
Obviously, this approach requires a bit more work and patience as you may have first to find these communities, then you'll have to wait for people to reply, and hopefully, they will know what that plant you are trying to identify is.
1. Forums
As already mentioned, one of the best places to ask a question about plants is on forums.
Although forums have seen a significant drop in popularity since the advent of social networks, they are still valuable communities where you can ask questions and get answers from people with interests in a particular field.
You should aim to find the forums related to gardening or plants. Many times, these even have a section dedicated to plant identification where you are allowed to post questions and photos regarding the plants you want to find out more about.
You can find a list of some of the most useful forums on gardening and plants here.
2. Reddit
Another place to find people that may know how to determine the species of a particular weed from a photo is by asking on Reddit.
Reddit is a social network with a large number of active users where you can ask questions or help other users by replying to their questions.
Although Reddit is not a plant community, this platform groups content into so-called "subreddits." These are basically smaller interest-based subcommunities.
Therefore, you first need to find the subreddits about plants, gardening, botany, or anything related.
The higher the number of users in that community, the more likely you are to receive a faster and more accurate response.
A few subreddits where you can try to identify plants and weeds include:
You can also use the search function to find more subreddits about plants.
3. Social Networks Groups
Facebook groups or other social networks can also be a good place to ask for help in identifying plants.
These communities usually include members who are willing to help you, and if they have a large number of active users, you may receive a fairly quick response.
Post your question in groups dedicated to plants or gardening.
A few Facebook groups where you can post your photos with the unknown weeds or plants include:
There are countless others you can find using the search form.
---
Final Word
Identifying plants has become much easier than it was a few years ago.
Thanks to the internet and smartphones, you can now identify a plant simply by taking a picture of it.
Whether you want to find out the name of a houseplant, a weed, or a tree, there are ways in which you can easily find out the species of that particular plant.
In this article, we have listed some of the most effective ways to find out the name of an unknown weed or plant.