How To Grow Gloxinias (Sinningia Speciosa)
Gloxinia (Sinningia speciosa) is a flowering houseplant from the family of Gesneriaceae, and it's a relative of African violets (both members of the Gesneriaceae family).
You can easily recognize a gloxinia by its soft leaves or by the beautiful bell-shaped flowers.


Gloxinia is a perennial, which means it will regrow every spring as long as you take care of it. Most people grow this flower as a potted houseplant.
I discovered this flower just a year ago when a friend offered me a tiny gloxinia in a pot. I didn't know anything about it at that time, not even its name (I wish I knew there were phone apps for identifying plants that could help me with that).
I fell in love with this plant the moment I saw its gorgeous blooming. But it didn't only have this effect on me. Once it bloomed, all the friends and neighbors asked me about it.
Further, I'm going to answer the most common questions about how to grow gloxinias.
Disclosure: This page contains affiliate links. This means that the owner of this website might be compensated for any qualifying purchases made via these links.
What Soil Is Best For Gloxinia?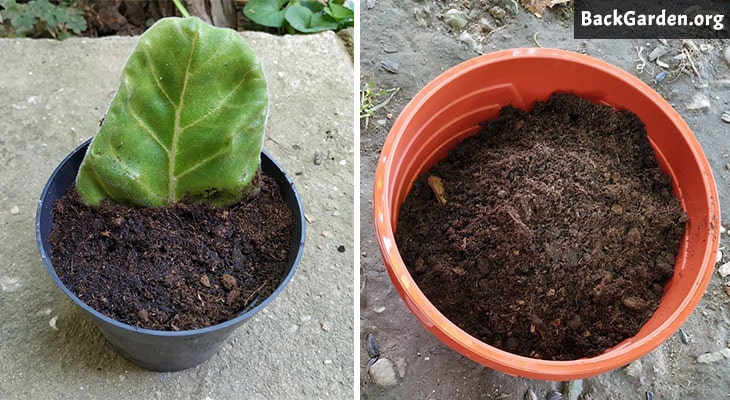 Gloxinias have a sensitive root system. Loose and well-drained soil or good potting mix are essential for healthy plant growth.
A proper soil can be composed of a mixture of peat and sand or a good potting mix. I recommend the African Violet Potting Mix.
How To Water Gloxinia?
Just like any other plant, gloxinia requires proper watering in order to grow healthy.
I usually water my gloxinias enough to keep the soil moist, usually every two to three days when the soil is a bit dry at the surface.
If you want to know exactly the moisture level in the soil, I recommend you getting a soil moisture meter since it's pretty cheap (order one from Amazon).
Gloxinia plant doesn't need too much water but doesn't like to live in a soil that's too dry either. The watering frequency will vary from one season to another and should be completely halted during the winter.
Do not pour water on the leaves and flowers while you water the plant since that might lead to the appearance of brown spots on their surface and other fungal problems.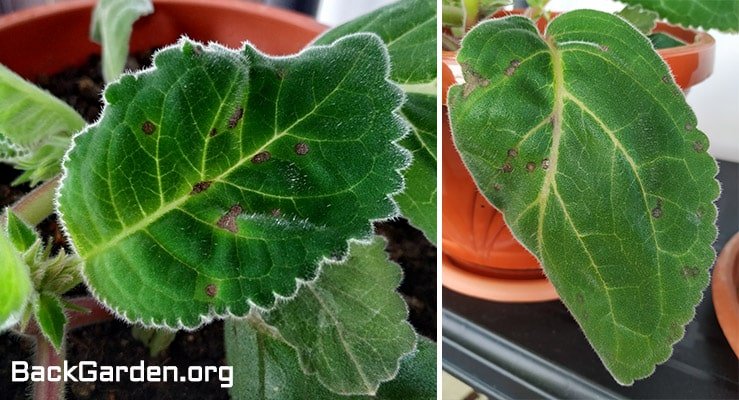 After the blooming season (which is usually in October) gradually reduce the watering until you entirely stop it.
Eventually, the foliage will die, and you need to cut it off since there are no benefits to keep it. The plant will be still alive but will enter into a dormant state till spring.
Place the plant in a colder (7-16 Celsius degrees) and a darker environment until it begins to grow again when the spring comes.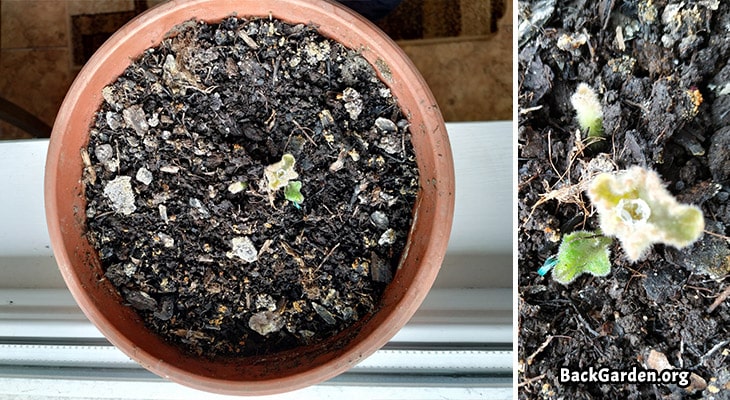 Resume the watering process when that happens and move the plant in a warmer (16-24 Celsius degrees) and brighter place.
How To Propagate Gloxinia?
Gloxinia is relatively easy to propagate and there are several ways to multiply this plant; by seed, leaf cuttings or by dividing the tubers during repotting.
My favorite way is by leaf cuttings if I already have a healthy plant. I prefer this method against dividing the tubers since there's no risk of hurting the plant during the operation.
When I want to propagate gloxinias, I just cut a leaf from one of the active plants and place it directly into potting mix.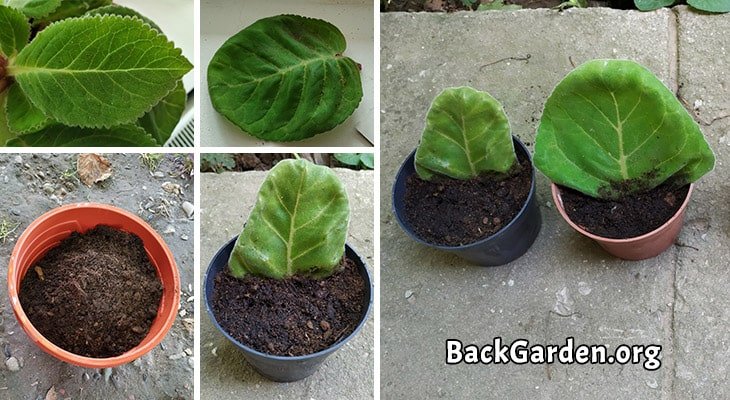 I usually cut the top half of the leaf to decrease the water demands on the newly developing root system.
After about 5-6 weeks you will start to see the new plant making its way out from the base of the previously planted leaf.
The majority of the planted leaves will result in new gloxinia plants, but there are also rare cases when the operation fails and the planted leaf will start rotting at the bottom.
I've never tried to propagate my gloxinias using the tubers dividing technique, but I found the following YouTube video on Azflora's channel that explains the process in detail.
When Does Gloxinia Bloom?
Under the proper conditions, a gloxinia will bloom during the summer and will keep its flowers usually until fall.
When planted from seeds, on average, gloxinias take five to seven months until they begin to bloom.
What Fertilizer Is Best For Gloxinia?
Gloxinias require moderate fertilization for the plant to keep its blossoms for as long as possible.
There are probably many fertilizer types that would provide your gloxinia plants all the required nutrients.
I usually use ALGOplus Liquid Fertilizer, which I also use for my geraniums.

Where To Buy Gloxinia Plants?
Gloxinias are generally sold at flower shops in late winter and spring.
Your second option is to grow them by bulbs (order from Amazon). It will require some nurturing to grow, but in the end, it will worth the effort.
You can also grow them by seeds, but it will normally take about six to seven months until your plant will bloom for the first time.
Why Gloxinia Leaves Curl?
When the leaves of your gloxinia plant curl and roll downwards, that usually indicates that the plant might be lacking enough water or has too much water.
I recommend you read the "how to water gloxinia" section if you haven't already.
This might also be a consequence of a poor potting mix, a pot too small, or a soil that's too compacted around the roots of your plant.
Does Gloxinia Need Sun Or Shade?
Gloxinia needs a good amount of light during its active period, but it shouldn't be exposed to direct sunlight.
During the winter, the plants are in a hibernation state, so they don't need too much light.
Throughout summer, if you keep the gloxinia inside, you should place it near a window but make sure it isn't exposed to direct sunlight too many hours of the day.
Even though it's generally grown as a houseplant, gloxinias like to be outside during summer. Yet again, make sure the plant is in a place that is not exposed to sun rays too much (preferably in partial shade).
Is Gloxinia Indoor Or Outdoor Plant?
Gloxinia is normally grown as an indoor plant, but there are also people that transplant it outdoors in spring after the risk of frost has passed.
When the spring comes and the outside temperature rises, I usually take my gloxinias outside, but I leave them in pots. I place them in spots where they only have the direct sun in the morning and enough light after.
Why Is My Gloxinia Dying?
Just like any plant, there are several factors that can kill your gloxinia.
The most common are over-watering and poor water drainage, the lack of light, pests, the lack of fertilization and nutrients in the soil.
Many people panic when their gloxinias dry out after the blooming period.
If that happens before winter, it's perfectly fine since the plant enters a hibernation state during the cold season.
Even if apparently the plant looks dead, its tuber is still healthy and the plant will become active again in spring.
Is Gloxinia Toxic For Dogs And Cats?
Gloxinia is considered a non-toxic plant to humans according to the California Poison Control System.
This is not a guarantee that this plant is entirely safe for pets and it's also specified that even non-toxic plants can cause vomiting in humans and animals.
Considering these, I would say that Gloxinia is a relatively safe plant for cats and dogs.