How To Grow Broccoli In Your Garden
Broccoli (Brassica oleracea var. italica) is a delicious green vegetable in the cabbage family. It is related to cauliflower, cabbage, kale, and Brussels sprouts.
Broccoli is one of the best green vegetables that every farmer should cultivate in his or her garden. It is not a very difficult vegetable to grow and maintain, and you can preserve it for a long time before consumption.
The edible parts of the broccoli plant are usually the sizeable flowering head and the stalk.
Disclosure: This page contains affiliate links. This means that the owner of this website might be compensated for any qualifying purchases made via these links.
Benefits of growing broccoli
More health benefits of growing and consuming broccoli:
Broccoli is rich in vitamins K and C, which are essential in preventing one from any kind of pain.
It has an antioxidant, which usually comes with multiple health benefits such as reduced blood pressure and cholesterol level.
Broccoli helps to reduce inflammation.
Assists digestion
Helps to slow the aging process
It helps to prevent multiple types of cancers, such as breast and prostate cancer.
Broccoli Varieties
Around the world, there is a multitude of broccoli varieties and hybrids. Amongst these, the following are the most common:
Calabrese broccoli
Sprouting broccoli
Chinese Broccoli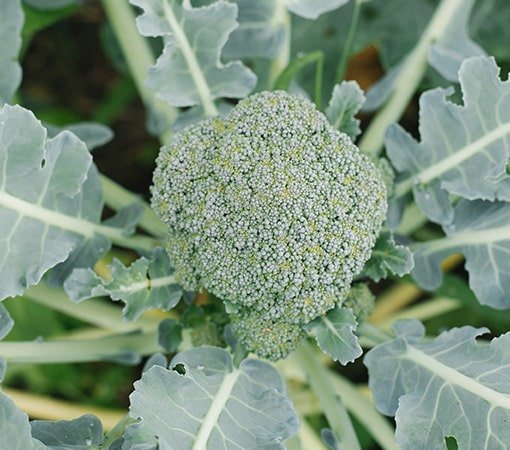 Calabrese broccoli (often referred to only as "broccoli") originates from the province of Calabria in Italy, and it is the most popular variety of broccoli in the United States.
The Calabrese broccoli is green and distinguishes through its generous (4-8 inch) green heads and thick stalks.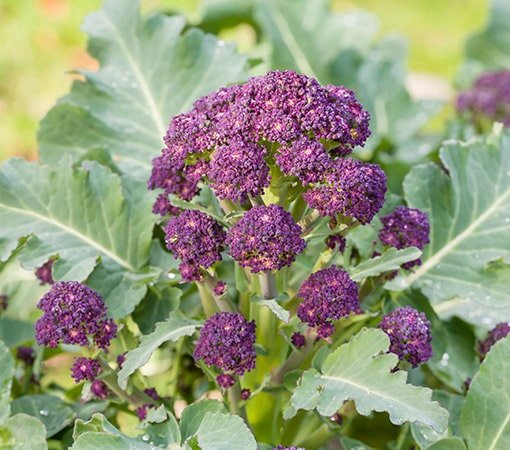 Sprouting broccoli differentiates from the Calabrese broccoli by its large number of heads with many thin stalks. This variety can be white, or purple.
The purple sprouting broccoli is more cold-tolerant and can endure temperatures as low as 14°F (-10°C).

Chinese Broccoli (also known as Gai Lan, kai-lan, or Chinese kale) is a variety of broccoli native to Asia. It has large flat leaves and thick stems.
Its flavor is similar to the conventional broccoli but with a slightly bitter taste.
The Chinese broccoli also has a shorter growing time than other broccoli species.
Other popular varieties of broccoli and hybrids that worth mentioning are Broccoli Rabe, Broccolini, Romanesco Broccoli, Belstar, DeCicco, Sun King, Purple Sprouting, Destiny, and more.
Now that you know a thing or two about broccoli and the existing varieties, it's time to learn how to grow broccoli in your garden.
How To Grow Broccoli
To grow a healthy plant, you need to know a few things about it before you plant it to your garden.
For instance, it is essential to know the best time to cultivate it, whether it is a plant that likes to grow in full sun or shade, how much watering it requires, pests, diseases, and other things.
Further, I have outlined the best way to plant broccoli along with the conditions required by it for healthy growth.
The requirements of growing broccoli are similar to the most typical plants in the Brassicaceae family. Therefore, if you have been cultivating cabbages, kales, or cauliflower, raising broccoli should be pretty straightforward.
Best time to plant broccoli
One of the most critical aspects when growing broccoli is knowing when to plant it. Otherwise, your crop will be doomed right from the very start.
Depending on your location and the broccoli variety, the planting times will vary; hence it would not be accurate to say it can be planted on this day or in this month.
What you need to keep in mind is that you need to plant it seven weeks before the last frost date in your location. You also need to be aware that if you do not take care, you can quickly lose your broccoli crop to the frost.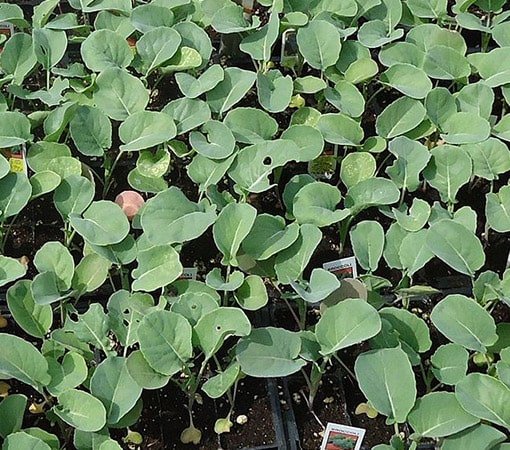 You can grow broccoli both from seeds and from seedlings. We'll talk in a moment which are the pros and cons of each approach. For now, we'll resume to talking about raising broccoli from seedlings.
Therefore, to start your broccoli crop, you first need to grow the seedlings in a place which has plenty of light for about five weeks.
After the seedlings are ready, it's now time to transfer your broccoli plants to a place in your garden where there is plenty of sunlight. You need to ensure that the plants get at least 6 hours of direct sunlight daily.
Broccoli should be planted on a frost-free weather season to ensure that they develop under the best conditions and yield the expected results.
Best climate for growing broccoli
Another thing to consider before starting your broccoli crop is the climate in your place of residence.
Broccoli requires relatively cool weather, water, fertile soil, and full sun. An organic mulch, fine leaves, or fine bark will assist in keeping the soil cool and moist and reduce weeds.
Ensure that the temperature for you broccoli remains as low as 40 degrees and as high as 80 degrees F. That's approximately between 5 and 27 degrees Celsius.
It's best if you plant broccoli in the late summer or early spring season so that it will mature during the cold weather but before the frost. That will produce the tastiest vegetables.
Best soil type for broccoli
Broccoli plants grow better in nutrient-rich soil with a PH level of about 6.0 to 7.0, which is slightly acidic.
Similar to cabbage, cauliflower, and other plants in the Brassicaceae family, broccoli also thrives in soil that is consistently watered. The soil should be well-drained to assure that the plants are not waterlogged.
You can maintain a steady humidity level by watering your plants regularly. That's very important for broccoli plants to thrive, especially during drought.
If your garden soil doesn't naturally have enough nutrients, you can always add some homemade compost or nutrient-rich garden soil.

How much time does broccoli need to reach maturity?
The time your broccoli will take to mature depends based on factors like climate, the time of the year, temperatures, etc.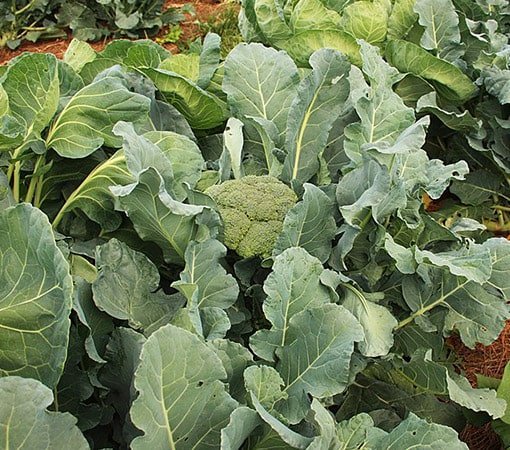 Besides what I mentioned earlier, there are two key things you need to consider before you start your broccoli crop, concerning the harvesting time:
Growing broccoli plants from seeds
Growing broccoli plants from seedlings
When you grow your broccoli direct from the seeds, it will take about 3 to 5 months to mature and be ready for harvest.
If grown from seedlings, it will take less time – roughly 2 to 3 months.
You will know that they are already mature when the buds are firm, and also if you see that the petals are yellow. I'll talk later about which is the best time to harvest broccoli.
Broccoli Pests And Diseases
Like any other plant, broccoli is affected by various natural pests and diseases.
For the pest, it is usually attacked by any kind of cabbage worms. The worms typically affect the roots and the stem of the broccoli, thereby making it weak and may lead to the plant drying up.
Another pest that significantly affects the broccoli is the aphid. Aphids find it better to feed on the leaves which are usually green in color, and they eventually turn discolored and wrinkled.
As a gardener, you should be keen on your broccoli and ensure you water them regularly to keep away the pests.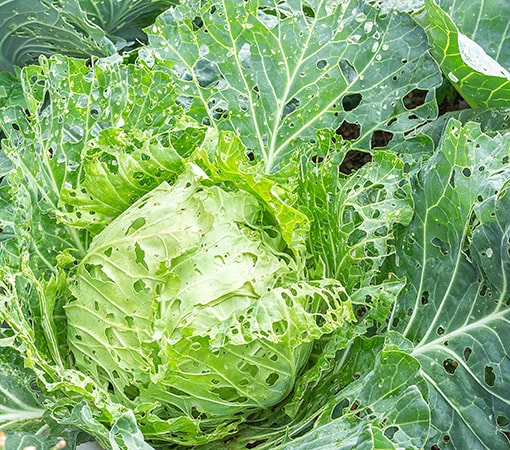 Other common garden pests that may affect your broccoli include, darkling beetles, stink bugs, maggot flies, and also the flea beats.
For the disease, broccoli is one of the plants that is affected by some common disease to cabbages such as the white rust, white mold, black rot, clubroot, powdery mildew, among many. You can control many of these diseases by spraying your broccoli once every week or two.
If you want to prevent diseases and pests from affecting your broccoli, it is recommendable to plant it in a place whereby you have planted other Brassicaceae plants in the past (cabbage, Brussels sprouts, kale, cauliflower, etc.). Broccoli will do better in this type of land as it will not be affected and will get the required nutrients in the soil.
However, it is advisable to rotate the crops from time to time.
Signs broccoli is affected by pest or disease
If you have been having a problem growing your broccoli, the following are some of the best ways to know your broccoli have been affected by pest and diseases:
Seeds are taking long to germinate
If your seeds have taken more than ten days to emerge, it is a clear indication that there is a problem somewhere or they lack certain nutrients.
The most frequent cause for this is the cabbage maggot, which feeds typically with the roots of the plants.
The best way to prevent the appearance of this pest in the first place is to plant the broccoli nearby plants from other families. A few examples of plants that repel the cabbage fly, the fly responsive for the origin of the cabbage root maggots, are tomatoes, mint, sage, and rosemary.
If your crop was already affected by this worm, you could use a mixture of wood ash, powdered limestone, and rock phosphate. This composition should help you get rid of the larvae in about a week. The exact process is detailed here.
Falling seedlings
Falling of the seedlings is usually one of the main ways that you can know that something is disturbing your plants.
When you see entire young plants or parts of them down on the ground, cutworms are usually the leading source of the problem.
Cutworms typically feed on either the stem, roots, or sometimes the leaves of the broccoli plants. When they chew out the leaves, judging by the damage they produce, the cutworms may easily be mistaken with slugs.
These worms can do a lot of damage in a very short time and can destroy entire crops if allowed.
The damage done by this pest to the root system of the seedlings may lead to your plants gradually becoming weak and occasionally falling out. Therefore, you need to evade the cutworms from your garden at all costs.
An efficient cutworm killer is Sluggo Plus. This product also works wonder against other garden pests such as snails, earwigs, slugs, sowbugs, and pillbugs.

Brownish spots on the leaf surfaces
If you notice that the leaves are turning color from their natural green to either yellowish, brownish or blackish, it is an indication that they lack enough air circulation or it's a sign of a fungal infection.
This may affect the kind of the buds you get; hence you should ensure that your plants get direct sunlight and are free from any weeds, which may encourage the fungus spreading or affect the proper air circulation.
Downy Mildew is one of the most common fungal infections of broccoli, disease which is favored by moist conditions.
The initial manifestation of Downy Mildew on broccoli plants is a white mass of power spores on the lower surface of the bottom leaves. This is normally succeeded by a black speckling and puckering of the upper surface. The affected leaves turn yellow and eventually die.
You can apply a fungicide at the first signs of fungal disease or as a way to prevent it before any visible signs on the plant.

The leaves are yellowish and have shiny specks
Another great way to know that your plants are not in good condition is by identifying the color of the leaves. If they are yellow, it means that pests such as the cabbage aphids are feeding with the sap of the plant.
Besides hurting the broccoli plant directly, the cabbage aphids can also carry and spread many plant viruses from one plant to another.
Their eggs can even survive the winter, hidden inside the stumps, or other places where they can find shelter.
If ignored, the armies of these annoying little pests will bring your precious broccolis in a terrible and inedible condition.
You can make a natural treatment against the cabbage aphids using the following ingredients:

Mix everything and spray your plants with the solution and spray your plants with the solution.
Here is a video from MIgardener's YouTube channel that explains the process more in-depth.
Holes in the leaves
Another visible effect of pests is the holes in the leaves of your broccoli plants. The pierced leaves are an indication that either the webworms, armyworms, cabbage loopers, slugs, or blister beetles have invaded your garden.
If more holes seem to appear overnight in the leaves of your broccoli plants, most likely, you have a slug-related problem. To get rid of them, you can either pick them up at night since that's when they do the destruction or set up several beer or yeast traps.
The yeast attracts the snails and slugs into the traps. They will not be able to get out once inside and will eventually drown in the liquid.
Below is a video from OYR Frugal & Sustainable Organic Gardening's YouTube channel that will teach you exactly how to do a yeast trap for slugs.
Those are, however, only efficient when you are dealing with slugs or snails. For other pests previously mentioned, you'll have to use an insecticide spray.
The first step to keep them away and have your broccoli crop back in good condition is to clear any kind of weed in the proximity of the plants as they can provide a place to hide for many of these pests.
Secondly, you have to use a pesticide spray to get rid of any of these unwanted visitors once and for all.

The plant flowers too early
Another problem that a broccoli farmer usually face is the premature flowering of the plant.
From broccoli, we mainly consume the florets and the stalk. The florets are nothing more than undeveloped flower buds. If you miss the harvesting time and the broccoli bloom too early, there is not too much you can do.
Flowered broccoli can be also consumed. However, its taste won't be the same. Also, if you have a large crop and you intend to sell your harvest, that is definitely not the best scenario.
The plant usually flowers if the temperature is very high or if you took too much time to transfer it to your garden from the seedbed. You need to know that this is not a disease, but probably a few steps you omitted in the process.
Nonetheless, you can still put it to good use by harvesting the seeds and use them for a new crop.
How and when to harvest your broccoli
It is crucial to harvest your broccoli at just the right time to obtain the tastiest vegetables.
As I've mentioned earlier, for most broccoli varieties, the edible parts are the stalk and the flower part.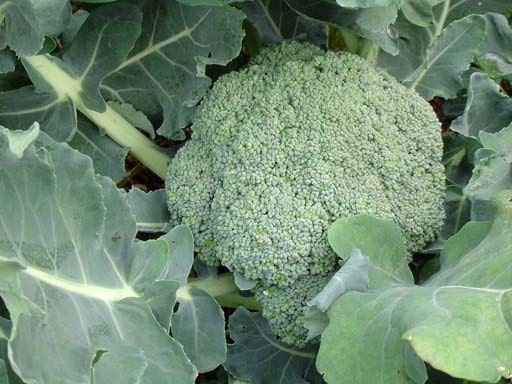 For the standard types, you will know that your broccoli is ready for harvesting when you see that its head is about 6 inches long (about 15 cm) with dense flower buds. These characteristics indicate that the plant has reached a maturity level and needs to be harvested as it will eventually become a waste if the bud opens up.
To cut the flower head, pick your knife and only remove the central head, keeping a bit of the stem. The good thing about broccoli is that the plant will produce other smaller heads on the secondary shoots throughout the year if you don't damage it while harvesting.
Another thing you need to consider is the time of the day when you pick up the buds. The best time to harvest broccoli is early in the morning on the cool before the sun softens them.
You can preserve the broccoli for up to 12 months by putting in the freezer. You can read more about the ways of storing and maintaining broccoli in this article published by Michigan State University.
If you take these steps while harvesting your broccoli, you can enjoy this healthy and tasty vegetable until the next crop.
Final thought
Even though the length of this broccoli growing guide might be intimidating for someone who has never cultivated broccoli in his or her garden, I assure you that it's nothing complicated.
Growing broccoli is not as hard as it seems. If you follow the tips I highlighted in this article, you should have no problems producing tasty and healthy broccoli that you and your family can enjoy all year round.
Here's a quick summary of this guide:
Plant your broccoli at a temperature below 80 F degrees in a soil rich in organic matter and in an area that enables the plants to get enough sunlight throughout the day.
If you wish to harvest a bit earlier, use seedlings. Otherwise, you can start your crop from seeds.
Maintain a balanced watering schedule and give the broccoli enough water daily. Make sure, however, that you don't overwater it.
Keep the weeds out of your garden as much as possible. This will help you keep many pests and diseases away.
Harvest the broccoli before it starts to bloom and make sure you consume this delicious vegetable as many times as possible because it is very good for your health.
Now that you know how to grow broccoli, it's time to get there and plant your first seeds or seedlings.
Interesting fact: Did you know that broccoli is actually a man-made plant and the result of an extended process of selective breeding? Read more about this here.