5 Species Of Grass-Like Plants With Purple Flowers
Did you notice what seems like a species of grass with purple flowers growing in your lawn, yard, or garden? Below are several types of grass-like plants with these characteristics to help you identify the intruder.
The grass is all around us, being used for lawns, as food for ruminants, or as a decorative plant.
Besides the "good grass," there are also other countless types of unwanted grass or grass-like weed species that occur suddenly in our gardens, in lawns, in flower beds, etc. Often, their seeds are brought by the wind, birds, or animals. Other times they emerge from roots already existing in the ground or spread from nearby areas.
In this article, we are presenting you with several species of grass-like weeds that produce purple flowers. Hopefully, the next time you see an unknown plant with these characteristics, you will be able to identify it effortlessly.
1. Doveweed (Murdannia Nudiflora)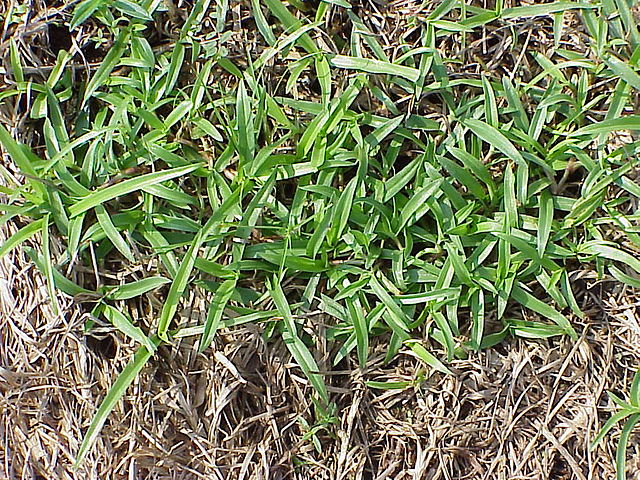 Murdannia nudiflora, commonly known as doveweed, is an annual grass-like weed that emerges during summer.
Doveweed thrives in damp soils and often appears in the lawns that are over irrigated. It is considered a rather problematic weed in many areas due to its way of propagation through stolons and its increased resistance to herbicides.
If left untouched, doveweed will quickly spread throughout your lawn and produce significant damage to the existing grass.
Although at first glance, doveweed can be easily confused with several species of lawn grass, it is distinguished by its narrow, short leaves with parallel veins. The stems are creeping and form a dense network when the weeds flourish.
Doveweed stands out the most when it blooms. During this period, it produces small, 3-petaled purple flowers.
2. Spiderwort (Tradescantia)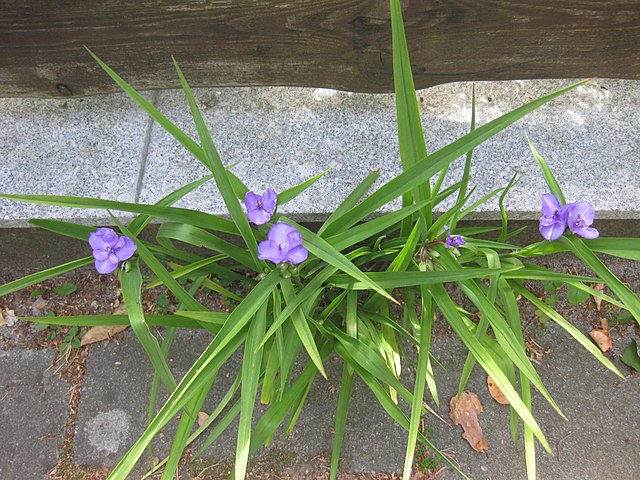 Tradescantia, commonly known as spiderwort, wandering Jew, or spider lily, is a genus of herbaceous perennial wildflowers. These plants are trendy in Europe and North America and are often used as ornamental or houseplants.
This genus includes more than 70 varieties, both climbing and trailing species. Their appearance may differ from one variety to another and not all produce purple flowers.
Some species that possess this characteristic include:
Tradescantia ohiensis
Tradescantia bracteata
Tradescantia hirsuticaulis
Tradescantia longipes
Tradescantia virginiana
The leaves of spiderwort plants are usually long, thin, and blade-like to lanceolate.
During its blooming period, most species of Tradescantia produce 3-petaled, bright blue flowers, but these can also be purple, pink, or white.
3. Blue-eyed Grass (Sisyrinchium)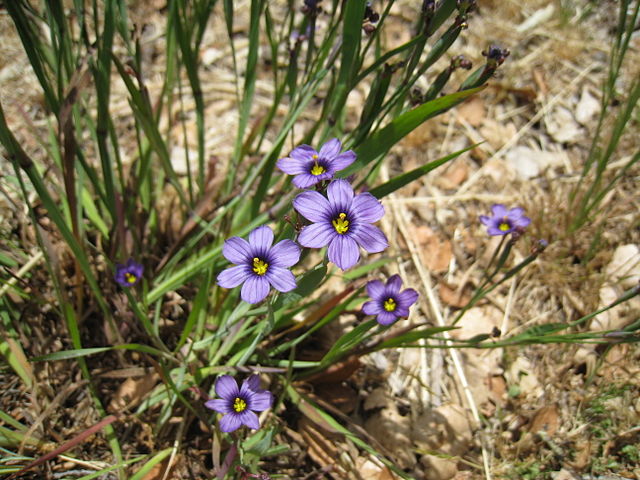 Sisyrinchium is a genus of flowering plants. Most species are generally known as "blue-eyed grasses," and although they may have grass-like long and thin leaves, botanically, they are not considered grasses.
Also, not all species in this group produce blue flowers. They can be either blue, purple, white, or yellow.
Several varieties that produce blue to purple flowers are:
Sisyrinchium bermudiana
Sisyrinchium bellum
Sisyrinchium angustifolium
Sisyrinchium demissum
These plants are frequently found growing on grasslands. Some species grow as perennials, and some are annuals.
Blue-eyed grass grows from rhizomes and forms clumps of grass-like upright sword-shaped leaves. During the blooming season, the plant produces star-shaped flowers, typically with a yellow center.
4. Purple Moor-grass (Molinia Caerulea)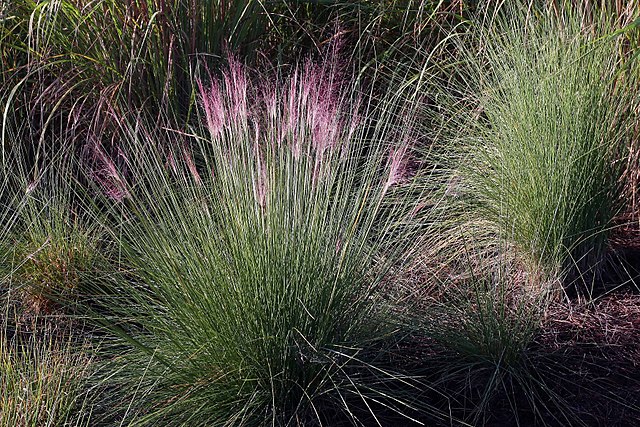 Molinia caerulea is a species of grass indigenous to Europe. It is also popularly known as "purple moor-grass."
This species of grass thrives in acidic soils, being found in both lowland and mountainous areas. It is often found near swamps or in open landscapes.
Purple Moor-grass usually grows as tufts of many closely crowded stems and can reach up to 35 in (90 cm) in height. The leaves are green, long, rough, pointy, and sometimes slightly hairy on top.
During the flowering period from summer to early fall, this grass grows narrow purple spikelets.
The purple moor grass is also utilized as ornamental grass. However, it is a species with invasive potential, so it should be managed with caution.
5. Monkey Grass (Liriope Muscari)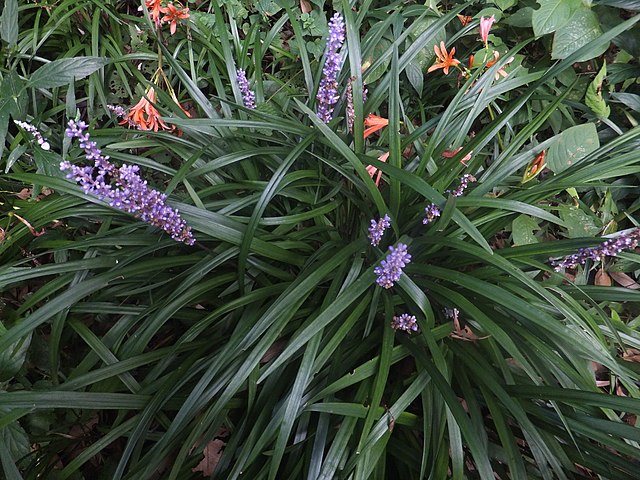 Liriope muscari is a species of herbaceous perennial plants native to Asia. Several well-known names of Liriope muscari include monkey grass, lilyturf, border grass, or big blue lilyturf.
This plant grows in clumps, has long, grass-like dark-green leaves that usually arch towards the ground. It doesn't grow very tall. Typically, it doesn't exceed 18 in (45 cm) in height.
During late summer, Liriope muscari produces upright spikes of white to violet-purple flowers that rise above the foliage. After the blooming season, the flowers turn into blackish berries.
Monkey grass extends by short stolons but does not multiply as aggressively as other plants that use this propagation method. However, it is regarded as an invasive grass in North America and acknowledged as a threat to the native wildlife.
---
Final Word
These are some species of grass, weeds, or grass-like plants that produce purple flowers.
I hope this list will help you more easily identify unknown plants that possess this characteristic.
If you have not been able to identify the unknown plant based on the information presented in this article, we recommend you try a mobile app for this purpose. We have made a list of the best mobile apps for identifying plants here.