10 Fruits That Look Like Tomatoes
Are you looking for tomato-like fruits? Here is a list of 10 plants that produce fruits that look like tomatoes.
Tomatoes are some of the world's most popular vegetables. They are widely cultivated both commercially and in personal gardens and are consumed on a large scale either raw in salads or cooked in various dishes. They are also utilized in the making of various sauces or tomato paste, which is an indispensable ingredient in many recipes.
We all know what the fruits produced by tomato plants look like, but there are many other plants that produce fruits that look incredibly similar to tomatoes, especially those in the genus Solanum.
The tomato plant is scientifically known as Solanum lycopersicum. Its fruits develop from flowers, have various shapes depending on the variety, and contain many small seeds enclosed by a fleshy core. The fruits of most cultivars are initially green, then when they ripen they get various colors, depending on the cultivated species.
The most common color of ripe tomatoes is red, but there are also different varieties that produce pink, orange, yellow, purple, white, black, or even variegated fruits.
Below is a list of plants bearing tomato-like fruits. While some of them are edible and delicious, others are highly poisonous to humans and animals. Therefore, just because the fruit of a plant looks like a tomato, that doesn't mean it is also edible.
1. Persimmons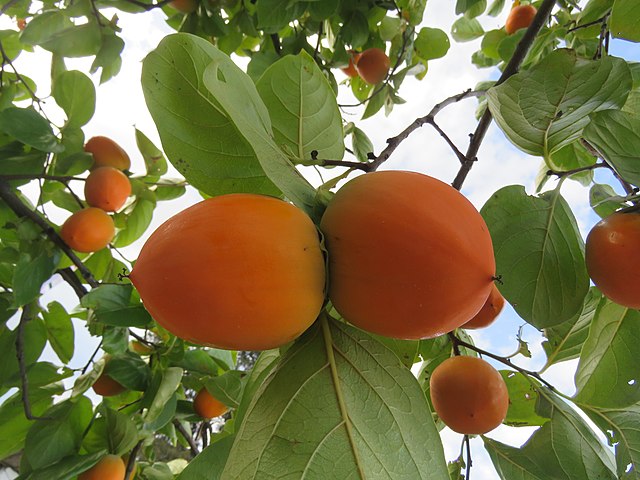 Persimmons are exotic fruits produced by kaki trees and cultivated in China for more than 2000 years.
There are multiple species, but the most widely cultivated is Diospyros kaki, also commonly known as the Oriental persimmon, kaki persimmon, Chinese persimmon, or Japanese persimmon.
The shape and texture of the kaki fruits are very similar to a tomato, but the shape and color may vary from one cultivar to another.
Persimmons are only edible when the fruits are mature and ripe. The unripe persimmons are green, firm, and inedible due to their elevated levels of tannins that make them highly astringent.
The color of ripe persimmons ranges from yellow to orange, or even reddish when the fruits are overripe. A ripe fruit is soft, sweet, and has a honey-like pleasant taste.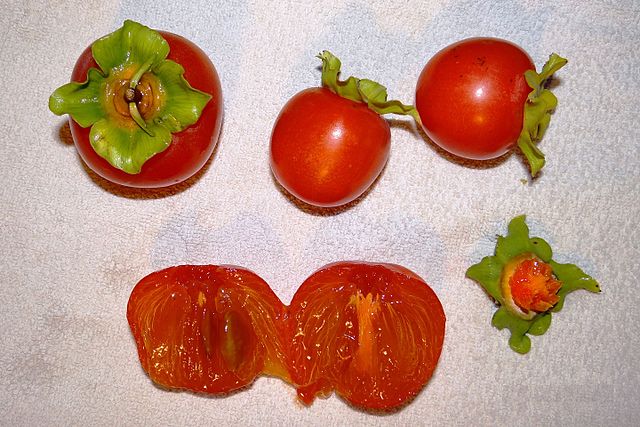 The inside of a ripe persimmon is gelatinous and wrapped in a waxy thin-skinned skin.
If you want to know more about these tomato-looking fruits, take a peek at our article about persimmons.
2. Potato (Solanum Tuberosum)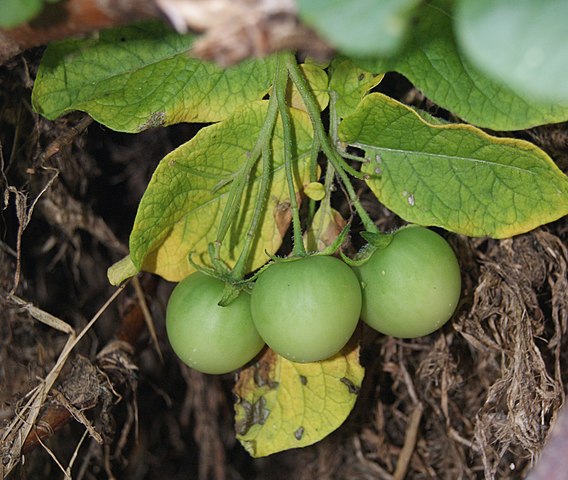 Many people think that the potato tubers we eat are the fruit of the potato plant. However, this is not correct.
The fruits of the potato plants resemble green cherry tomatoes and form from flowers, typically when the plants experience cool temperatures and high humidity.
Like tomatoes, these fruits often grow in clusters, and at first glance, you can easily confuse them with small, green tomatoes.
However, even if they look like tomatoes, the fruits of potato plants are poisonous and should never be consumed. All the green parts of this plant contain a toxic substance called Solanine which is also found in many plant species in the nightshade family (Solanaceae).
The interior of a potato fruit has many tiny seeds scattered in a mass of moist, gelatinous, soft tissue.
3. Tamarillo (Solanum Betaceum)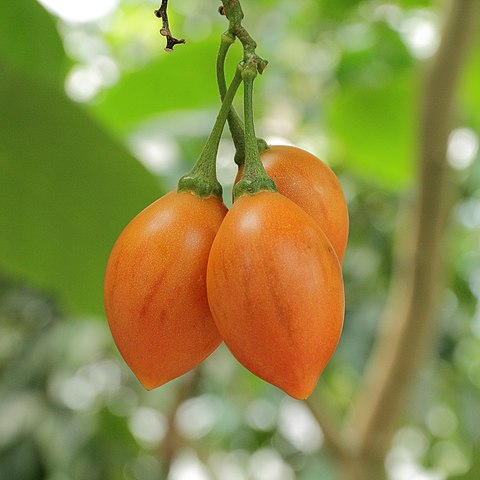 Tamarillo (Solanum betaceum) is a small tree or shrub native to tropical or subtropical regions from Colombia to Argentina. It is also commonly known as "tree tomato" or "chilto."
Not only is it part of the nightshade family, like tomatoes, but it also produces egg-shaped fruits that resemble plum tomatoes.
Its fruits are edible and can be eaten raw as well as cooked in various ways. Their core has a sweet and slightly sour taste.
The fruits are egg-shaped, grow usually in clusters of 1 to 6 fruits, and are green when unripe, occasionally with longitudinal dark stripes. At maturity, their color ranges from yellow and orange to red and almost purple.
The core of the ripe tamarillo fruits is fleshy and contains many dark seeds which are a bit larger than those of common tomatoes.
4. Horsenettle (Solanum Carolinense)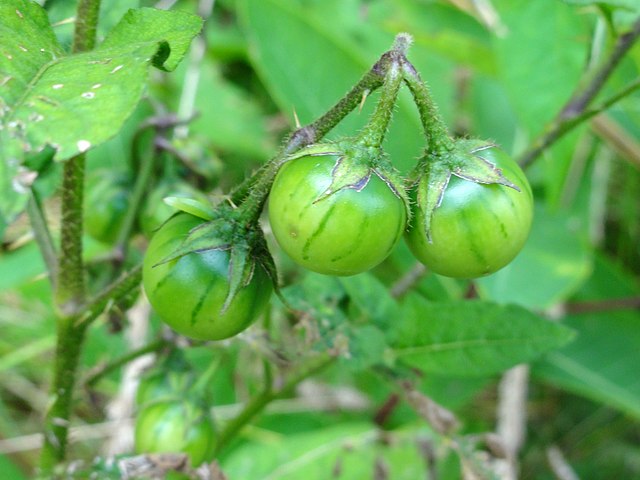 Horsenettle (Solanum carolinense) is a perennial warm-season plant in the family Solanaceae. It is native to parts of the United States, Canada, and Mexico but is now also pretty common in Europe, Asia, and Australia.
It is considered a noxious weed in many regions due to its aggressive way of spreading and is generally found growing along roadsides, in cultivated fields, pastures, and disturbed places.
Other popular names for S. carolinense include bull nettle, Carolina horse nettle, devil's tomato, etc.
Horsenettle produces small tomato-like round berries which are toxic due to the high content of solanine. The other parts of the plant are also poisonous both to humans and livestock.
The unripe fruits are green with darker green stripes, contain many small seeds, and turn yellow and wrinkled at maturity.
5. Litchi Tomato (Solanum Sisymbriifolium)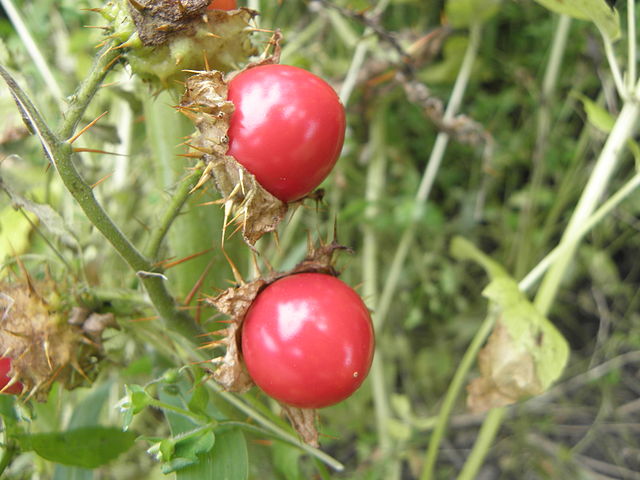 Another plant with fruits that look like tomatoes is Solanum Sisymbriifolium, popularly known under names such as the litchi tomato, sticky nightshade, vila-vila, or red buffalo-bur.
Litchi tomato is a plant in the family Solanaceae and is generally regarded as a weed. It is native to South America and was introduced to most continents as a trap crop for potato cyst nematodes.
It grows as an annual or as a short-lived perennial, typically in disturbed soils. Most of its parts are covered with spines, has 5-petaled flowers that vary in color from white to light blue or almost purple and globular berries similar in appearance to small tomatoes.
The fruits form and grow up to a stage inside a spiny, green husk. When ripe, they have a bright red color on the outside and a yellowish core that contains many seeds.
Although they do not have a fantastic taste, the small fruits of Solanum sisymbriifolium are considered edible and have been consumed for centuries by the indigenous tribes in South America.
6. Goldenberry (Physalis Peruviana)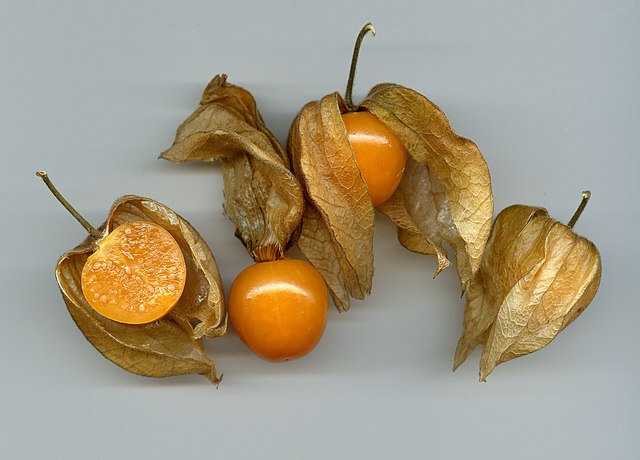 Goldenberry (Physalis peruviana), is a perennial plant in the nightshade family and native to several regions of South America. It is also commonly known as gooseberry, ground cherry, Cape-gooseberry, gooseberry-tomato, and various other local names.
Physalis peruviana is appreciated for its edible berries that resemble small tomatoes.
Initially, the fruits grow enclosed in a green, thin, protective membrane, botanically known as a calyx. Once removed from it, mature fruits are round, smooth, bright yellow to orange in color, and look like miniature yellow cherry tomatoes.
On the inside, the fruit has a firm, fleshy core that contains many tiny seeds. It has a sweet, mildly acidic, unique flavor, somehow comparable to pineapple or mango. They can be eaten fresh in fruit salads or cooked in jams, pies, pudding, or various other dishes.
In indigenous areas, goldenberry plants are typically found growing wildly in forests or forest edges, as well as on river banks. They have also started to be cultivated as commercial crops in several countries with tropical climates in recent years.
7. Bittersweet Nightshade (Solanum Dulcamara)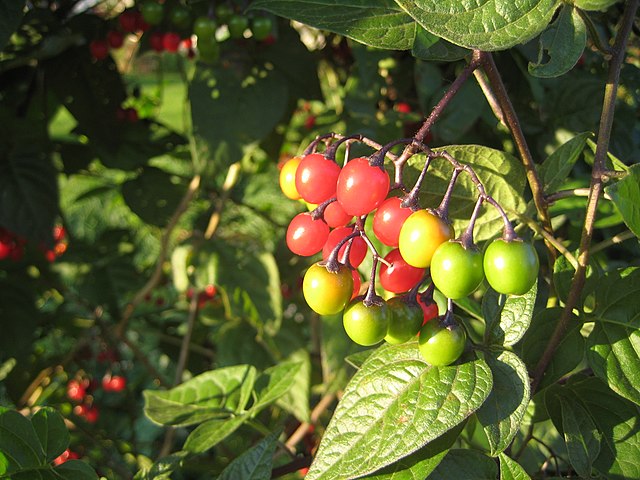 Bittersweet nightshade (Solanum dulcamara) is a woody perennial vine plant in the family Solanaceae that produces tiny tomato-like fruits.
Solanum dulcamara is indigenous to Eurasia and was widely naturalized on most continents, where it occurs in many habitats like creeks, woodlands, roadsides, field edges, wetlands, etc.
It is commonly known under many names including the bittersweet nightshade, bittersweet, climbing nightshade, felonwort, poisonberry, and more.
Bittersweet nightshade produces clusters of smooth-skinned, tomato-like, juicy, ovoid berries which are initially green and turn bright red when ripe.
The fruits and the other parts of the Solanum dulcamara plant are considered poisonous to humans, pets, and livestock.
8. Thai Eggplants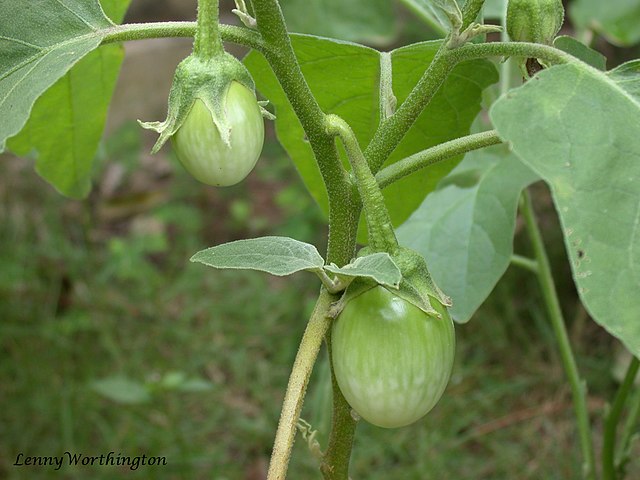 Thai eggplants are varieties of the eggplant species Solanum melongena (common eggplants) and are cultivated in several Asian countries like Thailand, India, and Sri Lanka.
Unlike the typical eggplant species that produce large, bulged, and elongated fruits, Thai eggplants produce small, globular fruits that can be confused with the immature fruits of tomato plants.
These fruits initially have a green-white color and reach a size comparable to a golf ball at maturity. When ripe, depending on variety, their skin turns white, light green, or purple with white streaks.
The inside of the fruit contains a firm, white core and many small brown seeds.
They have a slightly bitter taste and are often used as ingredients in Thai curry dishes, but can also be consumed fresh in salads.
9. Devil's Apple (Solanum Linnaeanum)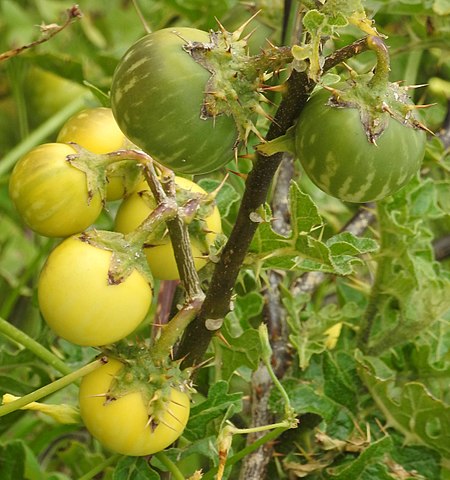 Devil's apple (Solanum linnaeanum) is a species of plant native to South Africa and introduced and naturalized in various countries where it is often regarded as an invasive weed.
It is also commonly known as the "apple of Sodom," but this is a rather ambiguous name as it is also used for other entirely different species of plants.
It is often found in grasslands, roadsides, pastures, woodlands, and disturbed sites, and it is easily recognizable by its woody, spiky stems and large, dark green, deeply lobed leaves also protected by big spines.
Solanum linnaeanum produces ball-shaped fruits similar to unripe, green tomatoes. They initially have a pale green color and turn bright yellow at maturity. Inside, they contain numerous seeds, usually brown or brown-to-black in color.
The fruits are toxic to humans and pets and should never be consumed.
10. Black Nightshade (Solanum Americanum)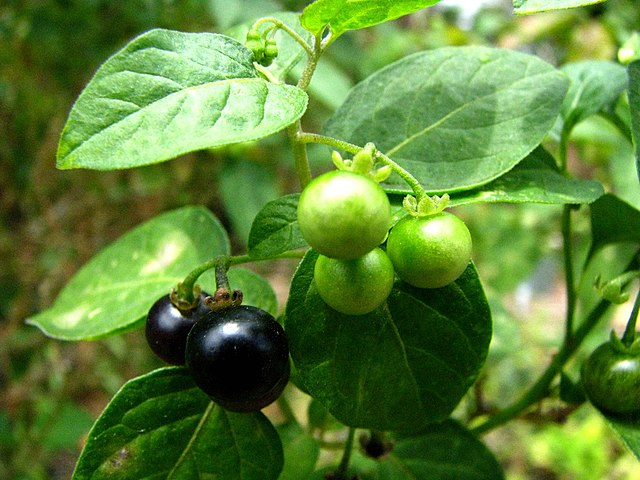 Black nightshade (Solanum Americanum) is an annual or short-lived perennial plant in the family Solanaceae. It also has names like the American black nightshade, glossy nightshade, or small-flowered nightshade.
It produces tiny, spherical berries that are somehow similar to small, immature tomato fruits. Initially, they are green and acquire a black, shiny color when ripe. Inside, they contain many small seeds.
Like many plants from the nightshade family, parts of this plant also contain toxic glycoalkaloids. The leaves and berries are reportedly toxic to humans and livestock and should not be ingested.
Although some sources indicate that the toxicity of the fruits may diminish when ripening, we still do not recommend their consumption in the lack of enough scientific evidence to sustain that they are 100% safe for consumption.
---
Final Word
These are just a few of the many plant species that produce fruits similar in aspect to tomatoes.
Remember that just because the fruit of a plant has a familiar appearance, it does not automatically mean that it is also edible.
Many of the plants presented in this article belong to the Solanaceae botanical family and may contain toxic substances for both humans and animals. Only consume the fruits of plants that you know are 100% safe for consumption.
If you found a plant with tomato-like fruits in your yard or garden and you could not identify it using the list of plants above, we recommend you take a look at our list of mobile apps for identifying plants.