What are those fields of yellow flowers?
Do you want to know what plant is cultivated on those fields of yellow flowers? Discover the name of this "mysterious" plant and what is used for in this article.
Have you ever seen large cultivated fields of plants that produce bright yellow inflorescences and wondered what these plants are and what they are used for?
Since you are reading this article, the answer is probably yes.
The large fields of yellow flowers you are likely to see in the agricultural areas are crops of rapeseed, a plant widely grown for mainly for its oil-rich seeds.
About Rapeseed
Rapeseed (Brassica napus subsp. napus) is a bright-yellow flowering plant of the family Brassicaceae (also known as the mustard or cabbage family).
Brassica napus is largely cultivated in Europe, Canada, and Australia but is also grown to a lesser extent in the United States and other countries.
Rapeseed stands out during its blooming period (generally late spring) when it covers entire fields with yellow flowers. It also offers an extraordinary opportunity to photographers to take some stunning shots with these yellow fields.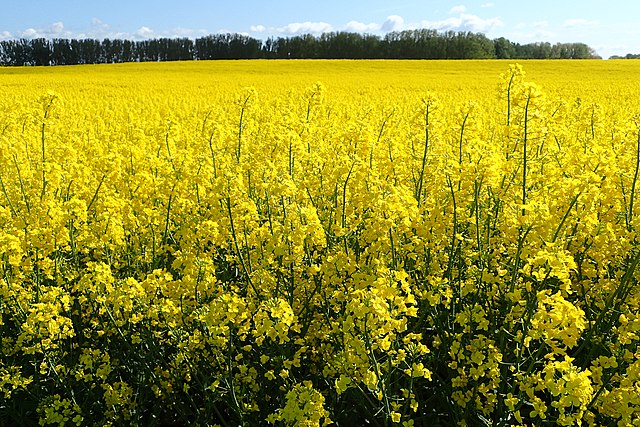 Usages Of Rapeseed
Rapeseed is cultivated primarily for its oil-rich seed and provides more than 13% of the world's supply of vegetable oil, according to Sciencedirect.com.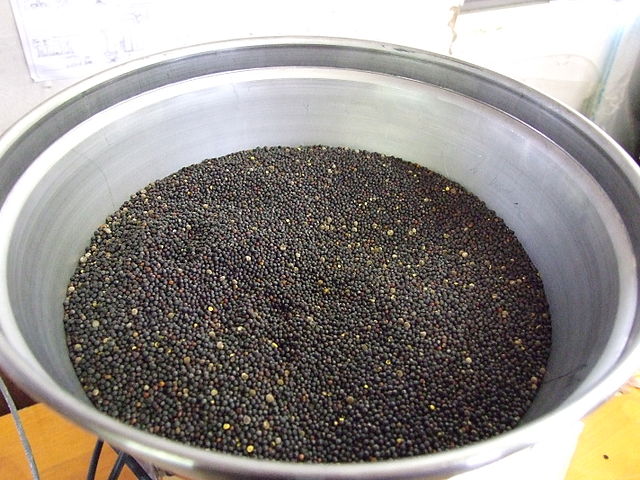 Parts of the plant and the oil extracted from its seeds are utilized in various industries such as producing biodiesel fuels, animal food, the manufacturing of lubricants, textile industry, making of paints and inks, detergents, candles, plastics, etc.
Rapeseed oil naturally contains high quantities of erucic acid (an omega-9 fatty acid) which is believed to be harmful to humans in high amounts.
A group of hybrid rapeseed cultivars called "canola" has been produced and cultivated in Canada to obtain plants that contain lower levels of this acid and this is used mostly in the production of rapeseed cooking oil (known as canola oil).
Rapeseed Plant Identification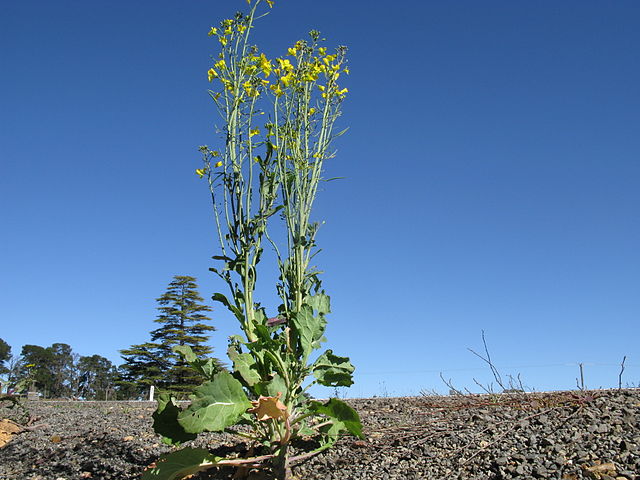 The rapeseed plant doesn't normally exceed 39 inches (100 cm) in height. It has a whitish long taproot and a fibrous root system that extends close to the soil's surface.
The stem is upright, largely unbranched, but branches to the superior part of the plant. It has a bluish-green color, is smooth, thicker at the base, and thins toward the top.
The leaves are bluish-green, smooth, fleshy, and deeply scalloped. The ones at the base of the plant are attached to the stem via petioles while the upper leaves join directly to the stem.
The flowers are bright yellow, have four petals in a cross form, and grow on the superior part of the stem, forming a raceme.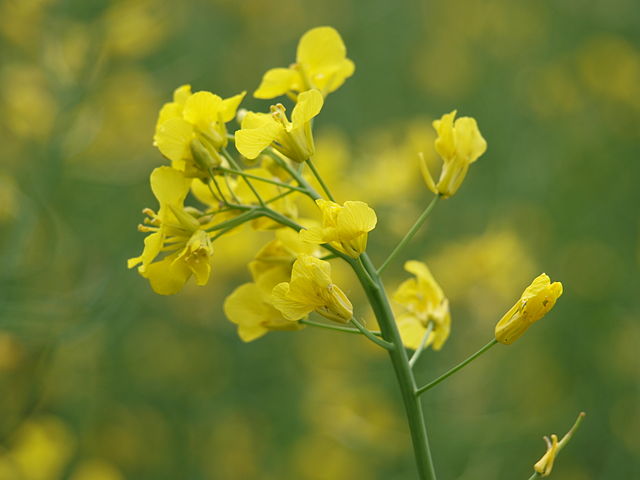 The seeds develop in elongated green pods that turn brown when ripen. Each pod contains many seeds.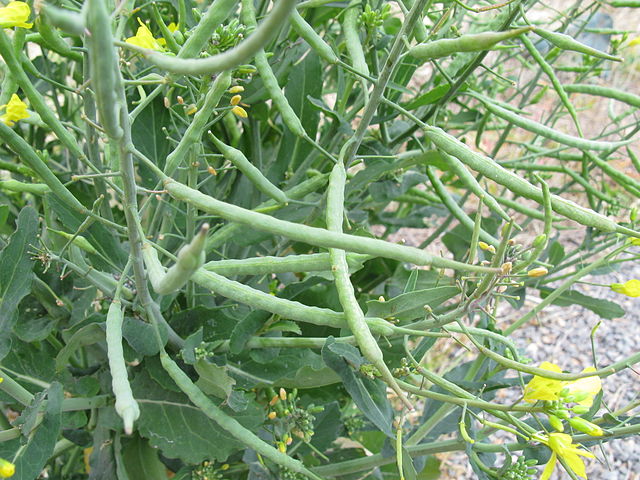 Rapeseed Cultivation
The demand for rapeseed oil is high and continuously growing. Thus, this plant is grown more and more frequently in many countries.
Rapeseed is also a very profitable plant for farmers. It does not imply too many expenses in terms of labor because its cultivation is entirely mechanized from seeding to cultivation.
At the same time, it is a plant with many uses. It can easily be integrated into crop rotation and provides benefits such as raising soil fertility and preventing erosion on sloping land.
Rapeseed is also a valuable plant for honey production. It provides nectar and pollen at a time of year when not many flowers are in bloom. Rapeseed honey has a whitish color and a more intense flavor than the one obtained from other flowers.
There are many varieties of rapeseed and not all of them are equally productive and profitable. Hybrids are usually preferred by farmers because they have a high tolerance for drought and use nutrients more efficiently.
Rapeseed can be seeded either in the fall or the spring, depending on the variety. It can be grown on almost any soil, but well-drained clay-loam soils are the most suitable for better yields.
This crop type is tolerant of a soil pH as low as 5.5, but a pH value between 6 to 7 is preferable.
Due to common diseases and pests, it is not recommended to cultivate rapeseed after sunflower or legume crops. The most suitable precursors of rapeseed harvests are fall cereals.
The flowering period of rapeseed can vary slightly from one climate to another, depending on the species and cultivation time. Usually, late spring is when you'll start noticing entire fields of yellow flowers occurring.

Fertilization is also necessary to get the best results from a rapeseed crop.
Rapeseed has one of the highest phosphorus requirements of all crop plants. Phosphorus deficiency is one of the common causes of poor root system development.
---
Final Word
Rapeseed crops are becoming increasingly popular in many parts of the world.
Not only does rapeseed provide us with enchanting images of entire fields of yellow flowers in spring, but it also has many uses.
This plant and the oil obtained from its seeds are widely used in many industries and to produce fuels and energy.
At the same time, it is a plant that contributes a lot to honey-making due to the production of high amounts of nectar.