Are you looking for elderberry look-alikes? Here's how to identify elderberry and a list of several plants that are frequently mistaken with elderberry.
Elderberry is the name commonly used for several species of plants in the genus Sambucus. These plants are often grown as ornamentals but also have other usages.
Two of the most common species of elderberry are Sambucus nigra (European elderberry) and Sambucus canadensis (American elderberry).
Various parts of these plants have been used for thousands of years as natural remedies for different health issues, but also in culinary and the production of wine.
Several species of elderberry produce small berries that are mildly poisonous when raw but become edible when cooked. The flowers are also frequently utilized in the production of syrups, wine, and juices.
Elderberry Identification
Because the fruits of this shrub are often used in jelly or jam recipes, it is crucial to know how to correctly identify these plants. There are also some highly poisonous look-alikes out there.
As already mentioned, the name "elderberry" is commonly used for several plants in the genus Sambucus. Thus, there may be slight differences between varieties.
We will talk about Sambucus nigra (European elderberry) and Sambucus canadensis (American elderberry) because they are two of the most widely available species of elderberry.
To identify the elderberry plants accurately, in addition to the particularities of flowers and berries, you'll need to take into account things like the plant's growth habit, the shape of the leaves, and bark color.
Elderberry is a deciduous shrub or small tree usually growing no larger than 20 ft tall (6 meters) and wide, but this may vary from one species to another.
It thrives in rich, moist, and slightly acidic soils and is usually found growing in sun to partial shade along streams, moist forests, marshes, and disturbed areas.
Elderberry trees have a short trunk with soft brownish-gray bark, which is usually corky and furrowed at maturity.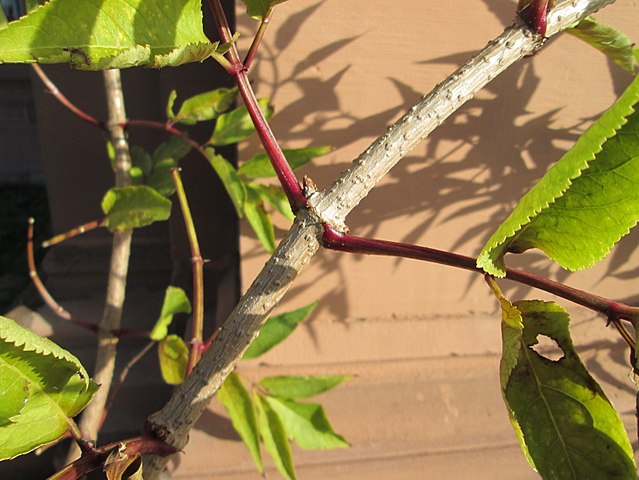 The leaves are dark green and pinnate, typically with 5 to 9 leaflets each and with serrated margins.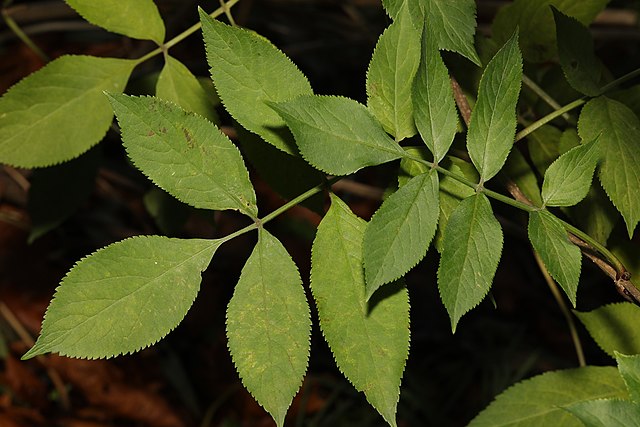 Elderberry produces abundant clusters of tiny white or cream flowers in late spring.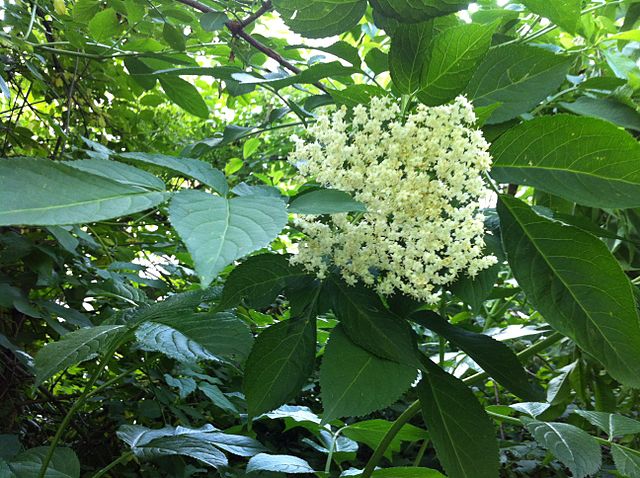 Later, the flowers turn into clusters of tiny berries. Depending on the species, the fruits can be black, red, blueish-black, and rarely yellow or white.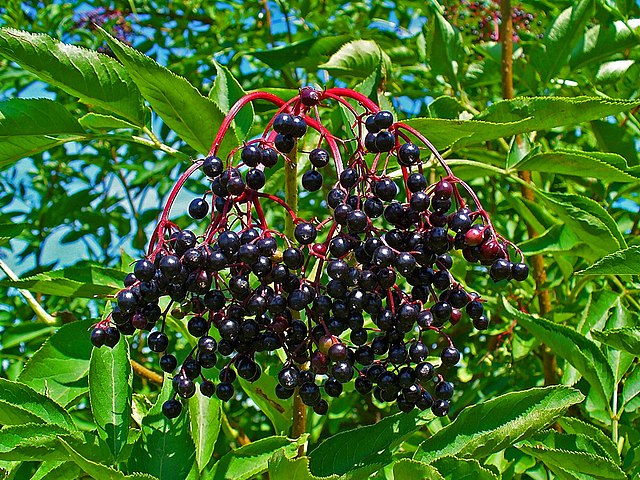 Elderberry Look-Alikes
There aren't many elderberry-like plants, but some of the ones that exist are poisonous and even deadly. Some of its look-alikes are also found in similar environments, so you have to pay close attention.
1. Pokeweed (Phytolacca Americana)
Pokeweed (Phytolacca Americana) is a perennial plant in the family Phytolaccaceae. It is also commonly known as pokeweed or poke sallet.
This plant is native to North America and naturalized in many parts of Europe and Asia.
All parts of pokeweed are poisonous to humans and most species of animals. Thus, it is generally regarded as a pest species by farmers.
Pokeweed resembles elderberry, especially in the fruits produced. It forms grape-like berries that are initially green and, when ripe, get a dark-purple to black color. These berries are poisonous and should never be consumed.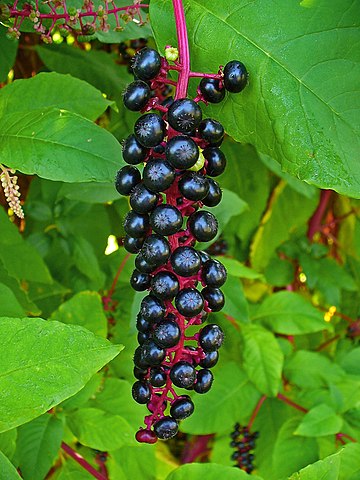 The pokeweed does not typically exceed 8 feet (2.5 m) in height. Its stems are smooth, branched, greenish with a reddish shade when the plant is young, and turn purple when aging.
Its leaves are large, bright green, and have an elliptical shape with smooth margins.
The flowers of pokeweed are tiny and produced in elongated clusters, called "racemes." They are white or green, with 4 to 5 sepals and no petals.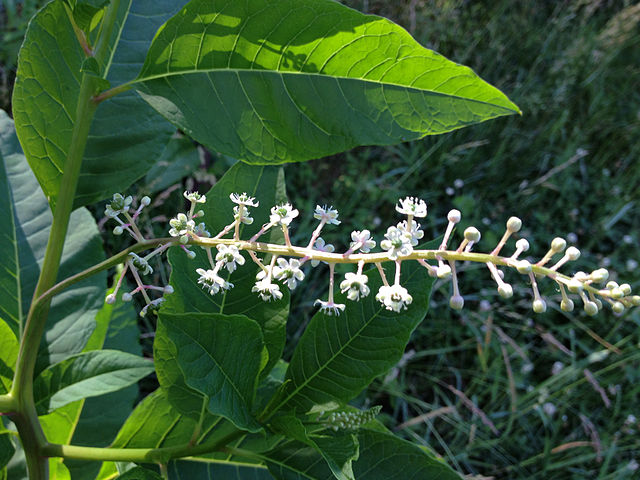 2. Devil's Walkingstick (Aralia Spinosa)
Devil's walkingstick (Aralia spinosa) is a deciduous shrub in the family Araliaceae, native to eastern North America. It is also commonly known as Angelica-tree in some regions.
It is usually found growing at the edges of forests, fields, and pastures, or in the forest understory but is also occasionally cultivated as an ornamental tree for its exotic, tropical appearance. While it can reach heights of up to 26 feet (8 m), many times does not exceed 20 feet (6 m).
On young plants, the bark is light yellowish-brown and later turns light brown. The stems, branches, and leaf stalks are all covered with stout and sharp spines. Hence, its popular name, "devil's walking stick."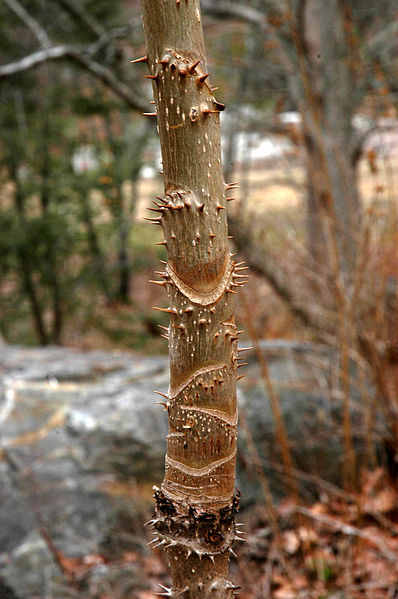 Aralia spinosa grows umbrella-like canopies of large, double or triple pinnated compound leaves with many ovate to lance-ovate leaflets with a pointed tip.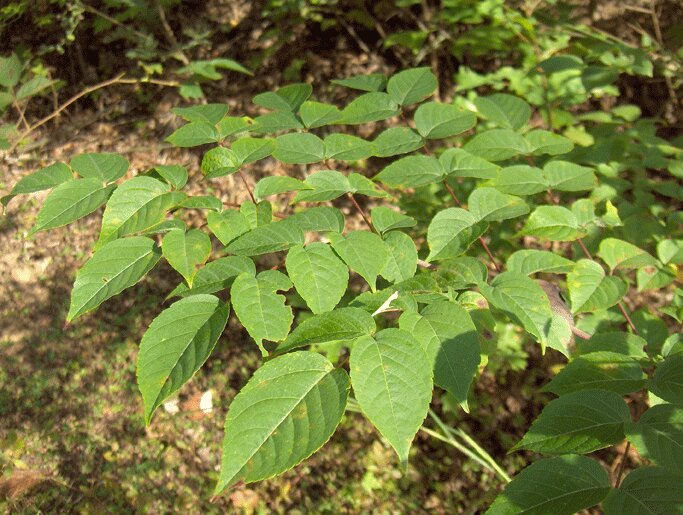 In late summer, it produces creamy-white large clusters of tiny flowers.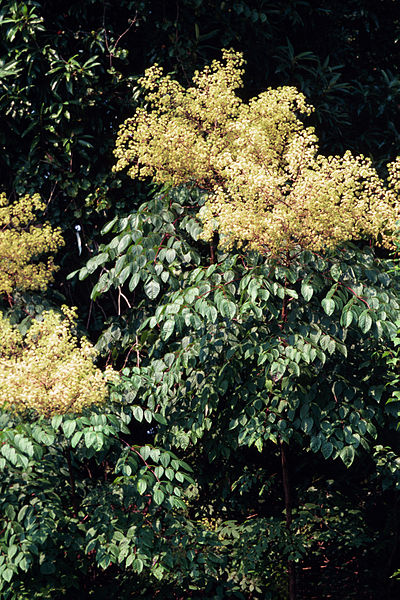 The fruits of Aralia spinosa are purplish-black berries that grow in clusters and ripen in the fall. They are generally considered inedible and mildly toxic, especially when unripe.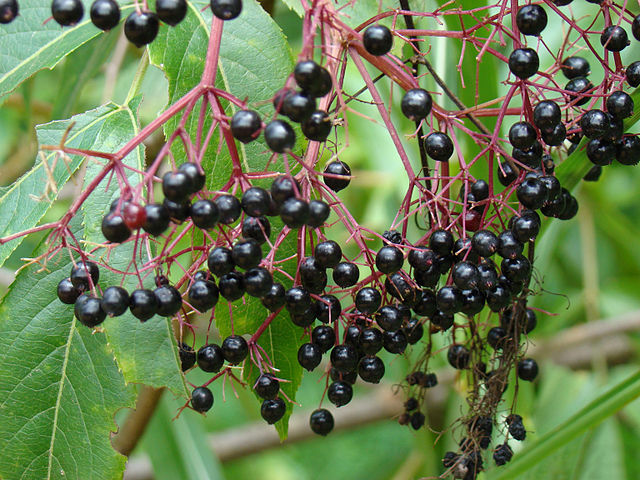 Although inedible for humans, the fruits of this shrub still represent a food source for some species of wild animals.
The fruits are the main reason why this shrub can be confused with elderberry. Other than that, it's pretty easy to recognize Aralia spinosa due to the presence of spines on its stems and its large leaves.
3. Water Hemlock (Cicuta spp.)
Water hemlock (Cicuta) is the common name used for four species of perennial plants in the family Apiaceae. They are native to the temperate regions of North America and Europe.
Water hemlock typically grows in wet and marshy areas like ditches, pond margins, wet marshes, and stream banks.
These plants are mistaken for elderberry mainly because of their flowers. The difference is that the flowers of water hemlock are highly toxic and should never be consumed or used to make syrup, juice, or anything else.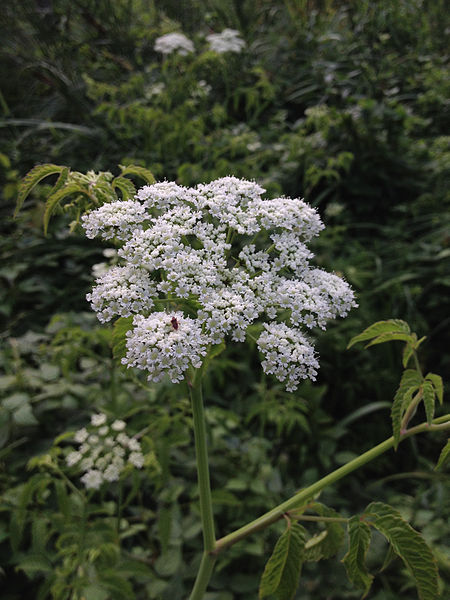 Water hemlock is regarded as one of North America's most poisonous plants. Not only its flowers are poisonous, but all its parts.
The plants in this genus do not grow very tall and typically do not exceed 8.2 ft (2.5 m) in height.
The stalk of the plant is upright, hollow, smooth, and branched.
The leaves are dark green, pinnately compound, with serrated lance-shaped leaflets, and grow alternately on the stem.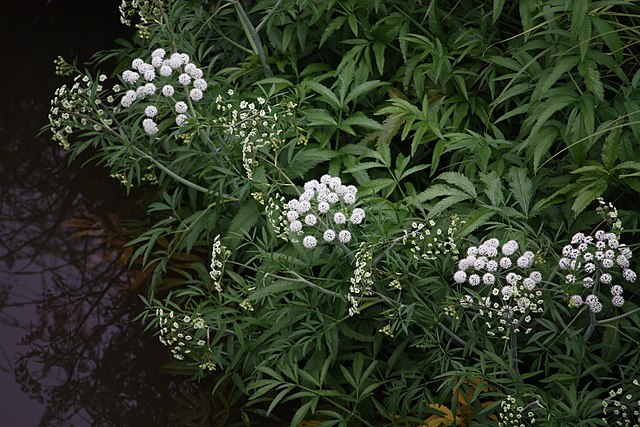 The individual flowers are tiny, green or white, and grow in umbrella-shaped clusters. The blooming time of water hemlock is from spring to early summer.
The plants produce a cylindrical fruit that is initially green and turns grayish brown at maturity and dries.
---
Final Word
These are some of the elderberry look-alikes.
While some of the plants included in our list have similarities to elderberry because of the berries they produce, others are often misidentified mostly due to their flowers.
Although some species are poisonous, when you know the particularities of the elderberry plant, you should have no difficulty identifying it correctly.