17 Best and Worst Companion Plants For Onions
Looking for the best companion plants for onions? We made a list of plants that are great neighbors for your onions and a few ones that you should avoid.
Companion planting might be the easiest natural method you can use to enhance your garden's growth and health. By only planting certain plants adjacent to others, you can organically deter pests and boost growth.
While every plant type has specific companion plants that grow well with it, today, we are going to talk about onions and what are the best and worst plants to plant near your onions.
First, you'll learn about what companion plants to plant alongside your onions to stimulate growth, reduce pests and diseases, or simply enhance flavor. Next, you'll get an insight into some of the plants you should keep away from your onions.
First and foremost, onions are part of the allium family, including shallots, chives, leeks, and garlic. These vegetables have been cultivated for thousands of years all over the globe.
Onions can protect various plant types cultivated in the nearby since their smell covers other plants' existence, thus tricking pests into thinking they are not worth stopping to eat.
So how does companion planting work with onions? What should be grown around them, and what should not?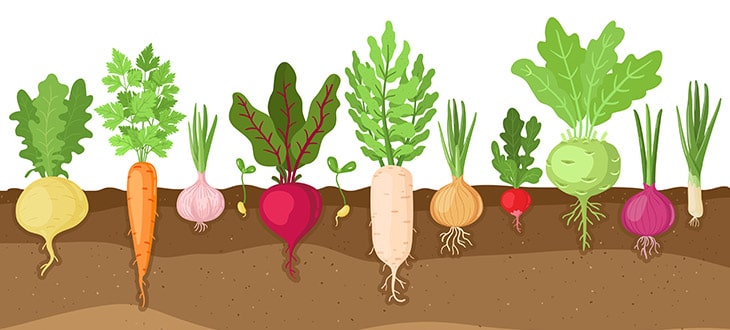 Best Onion Companion Plants
Lettuce
Onions and lettuce make excellent companions. When planted alongside each other, they don't compete for soil nutrients, and their roots take up different soil levels. What's more, the onions will deter insects from biting on your lettuce.
Swiss Chard
The swiss chard offers a mutual-benefit relationship for most plants in the allium family. This plant's huge leaves will help keep the soil moist, thus providing a great environment for shallow-rooted onions to flourish.
Beets
The onion and beets' roots take up different soil levels, meaning they won't fight for nutrients. The onions can also prevent fungal infection on your beets.
Tomatoes
Onions can significantly benefit your tomato crops. First, they enhance the fruit's' flavor. Second, they confuse pests such as aphids from munching your tomatoes.
Peppers
Like the tomatoes, peppers will reap the same benefits from onion companionship- enhancement of flavor, more-likely seen in hot peppers.
Strawberries
Even though onions might not benefit anything from your strawberries, growing them together can enhance your berries' health and growth. The staunch smell of the onions will also mask your berries, hence protecting them from pests.
Chamomile
Chamomile boosts the growth and flavor of onions. Other herbs that can result in a similar effect include dill and savory.
Cabbage
Onions and others within the allium family like the leeks and chives, are excellent companion plants for cabbage. The onion's smell will help deter many pests that can eat or much on your cabbage plants, for instance, cabbage worms, Japanese beetles, aphids, and cabbage loopers.
Broccoli
Since broccoli plants are in the same family as the cabbage plants, they benefit similarly from onion companion planting by repelling the pests as mentioned above. The pest control is not only beneficial to broccoli, but also kales, collards, and Brussel sprouts.
Carrots
Carrots and onions enjoy a symbiotic relationship with each other. Carrots will help protect the onions against onion flies, whereas the onions will mask the carrots from carrot flies.
Parsley 
Parsley shares a close correlation with carrots; hence onions will provide them with similar protection against carrot flies.
Celery
Celery, which is still part of the carrot family, is best grown around onions. The onions will protect the celery plants from pests that might invade them.
Worst Companion Plants for Onions
Although onions are great companions for most plants, there are still some that ought to be cultivated far away due to likely flavor contamination and chemical incompatibility.
Beans
You shouldn't farm onions or any plant inclusive in the allium family close to any beans type. They are likely to cause stunted growth to the beans.
Peas
Like beans, peas are legumes. Don't grow onions near any legume plant, including peas.
Sage
Most farmers warn against growing sage alongside onions as it causes stunted growth to the latter.
Asparagus
Onions will not only stunt growth in your asparagus but can also modify its flavor.
Turnips
Onions will possibly affect the flavor and root growth in your turnips. But if you're farming them as a vegetable, no harm!
Other Alliums
Onions, and other plants in the allium family, i.e., garlic, shallots, and leeks, will often suffer maggot infections, which can easily move from one plant to another. Avoid planting them close together. Instead, spread them throughout the garden.
---
Final Word
That said, that is about all you need to know about companion plants of onions. You now know which are some of the best types to plant in the proximity of your onions and a few that you should never cultivate too close.
Growing these plants together can help you deter a list of pests and improve the quality of your crops without using dangerous artificial chemicals.
Put this information into practice during the planting season and achieve significant improvement during harvest time.