Christmas Cactus: Care, Propagation, Blooming, And More
Do you want to learn more about Christmas cactus? Read the entire article to find out more about Christmas cactus care, propagation, blooming, fertilization, soil and water requirements, and more.
Disclosure: This page contains affiliate links. This means that the owner of this website might be compensated for any qualifying purchases made via these links.
Christmas cactus (scientifically known as Schlumbergera x buckleyi) is a hybrid succulent plant that resulted from crossing Schlumbergera truncata (Thanksgiving cactus) and Schlumbergera russelliana by William Buckley in England, in the 1840s.
Schlumbergera plants are indigenous to the areas of south-eastern Brazil. These cacti in this small genus are tropical and do not grow in deserts, but in coastal mountainous regions with forests and high humidity.
In nature, Schlumbergera are epiphytes plants and grow on the trunks of trees or rocks. They only use other plants as a support, but don't take any nutrients from their hosts (are not parasitic plants).
Although several Schlumbergera species look very similar and are sold as Christmas cacti, Schlumbergera x buckleyi is thought to be the original Christmas cactus by most growers.
Christmas cactus is a very popular houseplant in many countries around the world and it is well-known for the fact that it blooms only in winter, typically around Christmas time (hence its name).
Although the period until you will see this flower blossoming again can be long, the beauty of this plant when it blooms makes the wait well worth it.
Christmas cactus can be one of the longest-lived houseplant if properly cared for. Although the average lifespan of a Christmas cactus is between 12 to 15 years, it can easily live up to 20 or 30 years.
There are even cases when these cacti have reached more than 100 years of age. However, as the plant ages, it tends to bloom less impressively.
Christmas vs. Thanksgiving vs. Easter Cactus
There are three main types of holiday cacti, and they are often confused due to their high similarity.
These are:
Christmas Cactus (Schlumbergera x buckleyi)
Thanksgiving Cactus (Schlumbergera truncata)
Easter Cactus (Schlumbergera gaertneri)
And to make things even more ambiguous as to which the real Christmas cactus is, there are also references to Christmas cactus as Schlumbergera bridgesii. Fortunately, Paul J. Brunelle, an appreciated cacti horticulturist clarifies things a bit:
The name Schlumbergera bridgesii, still seen occasionally, was mistakenly published for it (Schlumbergera x buckleyi) very early, and only in 1964 was the plant's proper history and correct designation traced and reestablished by Will Tjaden, a member of the Epiphytic Plant Study Group in England.

Paul J. Brunelle (Recognition and culture of the holiday cacti)
So, I think it's pretty safe to say that Schlumbergera x buckleyi is actually the real and original Christmas cacti species.
What is the difference between a Christmas cactus, a Thanksgiving cactus, and an Easter cactus?
Often, these varieties are confused even by stores that sell these plants. Because the Thanksgiving cacti are the most widespread, these often end up being sold as Christmas cacti. Thus, many Christmas cacti sold in stores are actually Thanksgiving cacti.
Both the Christmas and Thanksgiving cacti have a close blooming date. Thanksgiving cactus usually flowers roughly 30-days before the Christmas cactus blooms. The Easter cactus blooms mainly in the spring and sporadically during the year.
There are only a few obvious differences between these three species of cactus. All are very alike in appearance, and although there are some differences that only a horticulturist would notice, the main distinctions are given by the shape of their leaves (or better said stem segments as it has no real leaves). To keep things simple, I'm just going to refer to these stem segments as "leaves."
Between these three, the Thanksgiving cactus is the only one that has pointy projections on the sides of the leaves.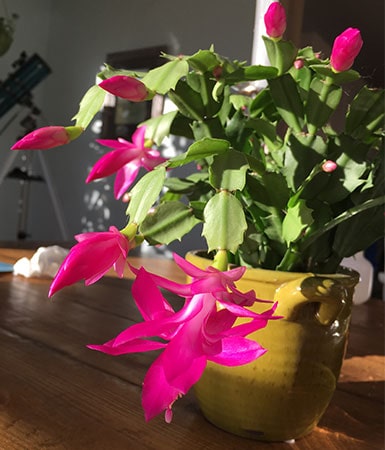 Christmas cactus has smooth edged scalloped leaves, without any pointy tips.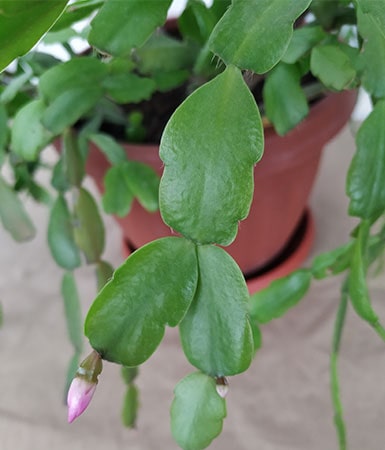 Easter cactus has leaves that have a more oval shape with more and even smoother scallops on the edge than the Christmas cactus. It also doesn't present any pointy tips.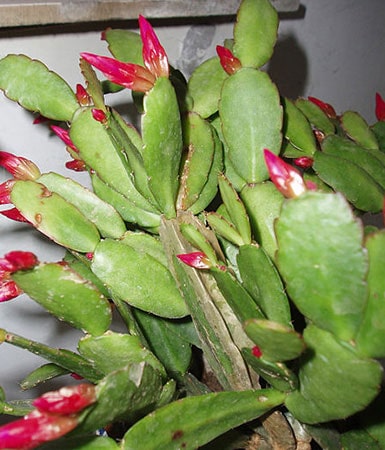 Christmas Cactus Care
Christmas cactus is not considered a difficult plant to care for, but like any other plant, it needs a bit of attention from time to time.
In general, if you know the requirements of the plant and give it the minimum necessary, you will be able to enjoy this beautiful plant many years from now.
Soil Requirements
The Christmas cactus is not very demanding when it comes to soil type. Even if it does not require a soil extremely rich in nutrients, for good development of the plant, as well as for vigorous flowering, it is recommended to plant it in a soil that contains a good amount of organic matter such as organic peat moss or compost.
Best Soil
An important feature that the soil of a Christmas cactus must have is good water drainage. You can achieve this by adding sand, perlite, or even a bit of aquarium gravel to the mix.
If you do not want to prepare this mix yourself, you can always use special soil for cacti and succulents. These types of soils already contain everything the Christmas cactus needs for healthy growth.

Avoid as much as possible the use of garden soil as a substrate for the pot of a Christmas cactus. Most of the time, the garden soil does not contain enough organic matter, does not allow efficient drainage of water, and will compact around the roots of the plant after repeated watering.
Soil pH
The Christmas cactus prefers slightly acidic soil. Preferably, the pH should be between 5.5 and 6.0. If you use a cacti special soil mix, you shouldn't worry about the pH, since these should already have the right values.
Temperature and light
Because it is a type of cactus, many believe that the Christmas cactus needs a lot of direct sunlight and plenty of heat. However, that is not entirely true.
Keep in mind that this plant is a cactus that grows in mountainous and forested areas of Brazil, not in the desert. Therefore, unlike desert cacti, the Christmas cactus does not need direct sunlight and such high temperatures. Its natural habitat offers a humid and semi-shaded to a shaded environment.
In conclusion, the Christmas cactus loves to have plenty of light but needs to be protected from the direct action of the sun's rays that can burn it.
During the summer, it is recommended to take this plant outside if you have a yard. It is preferable to place it in partial shade or in a position where it will enjoy a few hours of gentle sunshine in the morning and then semi-shade for the rest of the day. If you don't have a spot with semi-shade, a full shade is better than full sun for a Christmas cactus.
In winter or when the temperature drops below 50°F (10°C), you should move this plant inside, somewhere near a window that allows enough natural light to enter. However, you should avoid placing it near radiators, vents, fireplaces, or a direct heat source.
Christmas cactus does not withstand low temperatures very well and is susceptible to frost when the temperature drops below 50°F (10°C).
Also, the Christmas cactus is a plant that is quite sensitive to air currents. Thus, it is not recommended to place the plant pot in the direct action of air conditioners or fans.
The optimal temperature for Christmas cactus is between 65°F (18°C) and 83°F (28°C).
Christmas cacti also have specific temperature requirements before the blooming season. So make sure you read the blooming section to find out more.
Watering Requirements
Because it originates from a high humidity environment, the Christmas cactus needs more water than desert cacti and do not tolerate extreme drought.
During the summer and if your plant is outdoors, you may have to water your Christmas cactus every 2 to 3 days. If you keep the plant indoors, it may only require water only once a week.
A good indicator that the cactus needs watering is when the top of the potting mix feels dry to the touch. Water the plant less during the fluorescence season to stimulate blooming.
Poor pot water drainage and overwatering can kill a Christmas cactus. Signs indicating this issue can be the wilting or softening of the stem segments and turning yellow.
Like many other plants, the Christmas cactus can be sensitive to the chlorine and chloramine in the water. So, it is recommended to use water from wells or filtered water. Also, use only water at room temperature.
Propagation and Repotting
A nice thing about multiplying the Christmas cactus is that it can be propagated very quickly and effortlessly.
Christmas Cactus Propagation
The main way to propagate the Christmas cactus is through cuttings. These can develop roots both in water or planted directly in the soil.
Therefore, if you want to multiply your Christmas cacti, you just need to cut a part of one of the stems (keeping about 2 to 3 segments) of your existing plants and put it directly in potting soil or water.
If you choose the option of rooting in water, after noticing that the plant begins to develop roots, you can transfer it to the potting mix. Planting the cuttings directly in the soil is my favorite approach since it's more straightforward and involves fewer steps.
Perform this operation before the flowering season, prior to the stems developing buds.
Christmas Cactus Repotting
Another important aspect to keep in mind when caring for the Christmas cactus is repotting.
A Christmas cactus is a long-lived plant, but if you want to enjoy it for as long as possible, you will need to change its soil and pot size when necessary.
Usually, Schlumbergera plants need repotting once every two to three years, or when the pot remains too small for the size of the plant and it does not provide enough room for root development.
The plant may also need to be transplanted when inappropriate potting soil has been initially used, when the soil has become too compact, or if the plant appears unhealthy and you can't determine the exact cause.
The best time for repotting Christmas cactus is after the blooming season and after all the flowers have wilted. That period is typically in late winter or early spring.
It is preferable to avoid repotting during or right before the flowering season. Yet, in some cases, to save the plant, this operation can be performed even when the plant has blooms.
When repotting this plant, do not choose a container much larger than the previous one. It seems that Christmas cacti bloom more impressively when they grow in pots that give them just enough space for roots, without too much empty space around. Therefore, choose a pot that will allow the cacti to develop their roots for another 2-3 years.
Fertilizing Christmas Cactus
The Christmas cactus is not one of the plants that need too much fertilization.
A 20-20-20 all purpose fertilizer should be just enough for the needs of Christmas cacti.

Depending on the fertilizer of your choice, you should make a fertilization schedule. Once or two times a month should be just enough in most cases.
Keep in mind that too much fertilizer will actually do more harm than good for these plants.
Start fertilizing your cacti from the time new growth starts in early spring and throughout the summer. During the blooming season, stop fertilizing your Christmas cacti.
Christmas cactus also has a slightly higher demand for magnesium than other houseplants. You can use Epsom salt to keep the magnesium at an optimal level. Add about one teaspoon per gallon of water and water the plants with the resulting liquid once every 30 days during the growing season, between the regular fertilization.

Blooming
The Christmas cactus is especially appreciated for its beautiful flowers. It usually blooms during the winter holidays, hence its name. Although most times will only produce flowers once a year, in the right conditions, it can also bloom a second time during spring.
The flowers of Christmas cactus (Schlumbergera x buckleyi) are typically red or fuchsia with tones of white.
The Thanksgiving cactus varieties (Schlumbergera truncata) offer a wider range of colors for their flowers. We can find these in a variety of colors, such as red, fuchsia, yellow, white, salmon, etc.
For Christmas cacti to bloom vigorously and around holidays, they need first to go through a pre-blooming dormancy period.
To force the plant to bloom at the right time, around October you should start reducing watering. Do not cut off the water completely, but just reduce it up to the point when about half of the potting soil dries out between waterings.
Also, remember not to apply any fertilizer during the plant's dormancy period.
The next step is to move it in a room or space with a temperature between 55°F (13°C) and 60°F (16°C). During this time, the plant also needs about 12-14 hours of full darkness per night.
This dormancy period will encourage the blooming process of your Christmas cactus and force it to produce flowers around Christmas time.
You should maintain this treatment for about 6-7 weeks, or until you start to see buds forming on top of the stem segments.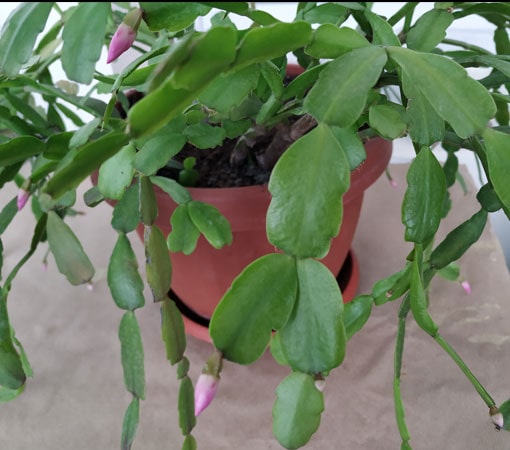 Once that happens, you need to move the plant back in a room with plenty of indirect sunlight and resume the regular watering schedule.
Diseases and Pests
The Christmas cactus is a plant that is quite rarely affected by diseases. Yet, there are several diseases and pests that can hurt it.
Christmas cactus is susceptible to several types of fungal diseases such as sooty mold, botrytis, fungal leaf spots, and BSR (basal stem rot).
As for pests, Christmas cacti are typical targets for mealybugs, spider mites, flower thrips, fungus gnats, and sap-sucking scale insects.
Final Word
The Christmas cactus is a plant that you can enjoy for a long time if you take care of it properly.
Not only is it a beautiful plant that can bring a special vivid look to any room, but because it blooms around the winter holidays, it can also be a wonderful gift for someone dear to you.