22 Images Of Different Agave Varieties Blooming
Are you looking for images of blooming agave plants? We have what you want. But first, let me introduce you to this genus of plants that looks out-of-this-world.
Agave is a genus of plants native to the tropical and desert regions of the southwest USA and Mexico. The plants in this genus belong to the Asparagaceae family and are closely related to Yucca, Hesperoyucca, and Hesperaloe genera.
You can customarily recognize the plants in the agave genus by their fleshy and evergreen succulent leaves that store high amounts of water. Many varieties also have spines across the margins or at the peak of the leaves.
These are some of the most definitory characteristics of the plants in the agave genus, but there are exceptions from the rule.
Agave plants come in varied shapes and sizes. Some specimens can grow massive, but there are also small dish-sized types.
Some of the most popular agave species include:
Agave americana
Agave tequilana
Agave attenuata
Agave angustifolia
Agave colorata
Agave potatorum
Agave parryi
Plants of this genus are prevalent among the succulent plant lovers because they are easy to propagate and require very little care.
Besides their popularity as ornamental plants, agaves are also utilized in various industries. For instance, the Blue Agave it's used as one of the main ingredients in Tequilla. There are sweeteners and syrups made from the agave plant, and its fibers are used in the textile industry.
What I find intriguing about the agaves is the way they are blooming.
Agave Blooms Then Die
Agave plants grow for many years without making any flowers. When they have the right conditions and finally decide to bloom, many varieties make a very tall stalk that typically has an abundance of flowers.
What is even more impressive is the fact that most agave varieties die after they bloom, which is quite unusual for a perennial plant.
There are also other plants that die after flowering, but these are usually annuals. These types of plants that bloom, produce seeds, and then die are called monocarpic.
The flowering process does not directly cause the death of the agave plant. Production of fruits and seeds induces changes within the plants, which eventually inflicts its death. These changes result in the production of chemicals responsible for redirecting the resources of the plants from the roots and leaves to the making of fruits and seeds.
The lifespan of an agave plant is mostly dependent on its species and climate. Also, this may depend on whether it is a cultivated plant or one that grows into the wild, as agave plants seem to bloom earlier in cultivation than they would do in its natural habitat.
Despite the apparent death of the main plant, agave survives by producing offsprings before efflorescence.
An agave plant sometimes might need 20-25 years to flourish. That led to the emergence of its popular name, "century plant."
While the leaves of agave plants are impressive due to their and alien look, the flowering of agave is fascinating as well.
Agave blooms develop into diverse shapes, sizes, and colors and differ from one variety to another. Some look like slim trees rising from the core of the plant, some look like an animal tail, while other types produce blooms that look similar to a lily flower.
If you've never seen an agave plant blooming until now, I'm sure you are anxious to see how its flowers look. In consequence, I've prepared some images with different agave plant varieties. Enjoy!
Images of Blooming Agave Plants
I found the following images of blooming agave plants on Wikimedia Commons. These are all published under a Creative Commons license, Public Domain, or another open license.
On this occasion, I want to thank all the authors who took these magnificent photos and made them publicly available.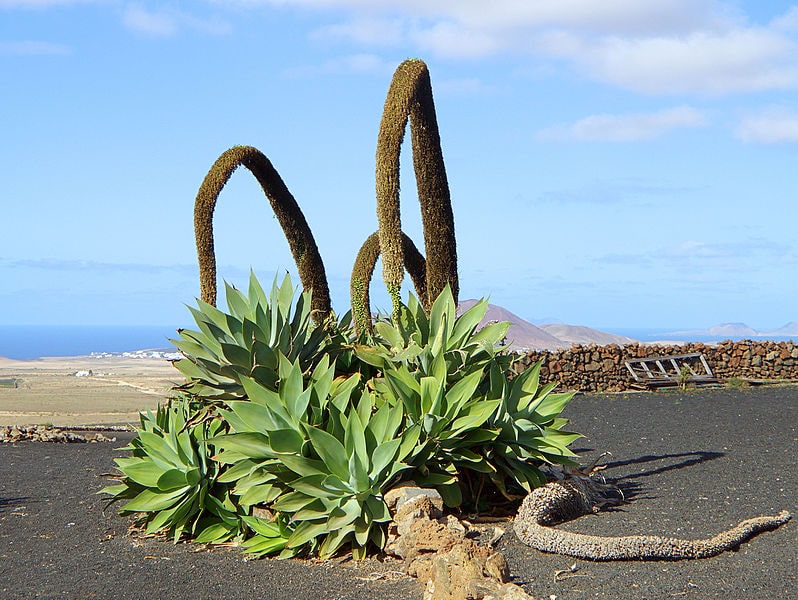 Final Word
I hope you enjoyed these photos of different varieties of agave plants blooming. Some types are more spectacular than others, but because there are these particularities from one species to another makes the plants from this genus so unique.
With those spines on the edges of the leaves, the large size a plant can reach, and that strange way of flowering, these plants feel to be so out-of-this-world.
Let me know what you think about agave plants. Do you love or hate them?