5 Best Fungicides For Lawns
Have you noticed dark, brown, yellow, or white areas on your lawn? Those might be signs of lawn fungus.
Keep reading for advice on how to recognize the lawn fungal disease and for my list of the best fungicides for lawns.
Just like tomatoes and other garden plants, lawn grass can also be affected by a great variety of harmful fungal pathogens.
Any lawn will naturally contain many types of fungi. However, the majority of them will never cause any problems.
Disclosure: This page contains affiliate links. This means that the owner of this website might be compensated for any qualifying purchases made via these links.
My 5 Best Turf Fungicides
Looking for the best fungicide for your turf or lawn? Below are the products recommended by BackGarden:
How To Identify Lawn Fungal Diseases
You can usually recognize the lawn fungus by the brown, yellow, or white spots that appear on the surface of the lawn.
Initially, the infection might start with tiny areas of discolored grass here and there, dark grass patches, or black, grey or other colored points on the grass' stems.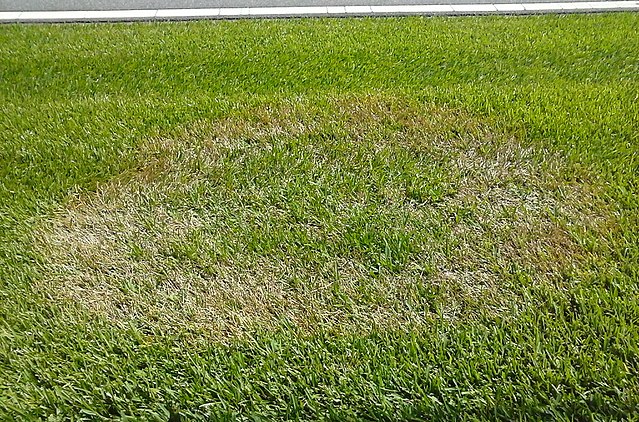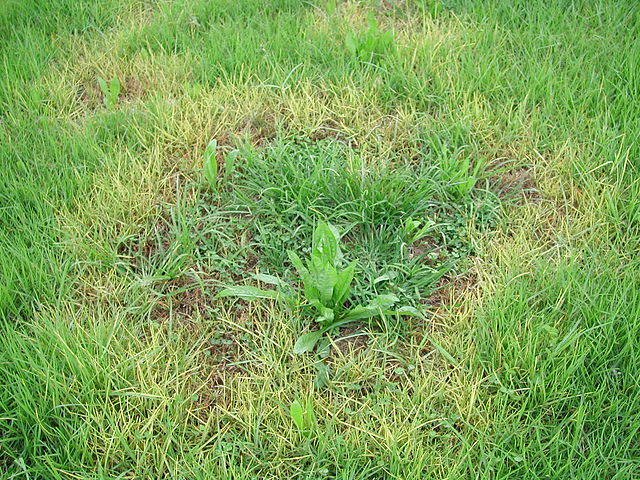 It's pretty improbable not to figure out that your lawn has a problem when you see unusual shapes or circles that stand out from the regular green of your lawn.
Even though there are multiple diseases that can affect your turf, a fungal disease is relatively easy to identify in most cases.
The fungal diseases of lawns are caused by several different fungus-like organisms and pathogens such as Pythium aphanidermatum, Rhizoctonia solani, Clarireedia homoeocarpa, Microdochium nivale, Magnaporthe poae or Ophiosphaerella korrae.
Some of these infections are more common during the cold season, while others occur more frequently during hot summers.
The causes and triggering factors of the spreading of these fungal diseases might vary from one season to another, from climate to climate, from one area to another, and so on.
Below I'm going to mention the most common reasons for the fungal lawn diseases and which conditions favorize the spread of these pathogens.
Causes Of Lawn Fungal Diseases
Just like there are a plethora of species of fungi that live inside the human bodies without causing any diseases, there are also numerous types of fungal organisms that inhabit your lawn.
Many of these are beneficial, but there are also pathogens that if left will multiply uncontrollably and cause various maladies to the grass of your turf.
If allowed, these fungi don't only give your turf an unpleasant look but can destroy your entire lawn in favorable conditions. Moreover, the lawnmowers can quickly spread the fungus to other healthy parts of your lawn.
If you notice the fungal infection in an initial stage and you apply the right fungicide on time, the affected areas of grass have many chances to fully recover in 2-3 weeks.
Several factors that can cause a lawn fungal infection:
High humidity level (overwatering)
Lack of water (drought)
Too much fertilizer
Sudden changes in temperature and humidity
Mowing the grass too low
From all the causes mentioned earlier, I would say that the high humidity level is the most common cause.
Since your lawn grass grows outside, you don't always have full control over how much water it receives. For instance, during long periods of rain, plus an improper water drainage caused by poor landscape grading, your lawn is the proper environment for the development of harmful fungal pathogens.
Drought and the lack of enough water might as well favor the occurrence of these conditions. A balanced watering schedule is, therefore, essential for any lawn.
Best Fungicides For Lawns
It's debatable which is the best fungicide for lawns since there are many well-known brands available on the market.
In some cases, a general fungicide will do the job. Yet, since we want to make sure that the fungicide we choose will not do more harm than good, I advise you to only use fungicides that explicitly mention that can be used for lawns or turfs.
When it comes to choosing a fungicide for your turf, cheap is not always better. A bad fungicide could destroy your entire lawn or simply produce no results and you'll have to buy another one.
The fungicides from the established brands are usually better than the cheap ones from the companies that emerged overnight.
Below, I will share with you a few of the brands I've personally tried and which had very good results.
Before choosing a product, keep in mind that you might have to repeat the treatment several times to destroy the fungal pathogen entirely (usually after 7-14 days), so you might need a larger quantity of fungicide.
I have already researched the market and have come to the conclusion that these are the best fungicides for lawn:
1. DOW Eagle 20EW Fungicide – Liquid Formula

DOW Eagle 20EW is my first option in terms of lawn fungicides. I've used it many times when my lawn was affected by the Brown patch and always had the best results.
According to the product label, DOW Eagle 20EW fungicide can be effectively used for a great variety of established turfgrass, landscape ornamentals, fruit trees, and vines.
I find a positive thing the fact that it can be also for fruit trees and vines because if any solution is left after the lawn treatment, I can use it at any time for these plants.
Keep in mind that the fungicide can also be used for prevention, not only when the plant is already affected by fungus. As a matter of fact, when it comes to fungal infections, prevention is always preferred.
If uses according to the instructions provided by the manufacturer, a good fungicide should never harm the grass (or any other plant).
DOW Eagle 20EW Fungicide is effective against all major lawn fungal infections, such as:
Brown patch
Dollar Spot Leaf
Anthracnose (brown leaf spot)
Turf necrotic ring spot
Rust
Powdery mildew
Spring dead spot
Zonate Leaf Spot
Septoria leaf spot
Turf large patch
and many more.
This product is available in a 16oz recipient or 128oz. Unless you have a very large lawn, or an entire vine orchard or fruit trees, the 16oz should be just enough for several treatments.
You'll need a hose sprayer in order to apply this fungicide. Any multi-purpose sprayer should do the job. I personally use this one and it works perfectly for any liquid that needs to be manually dispersed.
PROS
Effective against many types of lawn fungal diseases

Can also be used for landscape ornamentals, fruit trees, and vines

Good for large turfs
CONS
You need a sprayer to apply it
2. Spectracide Immunox Fungus Plus Insect Control For Lawns

Spectracide Immunox Fungus Plus is another effective fungicide for lawns and turfs.
Besides protecting your lawn from dangerous funguses, this product has insecticide properties and will also kill the lawn-harmful insects such as ants, fleas, brown dog ticks, sod webworms, and others.
Another advantage of Spectracide Immunox Fungus Plus is that it cannot be easily washed away by rain once you apply it.
I usually use a garden sprayer to apply the fungicide, but this particular product can be directly connected to the water hose. There's no need to manually dilute it with water since that will be done automatically once the water reaches the bottle.
While I love its design, the fact that you don't need an additional sprayer and the easiness with which you can apply the liquid fungicide, the recipient can clear fairly quickly.
Thus, if you decide to choose this product, you should probably consider ordering multiple bottles in order to have enough fungicide to repeat the treatment after two weeks as it's stated in the instructions.
Spectracide Immunox Fungus Plus can prevent and control a large spectrum of grass diseases caused by fungi.
As this product is intended particularly for lawns, I would not recommend its use for the garden, vine or fruit trees without confirmation from the manufacturer.
PROS
Effective against many lawn fungal diseases

Protects your lawn from insects

Cannot be easily washed away

Easy to apply by connecting to water hose
CONS
The recipient can clear fairly quickly
3. Scotts DiseaseEx Lawn Fungicide

DiseaseEx from Scotts is another popular fungicide for lawns which is effective for a large spectrum of grass diseases caused by fungal pathogens.
If you know that your turf has been affected by a fungal disease but you are not exactly sure which one it is, you might try your luck with DiseaseEx. There are very high chances that your lawn's disease is already among the ones which this fungicide can control.
According to the manufacturer, this product is effective in preventing and controlling about 26 different types of lawn diseases.
The ones mentioned in the product's description are:
Brown Patch
Leaf Rust
Stem & Stripe Rust
Leafspot
Red Thread
Pythium
Spring Dead Spot
Southern & Typhula Blight
Pink Patch
Necrotic Ring Spot
Summer Patch
Fusarium Patch
Gray Leafspot
Powdery Mildew
Fairy Ring
Melting Out
Zoysia Patch
Yellow Patch
Rhizoctonia Large Patch
Gray & Pink Snow Mold
Pythium Root Rot
Anthracnose
Take-All Patch
That's quite impressive. Hence, if you've tried another fungicide without having very noticeable effects, you should probably try DiseaseEx.
Unlike the liquid fungicides previously mentioned, this fungicide is granulated. Therefore, you will need a walk-behind broadcast spreader in order to apply the fungicide uniformly across the surface of your turf.
If you don't have a spreader already, you may want to check the offers on Amazon. There are several options which are not very expensive.
Besides spreading fungicide, this kind of tool comes also handy for other tasks such as spreading seeds, fertilizer, salt, etc. In essence, it's a pretty useful tool for any gardener.
Just as any fungicide, even though DiseaseEx comes as granules, you should avoid any contact with your skin. If you don't have a spreader, you should not use your hands for applying the fungicide. Also, the use of a hand-held spreader is not indicated due to the same matter.
PROS
Effective against majority of turf fungal diseases

CONS
You need a garden spreader to effectively apply it
4. BioAdvanced Fungus Control for Lawns

Fungus Control for Lawns from BioAdvanced is a liquid fungicide designed to cure and prevent the common lawn fungal diseases such as Brown Patch, Powdery Mildew, Dollar Spot, Anthracnose, Fusarium Patch, Red Thread, Stripe Smut, Summer Patch, Rust, Snow Mold, Gray Leaf Spot, and more.
According to the product info, this fungicide has a weatherproof formula that provides long protection for your turf after it is applied (up to 30-days).
This product can easily be connected to the water hose and sprinkled over your lawn.
As mentioned before, the downside of the liquid fungicides that are spread using the water hose is that these are not very economical in terms of the quantity used.
Even though it's specified that the product can be used for up to 5,000 square feet, if you're not careful and you use too high water pressure, you can quickly waste a big portion of the liquid.
That's why I personally prefer the granular or the liquid fungicides that you manually have to dilute with water and spray them using a manual hose sprayer.
PROS
Good coverage and long-lasting protection

Easy to apply by connecting to water hose
CONS
The recipient can clear fairly quickly
5. Heritage Granular Fungicide

Heritage Granular Fungicide is a broad-spectrum fungicide, effective against more than 20 turfgrass fungal infections, including some of the most common like Brown patch, Pythium, and Snow mold.
Even though this product is excellent for controlling the Brown patch and many other turf diseases, unfortunately, it is not effective against Dollar spot.
Heritage Granular Fungicide is more designed toward industrial usage and for large lawn areas of parks, athletic fields, recreational zones, or green fields around residential places.
In terms of efficacy, this fungicide provides a very good anti-fungal protection and allows for extended application for up to 28-days intervals.
Since it's a granular fungicide, yet again, you'll need a spreader to propagate the fungicide uniformly over the surface of your lawn.
PROS
Effective against more than 20 turf fungal diseases

Long-lasting protection

Good for large lawns & industrial areas

CONS
Not effective against Dollar spot

Only comes in large quantities

You need a garden spreader to effectively apply it
These are, which I consider, some of the best and most effective fungicides for lawns.
How to apply the fungicide?
Some products might require you to water the lawn and let it dry before applying the fungicide. Others have better results when you apply them during a particular time of the day.
All the products are different so do not imagine that the same rules apply to all of them.
Before utilizing the fungicide, make sure you carefully read the product's label and instructions. These should include important details like after which period you have to reapply the treatment, dosage, whether it should be diluted with water (where applicable), best temperature, and so on.
Depending on the fungicide of your choice, you might also need either a broadcast spreader or a general hose sprayer to apply the fungicide. If you opt for a liquid fungicide that comes into a recipient that should be sprayed by connecting it to the water hose, you won't need any of the tools mentioned above.
Also, when you apply the fungicide, it's always advisable to wear safety goggles and gloves and avoid any skin contact. You should also not use the solution near any wells or animal drinking water sources or food.
Final Word
Many of us are obsessed with having beautiful lawns that stand out.
A beautiful lawn represents for most of us more than a patch of grass. It's a way of showing off in front of our neighbors and friends and a sign that we are hardworking people.
However, maintaining a beautiful lawn it's not always easy. Oftentimes, this attraction requires time and money.
When you have a lawn you regularly need to water it, mow it, feed the grass with fertilizer and take care of it when various diseases are trying to harm him. That's quite some work.
All the struggle seems to fade away, however, when a friend or neighbor praises your lovely green lawn.
You have learned several things about lawn diseases and you now have a clear idea on how to choose the best fungicide for your lawn.