Aerial Roots And Their Role In Plants
Are some of your plants growing weird above-ground roots? These are called aerial roots. Learn more about these root types, their role, and which plants develop them in this article.
What Are Aerial Roots?
When we hear the word "roots," the thought automatically leads us to that part of a plant that grows underground and which you can only see when you pull out the plant. Yet, there are also some plants that also grow above-the-soil roots.
Aerial roots are roots that grow above the ground and are present in various plant species. These are different from the roots that grow in the soil and have several different roles that can vary from plant to plant.
There are both plants that grow aerial roots in addition to the underground root but also plants called epiphytes, or air plants.
Epiphytes are non-parasitic plants, but which grow on other plants or objects and which have only aerial roots, without being anchored in the soil and without the need to obtain nutrients and water from it.
These air plants usually use their host only for physical support and are not attached to the supporting plants, making them non-parasitic. They also use their host to get on a higher spot to receive more sun in dense tropical forests or to collect the nutrients in the organic debris that gathers on trees.
The aerial roots are more common and almost always present in some species of plants. However, some plants develop these root types only when the underground root system cannot extract enough water, nutrients, or oxygen from the soil to ensure the healthy development of the plant.
Roles Of Aerial Roots
As mentioned above, aerial roots have different roles that can vary from plant to plant depending on the environment in which it grows.
Some of the most common functions of aerial roots in plants include:
1. Anchoring The Plant
In some plants, the main purpose of these aerial roots is to provide better stability to the plant by anchoring it to the ground or by helping it hang on certain supports such as other plants, rocks, fences, trellises, or walls.
This make the plant more robust and less likely to break by wind or animals.
2. Absorbing Additional Nutrients And Water
The aerial roots of some plants like the one of epiphytic orchids, besides anchoring the plant, also have the role of absorbing moisture and nutrients from the atmosphere by acting as a sponge.
3. Breathing
Plants such as mangroves use aerial roots for breathing. These shrubs are usually found in swamps with increased salinity and low oxygen levels in the soil. Hence, they use these aerial roots to get more oxygen from the air.
Plants With Aerial Roots
The aerial roots are found in some of the most common houseplants but also in some species of trees. Below are some examples.
1. Monstera Deliciosa (Swiss Cheese Plant)
Monstera deliciosa, also known as the Swiss cheese plant, is a common houseplant grown for its large green foliage.
Monstera is one of the plants that develop some of the most prominent aerial roots. They can reach up to a few meters in length, are firm, and have a brown color, making them very easy to notice.
These plants grow like vines in the wild and develop these aerial roots to climb on various things, such as trees, rocks, or other structures.
2. Orchids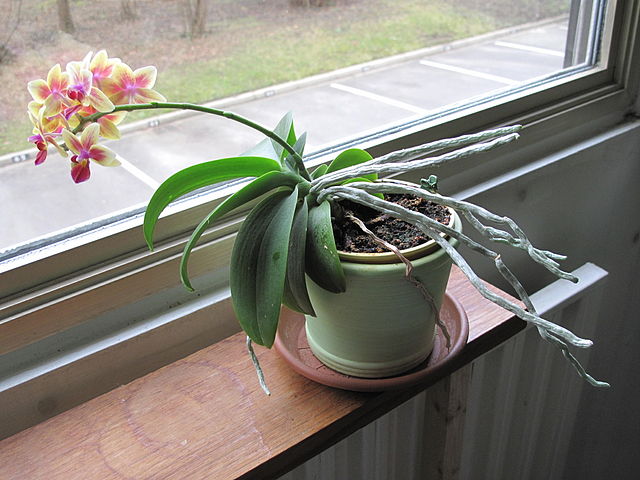 Orchids are some of the most common houseplants. They produce stunning colorful flowers that last for an extended period, are widely available, and are rather easy to care for.
Many species of orchids produce aerial roots and often tend to protrude out of the pot. This may easily mislead you to think that the plant needs a larger pot.
The primary role of the aerial roots in many orchid varieties is to enable the plant to absorb water and nutrients from the atmosphere. Yet, these also may have the function of anchoring the plant to trees or other supports.
3. Philodendron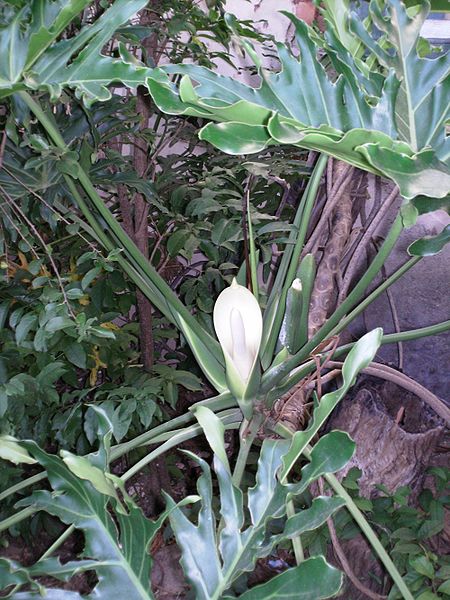 Philodendron is a large genus of flowering plants. Some varieties are generally grown as ornamental indoor plants.
Many varieties of Philodendron produce aerial roots. In the wild, these roots are used for climbing trees and receiving water and nutrients from the air, as well as for anchoring the plant.
When grown as indoor houseplants, these above-the-ground roots can be pruned if they become too large. This operation won't harm the plant if done right.
4. Hoya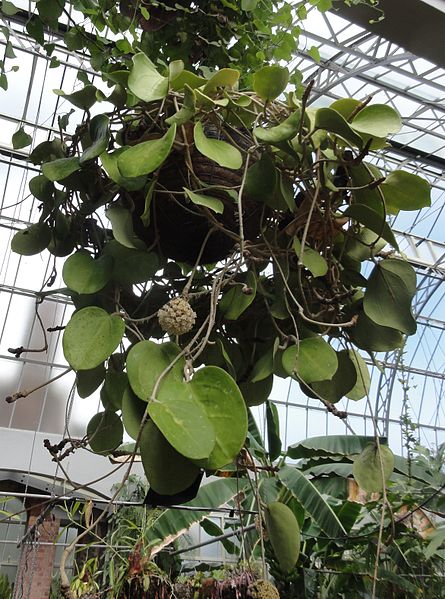 Hoyas, commonly known as waxplants, are tropical flowering plants. They are widespread houseplants due to their long lifespan, beautiful waxy leaves, and scented star-shaped flowers.
These plants grow as vines and develop aerial roots whose purposes are to anchor the plant to various supports and for collecting extra water and nutrients.
5. Mangroves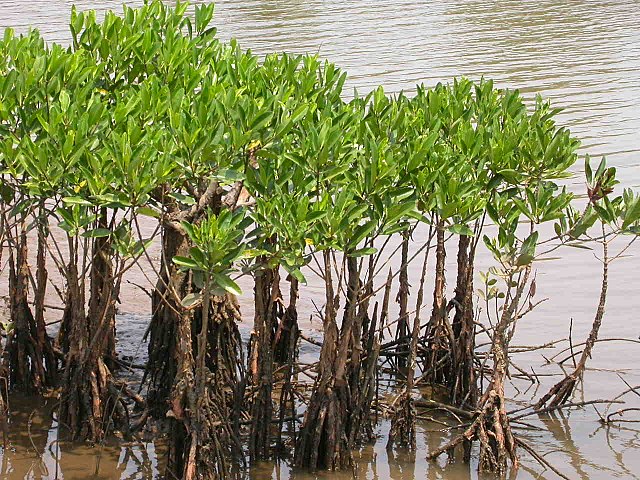 Mangroves are shrubs that grow in coastal saline or brackish water. These trees are adapted to grow in places where not many trees can. Once established, they usually form dense forests.
These trees grow aerial roots which enable them to grow in mucky, oxygen-poor soils, and partially submerged in seawater during some periods of the year.
The role of the aerial roots in mangroves is primarily to collect oxygen from the air and also to provide additional support for the trees in unstable muddy soils.
6. Ficus Benghalensis (Banyan Fig)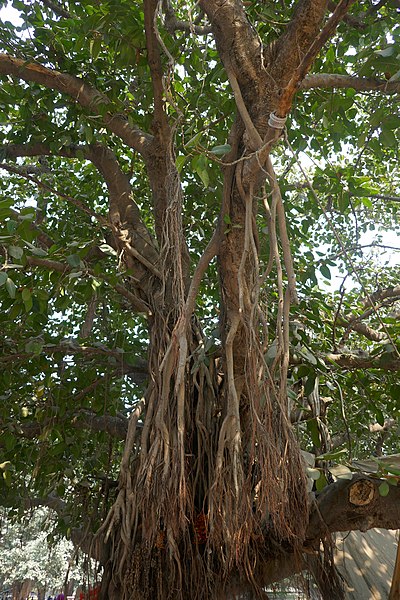 Ficus benghalensis, generally known as "banyan fig" is an evergreen, fast-growing tree that starts its life as an epiphyte.
These trees develop from seeds that land on other trees and produce aerial roots that eventually anchor in the ground, making the banyan fig independent from the host.
It often ends up suffocating the support tree due to its massive growth. Hence, it is also commonly named the "strangler fig."
7. Pothos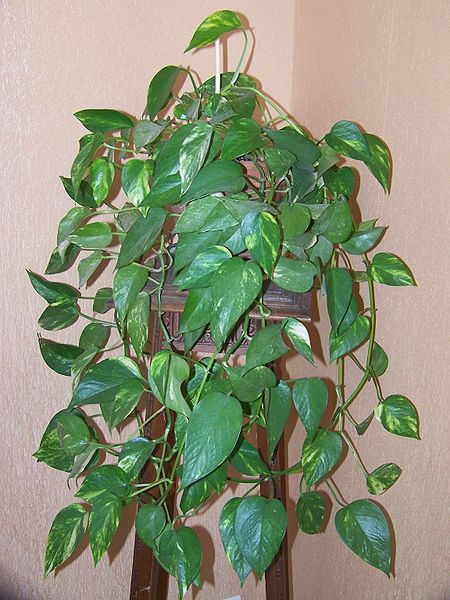 Pothos (Epipremnum aureum) is a trailing vine with heart-shaped leaves which is commonly grown as a houseplant.
Being a climbing plant, pothos mainly uses the aerial roots to attach itself to various supports. In its natural environment, that would be trees, rocks, or anything it can hang on.
Also, the aerial roots may have the function to take additional nutrients and water from the air.
---
Final Word
Aerial roots are roots that grow above the ground and their role may vary from plant to plant as described earlier in this article.
While this type of root is always present in epiphytic plants, others develop these aerial roots in addition to the underground root.
Some plants even develop aerial roots only when the plant's root system does not receive enough water, oxygen, or nutrients from the soil.
For instance, succulents may develop aerial roots when they don't receive enough water. This way, the plants will try to get additional moisture from the atmosphere.
However, the presence of aerial roots does not always indicate that the plant is missing something.
Other several examples of plants that sometimes grow aerial roots include the jade plant, rubber plant, kalanchoe, christmas cactus, etc.
These aerial roots show the adaptability of plants to various environments and conditions.