5-Leaf Vine Plants (3 Species)
Need help with identifying an unknown vine plant that has 5 leaves? Here are 3 species of plants that grow like vines and have this particularity.
Vine plants can be great for covering a boring wire fence, growing on pergolas as decorative plants, hiding a not-so-pretty part of your place, making shade, or bringing more life to your yard.
However, due to their nature, plants that grow in vines often have fast and aggressive growth habits and can quickly get out of control and invade your garden or yard.
Getting rid of some of these plants if they end up spreading uncontrollably will become very challenging sometimes. Therefore, it is necessary to identify early any unknown vine plant that grows on your property to avoid such inconveniences.
While there are many species of vine plants, in this article we will list only several species of vine plants with 5 leaves. This peculiarity should make these plants quite easily recognizable.
1. Virginia Creeper (Parthenocissus Quinquefolia)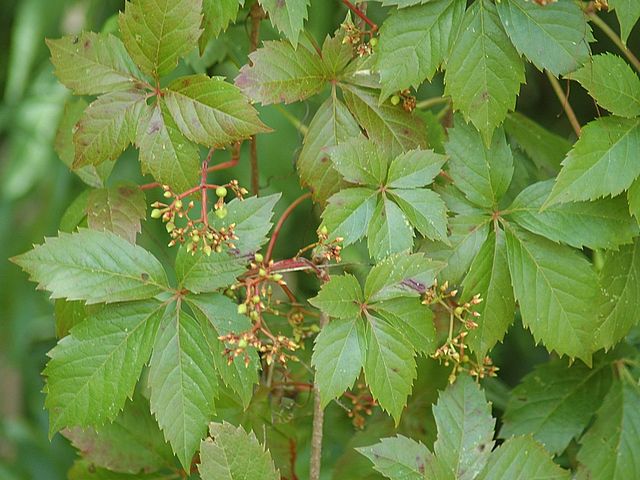 Virginia creeper (Parthenocissus quinquefolia) is a species of perennial deciduous climbing vine plants native to eastern and central North America. It is also commonly known as Victoria creeper, five-leaved ivy, or five-finger.
This plant is highly adaptable and can grow in many soil types and light. It is often used as a decorative plant because it grows rapidly, climbs on any support, and creates a dense mesh of stems and leaves. It also has the ability to stick itself to walls without the need for a support due to its tendrils with powerful adhesive disks on the tips.
When not cultivated, Virginia creeper can be found growing on the ground in woodlands, on trees, along railroads, and often in disturbed habitats.
Parthenocissus Quinquefolia looks similar in aspect to poison ivy. However, these two plants can easily be differentiated by the number of their leaflets. Virginia Creeper leaflets grow usually in groups of five, while those of poison ivy are in groups of three.
The leaflets of Virginia Creeper have pointed tips, toothed or serrated margins, and taper to the base.
When new leaves emerge in spring, they can be bronze, purplish, or green-tinted with red. The mature leaves are dark green on the top surface and light green underneath, where they may also present fine hairs. During the fall, the foliage turns bright purple or red before falling off.
In late spring or early summer, Virginia creeper produces clusters of tiny small flowers, which later develop into round, inedible, and toxic to humans berries that are initially green, then get a blue-black color.
The sap of Virginia creeper can produce skin irritations and blisters in sensitive or allergic people. Hence, it's best to use gloves when trimming or handling this plant.
2. Maypop (Passiflora Incarnata)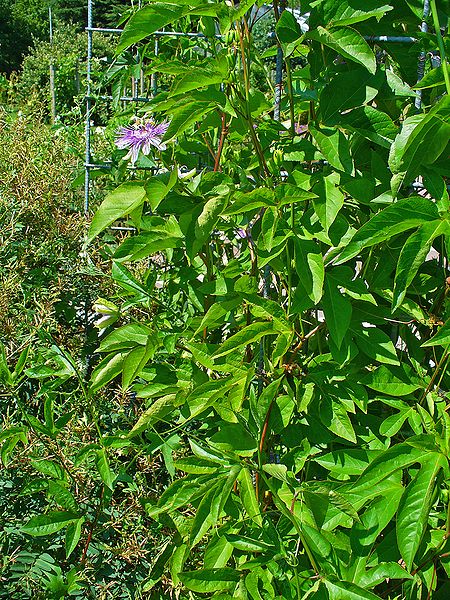 Maypop (Passiflora incarnata) is a perennial vine plant found both in cultivation and as a wildflower in the United States. Several other common names for this plant include purple passionflower, true passionflower, wild passion vine, and wild apricot.
Passiflora incarnata grows as a vine and has climbing or trailing stems with many tendrils. It is often grown as a decorative plant because it does not require much maintenance. Its purpose is customarily to cover wire fences and tree trunks, but it is also cultivated for its fruits and beautiful bluish-purple flowers.
The leaves of maypop are green, finely toothed, and have either 3 or 5 leaf lobes with pointy tips.
Maypop produces large, fragrant, and exotic-looking flowers from May to July. These have five bluish-white petals and present a white and purple corona between the petals and stamens.
The fruit of Passiflora incarnata has roughly the size of a hen egg with an oval shape. It is green initially, but at maturity, it turns yellow.
The maypop grows well in full sun. In the wild, it is often found in disturbed areas, near unmowed pastures, roadsides, and thickets.
3. Chocolate Vine (Akebia Quinata)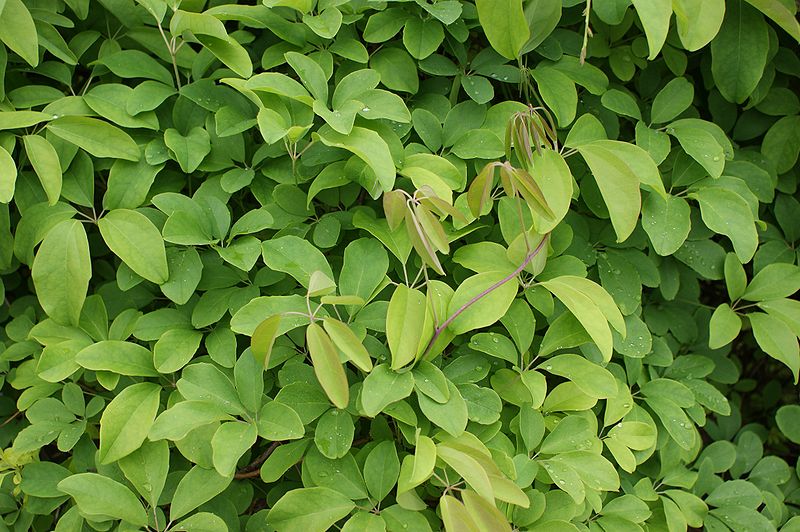 Chocolate vine (Akebia quinata) is a semi-evergreen shrub native to Japan, China, and Korea. This plant's other popular names include chocolate vine, five-leaf chocolate vine, or five-leaf akebia.
This plant has fast development, grows like a climbing vine, and is often utilized to cover fences, pergolas, arbors, or as a groundcover. It is also drought-resistant and does not need soils that are too rich in nutrients to grow vigorously.
Chocolate vine has palmately compound leaves, with five elliptic or obovate leaflets that have a small cut on the tip.
The stems are woody, greyish-brown, and long.
Akebia quinata got its common name, "chocolate vine," from its purplish-brown blooms, and its chocolate fragrance.
The chocolate vine produces large sausage-shaped purple fruits which burst open in the autumn. These are edible and the soft pulp has a slight coconut milk flavor.
Akebia quinata is considered an invasive species in some areas. Due to its rapid growth, it poses a danger to native plants.
---
Final Word
These are several 5-leaf vine plants. Due to their leaves divided into five leaflets and along with other characteristics presented in this article, they should be quite easy to classify.
You can also try using a mobile app to identify these plants by picture. Here is a list of the best applications for identifying plants.